Sat, 22 Oct 2005, 01:19 PM



Schumacher Races to Third NHRA POWERade Series World Championship



Courtesy of NHRA Communications


Photo copyright 2005 Auto Imagery, Inc.





LAS VEGAS --
Tony Schumacher claimed his second straight and third overall POWERade Series world championship in Top Fuel Friday by making a qualifying run at the fifth annual ACDelco Las Vegas NHRA Nationals at The Strip at Las Vegas Motor Speedway.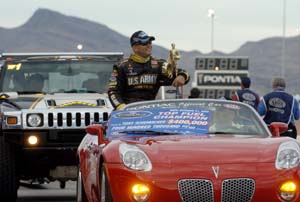 Tony Schumacher
Schumacher needed to add only 10 points to his 268-point lead entering the weekend to clinch the world championship and he accomplished that with his first qualifying pass, giving Schumacher the $400,000 series crown.
"That was pretty nerve-wracking," said Schumacher, who drives the U.S. Army dragster. "That was some pressure, just having to stage the car. After it started I was worried that it wouldn't go into reverse. I want to win the race and I know Alan (Johnson, crew chief) does too. Very few people in Top Fuel have won three championships or won back-to-back championships. It is starting to change what the goal is because the list is so much smaller. It's outstanding."
Schumacher and Doug Kalitta staged quite a battle through the summer months, but it was Schumacher who emerged after the prestigious Mac Tools U.S. Nationals with a lead he'd never relinquish.
Schumacher leapfrogged Kalitta with a win at Denver and he built on it with a runner-up finish a week later at Seattle. The counterpunch then came from Kalitta, who then regained the points lead with back-to-back wins at Sonoma, Calif. and Brainerd, Minn. Schumacher made up a ton of ground at Memphis, Tenn. - where he was the runner-up and his teammate, Melanie Troxel, beat Kalitta in the first round - and then came the final lead change of the season with Schumacher's runner-up finish at the Mac Tools U.S. Nationals.
Schumacher still had work to do, however. A new challenge had been thrown at him by two-time champion Larry Dixon, who defeated him in the final round of the Mac Tools U.S. Nationals to close to within 79 points. The two met up again one event later in the finals of the Toyo Tires Nationals in Reading, Pa. but it was Schumacher this time getting the best of Dixon, which began a three-race winning streak to cement his second straight title.
"It has been a lot of fun this year," Schumacher said. "I've had a lot of fans come up to me and tell me how much fun they've had watching the battle this season between me and Kalitta and Dixon. As drivers sometimes we forget how much fun this is to watch if you are a fan. I am glad that we were able to make it so exciting this year."
Entering Las Vegas, Schumacher has raced to seven victories in 10 final round appearances. He has also been the No. 1 qualifier 10 times, recorded the top speed 11 times, and established the NHRA national record for elapsed time with his 4.437-second pass in Friday night qualifying at the Ameriquest Mortgage NHRA Nationals in Joliet, Ill. in late September.
The son of drag racing pioneer Don Schumacher, who serves as the team's owner, Tony joins an elite list of three-time NHRA POWERade Series Top Fuel world champions, including Don Garlits, Shirley Muldowney, Joe Amato and Gary Scelzi.




NHRA: 10 Most Recent Entries [ top ]

Mar 19- GAINESVILLE - Sunday Video
Mar 18- GAINESVILLE - Pro Mod Sunday Wrap Up
Mar 18- GAINESVILLE - Sunday Wrap Up
Mar 18- GAINESVILLE - Pro Mod Championship Points
Mar 18- GAINESVILLE - Bonus Points
Mar 18- GAINESVILLE - Championship Points
Mar 18- GAINESVILLE - Mickey Thompson Top Fuel Harley Series Championship Points
Mar 18- GAINESVILLE - Bonus Points
Mar 18- GAINESVILLE - Summary of Eliminations in Top Fuel
Mar 18- GAINESVILLE - Summary of Eliminations in Funny Car