Fri, 21 Oct 2005, 11:31 PM



Schumacher, Johnson, Anderson and Schnitz Lead Qualifying



Courtesy of NHRA Communications


Photo copyright 2005 Auto Imagery, Inc.





At ACDelco Las Vegas NHRA Nationals at The Strip at LVMS



LAS VEGAS --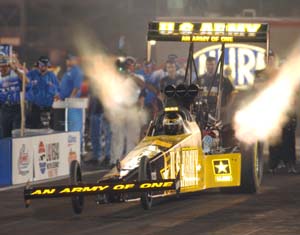 Tony Schumacher
Tony Schumacher clinched his third NHRA POWERade Series world championship in Top Fuel and raced to the qualifying lead Friday at the ACDelco NHRA Las Vegas Nationals at The Strip at Las Vegas Motor Speedway.
Tommy Johnson Jr., Greg Anderson and Ryan Schnitz also were qualifying leaders at the $1.8 million race, the 22nd of 23 events in the $50 million NHRA POWERade Drag Racing Series.
Schumacher, who only needed to make a qualifying attempt to claim the season title, drove his U.S. Army dragster to the top of the 16-car order with a 4.516 second run at 325.53 mph. If Schumacher hangs onto the position through Saturday's two qualifying sessions (noon and 3 p.m.) he will break a longstanding record for No. 1 positions in a season (10) for Top Fuel, which he currently holds with Gary Beck (1983) and the late Blaine Johnson (1996).
"I knew the championship was all but wrapped up, but I didn't want to smoke the tires on that clinching run," said Schumacher, who will face Dave Grubnic in the first-round of Saturday's $100,000 Budweiser Shootout. "I'm relieved it's over. We all worked so hard for this. Now, we can celebrate, but not too much, because the Bud Shootout is tomorrow. It would be nice to take home all of that Bud money."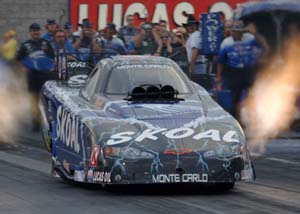 Tommy Johnson Jr.
Schumacher teammate Melanie Troxel was second with a 4.521 at 328.78 in her Skull Gear/Torco Race Fuels dragster. Local favorite "Hot Rod" Fuller was fourth with a 4.547 at 326.08 in his David Powers Homes/Valvoline dragster.
Skoal Chevy Monte Carlo driver Johnson could earn his first No. 1 effort since 2001 if his 4.763 at 325.77 holds as the quickest performance in Funny Car.
"I guess you can call it a dry spell," Johnson said. "I'm not sure if it will hold. The conditions should be pretty similar tomorrow, so people should step up. The performance of our car has been coming around the second half of the season. We've been qualifying well near the top of the pack. It wasn't a big surprise to us, but it was a nice surprise. It was far from a perfect run, so we'll definitely try and improve tomorrow."
POWERade Series championship frontrunners John Force, Gary Scelzi and Ron Capps qualified ninth, third and 10th respectively.
Greg Anderson
Anderson posted a 6.825 at 201.40 in his Summit Racing Pontiac GTO to lead Pro Stock qualifying. He can clinch his third consecutive POWERade Series world championship title if he qualifies eighth or better at this event.
"I love this racetrack," Anderson said. "It's always been very, very good to me, and I can't think of a better place to close this year's chapter and clinch that championship here in front of (Las Vegas-based team owner) Ken Black and all of his family and everybody that's done all this for me. I certainly wouldn't be here if it wasn't for Ken and all of his family. I just can't say enough about what he's done. It feels great to come here and have a chance to wrap her up in front of him in his hometown."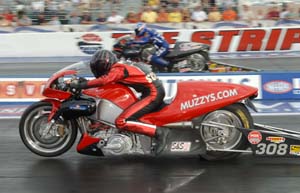 Ryan Schnitz
Schnitz raced to the qualifying lead in Pro Stock Motorcycle by clocking a 7.205 at 183.67 on his Muzzy.com Buell.
"All in all we had a good handle on the track, but I think we will need to improve to be able to stay on top," said Schnitz who is seeking his first career No. 1 qualifying position. "This is my team owner Rob Muzzy's birthday so this would be a good present to give him."




NHRA: 10 Most Recent Entries [ top ]

Mar 22- LAS VEGAS 1 - Defending Funny Car Winner Tommy Johnson Jr. Excited for Four-Wide Racing
Mar 22- NHRA Northwest Nationals Tickets on Sale Now
Mar 21- LAS VEGAS 1 - Fact Sheet
Mar 21- LAS VEGAS 1 - Event Preview
Mar 20- Strong Stable of Contending Pro Stock Racers Vie for Final Starting Position for K&N Horsepower Challenge
Mar 20- GAINESVILLE - Special Awards
Mar 20- GAINESVILLE - Lucas Oil Drag Racing Series Wrap Up
Mar 19- GAINESVILLE - Sunday Video
Mar 18- GAINESVILLE - Pro Mod Sunday Wrap Up
Mar 18- GAINESVILLE - Sunday Wrap Up