Thu, 20 Oct 2005, 08:59 PM



Fear the



By Bob Frey


Photo copyright 2005 Extreme Photography





MORRISON, Colo. --
Use this template if you want the picture on the right side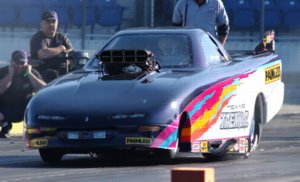 Jones Launches at Ennis Divisional Race
One of the real pleasant surprises of the 2005 season on the Lucas Oil trail has been the performance of the "Texas Tremor" alcohol funny car. Jimmy Jones and his partner Paul Kelly have been one of the most improved teams in the country this year and that's one of the reasons why they look primed to win their first division title after many years of trying. "I started match racing funny cars back in 1977," Jimmy said after his runner-up showing at the recent O'Reilly Fallnationals in Ennis. "I bought one of Gene Snow's old 'Rambunctious' cars and put a big block Chevy in it with a 671 blower and ran against guys like Frank Cook, Ronny Young, James Brown and a bunch of others." Jimmy did that through the mid-1980's and then he got into racing on the division level around 1984. At that time he was running another car that had made quite a name for itself in and around the southwest. "I bought the old 'Million Dollar Baby' car from Billy Graham and we put a Rodeck motor in it and ran it for a couple of years." Before that he also ran one of the most popular types of cars in the history of the sport of drag racing, a 1948 Anglia with a fuel burning motor. "They had a circuit in Texas back then that raced these cars. There were about four or five of us who had them and we traveled to most of the tracks in the state and ran as a group. The cars had Chevy engines and ran about 30% nitro. They weren't real fast, maybe 9.30 at about 160 miles per hour but we had a lot of fun." Probably not as much fun as he's having this year, though.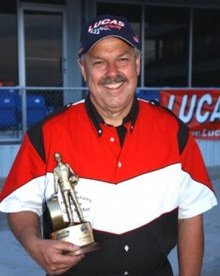 Jones Cradles His "Wally"
Jimmy Jones has been a familiar figure at the Division 4 races for a number of years but one of the reasons that he is having a career year in 2005 is that the "figure" on the tour looks a little different. "I dropped about fifty pounds during the off season and that lightened up the car quite a bit," he said with a smile. And when I asked him what he did to shed those unwanted pounds he said, "I just quit having a good time. When it came to eating, if it tastes good, I don't eat it." Well, that'll do it, won't it? That, a little walking and a whole lot of will power. And while Jimmy's diet may have been one ingredient in the car's improvement, it certainly wasn't the only thing. Together with his partner, and with the help from one of Division 4's greats, Jackie Stidham, they made some changes to the chassis and some major ones in the clutch department along with a new fuel system from Randy Anderson and the results have been obvious to everyone. "We had been sneaking up on the big numbers but it all came together in Dallas when we ran that 5.62," Jimmy said. After that strong performance the team made it to their first-ever final round at a national event, and even thought they lost to Steve Gasparrelli, they were very pleased with the entire weekend. "As the day went on we began to think that this (a win) can really happen. You race for so long and it almost seems unattainable, but that weekend was the highlight of our finest year as a team. It's been pretty neat." The rest of the year hasn't been bad, either, with five final rounds on the divisional level and three wins, a number that matches their career totals coming into this season.
Jimmy Jones is fifty-seven years old and is a pharmacist by profession, something that he's done since 1973. His partner is involved with building houses and he is having as good a year off the track as the team is on the track and that's one of the reasons that the team didn't make the Chicago race a few weeks ago. "Paul owns the rig and he is our only truck driver and he had commitments at work and couldn't get off for the All Star weekend," Jimmy said. "I tried to hitch a ride with Jackie but he hurt some parts at the divisional race a week earlier and decided not to go to Chicago so I wasn't able to be there." Jimmy admitted that he really would have liked to compete at Chicago for a variety of reasons. "It's not often that you get to be the All Star representative from your division so it's an honor when you do make it. This was our first time and we'd never been to the Chicago track and we'd heard so much about it that we were really looking forward to the trip. Plus, just the opportunity to run with that caliber of competition would have been a lot of fun, but it just wasn't meant to be this year." With the way the team is running in 2005 I have a feeling that there will be more All Star appearances for the "Texas Tremor" in the future. Though the years Jimmy has had a couple of partners and each has brought his special talents to the operation. Jack Castle was with him from about 1984 through 2000 and Ronny Doran was part of the team from '86 thru 1993, and when he left that's when Paul Kelly joined the team. "Jack did electrical work on houses and that's how he knew Paul. Jimmy has been married to his wife, Glenda, for twenty-eight years, and while she attends the races close to home she's not real big on the traveling. "She's not quite as enthused about it as I am," he said. "Still, she supports us and she's happy to see us having such a good year."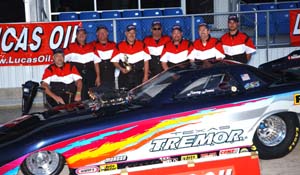 Jones In Winner's Circle
With a division championship in sight, and with his first national event final round under his belt, Jimmy is quick to credit a lot of people in the division who have helped him out. "We get a lot of support and help from the guys we race against, guys like Jackie Stidham, Jerry Wilson and Kebin Kinsley who can't help us enough. We all run Brad Anderson combos and we've learned a lot from them. Plus Kebin and Jackie are very good chassis guys." Even with the outside help Jimmy does do a lot of the tuning at the track while Paul takes care of things in the clutch department. "I never really considered myself a tuner, but I do it so I can drive the car. That's the fun part, it's exciting. It's a real rush." Especially when you're going 5.62 like he did at the recent Dallas event. Jimmy is also quick to point out that they have a lot of good tracks in the division and that makes running a lot easier. "We've got the same basic car that we've been running since 1999. We can run it at a lot of the tracks in our division without beating it up too badly and that's good when you're on a budget. We've made some minor changes along the way but nothing major. This year we found a few ignition problems that have plagued us for a while and that's one of the reasons why our numbers have improved." For 2006 Jimmy and Paul plan to make some more minor changes to the operation but nothing big. "Maybe some new cylinder heads and a few other upgrades, but not a lot." Why should they, when you've run your career best numbers, been to more final rounds than in your entire career and made the All Star team, why change? In fact the only thing they might change for next year is their transportation to the All Star event. "I can pretty much tell you that if we qualify next year, we'll be there," Jimmy said.
Jimmy and Paul would like to thank Painless Performance, VistaPlex Video Surveillance, AirCo Heat and Air, Alan Meyer Enterprises, Comp Cams, Paul Kelly Custom Homes and their top notch crew for their help and support. And as for the name "Texas Tremor," it came from that circuit that they used to run. "There were cars with all kinds of weird names, like the Shockwave and other things like that on the circuit so the name just happened. I wonder sometimes why we keep it but we've had it so long it's part of our operation now." Just like winning races is. And while Division 4 has some very good teams, everyone knows now that if you're going to race in the South Central division, you better beware of the "Texas Tremor."




NHRA: 10 Most Recent Entries [ top ]

Mar 22- LAS VEGAS 1 - Defending Funny Car Winner Tommy Johnson Jr. Excited for Four-Wide Racing
Mar 22- NHRA Northwest Nationals Tickets on Sale Now
Mar 21- LAS VEGAS 1 - Fact Sheet
Mar 21- LAS VEGAS 1 - Event Preview
Mar 20- Strong Stable of Contending Pro Stock Racers Vie for Final Starting Position for K&N Horsepower Challenge
Mar 20- GAINESVILLE - Special Awards
Mar 20- GAINESVILLE - Lucas Oil Drag Racing Series Wrap Up
Mar 19- GAINESVILLE - Sunday Video
Mar 18- GAINESVILLE - Pro Mod Sunday Wrap Up
Mar 18- GAINESVILLE - Sunday Wrap Up