Wed, 19 Oct 2005, 07:31 PM



Happy 600th Birthday



By Bob Frey


Photo copyright 2005 Auto Imagery, Inc. & Extreme Photography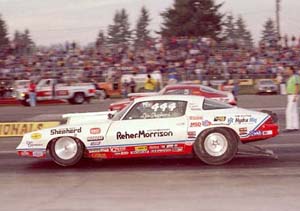 Lee Shepherd at SIR in '77.
OK, so it's not really a birthday but
did you know
that the
A.C. Delco Nationals
at the Strip at Las Vegas Motor Speedway this weekend will be the 600
th
national race in NHRA history? 600, that's a bunch of races especially when you consider that from the first national event in 1955 through the end of 1979 there had only been a total of 123 events. It should come as no surprise that at each and every milestone race through the years some of the greats of the sport have been involved in the final rounds. The 100
th
event was the Fallnationals in 1977 at Seattle International Raceway. At that race
Bob Glidden
and
Dale Armstrong
, two of NHRA's Top Ten drivers, both visited the winner's circle and so did a driver who was not so well known,
Stan Shiroma
. And, it should be pointed out,
Margaret Glembocki
also won at that race and she was one of the first women to win a national event. Margaret's son, by the way, will be at
Pomona
this year as part of the Division 6 contingent in the
Summit Racing Series
.
A big congrats to the Glembocki family.
Nine years later NHRA conducted its 200
th
national event at the 1986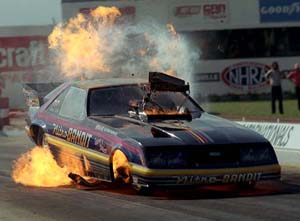 Brad Tuttle explodes in Gainesville
Gatornationals. Like the earlier race, a couple of the greats won in the pro classes along with one who was not quite as well known.
Don Garlits
and
Ed McCulloch
won in the top two pro classes while
Don Campanello
won in Pro Stock. Like Stan Shiroma in
Seattle
nine years
earlier, that
would be the first and only national event win for Don Campanello.
The 1992 Winternationals was the next milestone event, the 300th in NHRA history and Kenny Bernstein and John Force were both in the finals,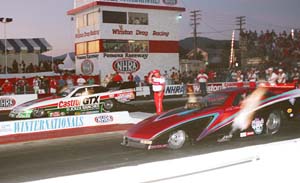 Epler v. Force at '92 WinterNats.
but only Kenny won. John lost to
Jim Epler
in one of the big upsets of all time while the father of one of today's hottest drivers also won his first and only race at that event.
Bernie Plourd
, whose son Brad may be driving in Pro Stock next year (remember you heard it here first), won the Top Alcohol Dragster title and he was joined in the winner's circle by one of the greats in the alcohol class,
Bob Newberry
. In 1997, at Heartland Park Topeka, NHRA held race #400 and four of the six drivers who made the finals in the pro classes will be racing in Vegas this weekend.
Scott Kalitta
beat
Gary Scelzi
in Top Fuel,
Whit Bazemore
won Funny Car and
Larry Morgan
was the runner-up in Pro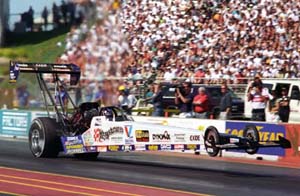 Joe Amato at Topeka in '97.
Stock. The sportsman
winners at that race reads
like a "Who's Who" of the sportsman world and includes
Jay Payne, Cy
Chesterman
and
Edmond Richardson
. Indy, 2001, took center stage as the 500
th
event in NHRA history and the winners there included
Larry Dixon, Whit Bazemore, Greg Anderson
and
Angelle Sampey.
The sportsman ranks also featured some Hall of Fame names, like
Keith Stark, Frank Manzo, Santo Volpe, Peter Biondo
and the
Waldo
family,
Eric
and
Jim.
Now, at the 600
th
event in prime time,
Tony Schumacher
and
Greg Anderson
will clinch their third
POWERade
championships while John Force, Gary Scelzi and
Ron Capps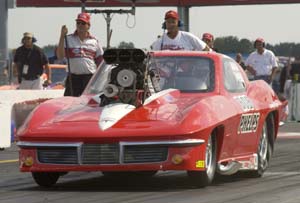 Santo Volpe at Indy
will slug it out for the lead in the Funny Car points. The Pro Stock Motorcycle class will also see quite a fight between
Andrew Hines
and
GT
Tonglet
on their
Vance & Hines Screamin' Eagle
Harley-Davidsons
. And just in case you were wondering about which race featured the very first Harley-Davidson Pro Stock Motorcycle (and I know you were),
did you know
that the answer would be the 125
th
race? Really,
Ed Ryan
raced with his Harley-Davidson at the 1980 Gatornationals and he made it all the way to the final round where he lost to "Superbike"
Mike Keyte
. There, now you're all up to date. And I wonder what Mike Keyte is doing these days?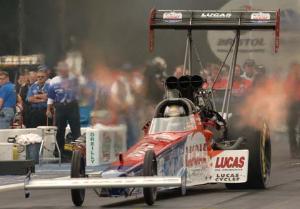 Morgan Lucas
Since I mentioned last week that there would be two teams running Top Fuel cars next year, one under the
Forest Lucas
banner with
Morgan Lucas
driving, and another under the ownership of
Doug Davenport
with fill-in-name-of-driver here, and since I mentioned
Jim Dupuy
in both sentences, I thought I'd update you on Jim's status. Jim, who has done a wonderful job with the Morgan Lucas team this year, told me this week that he is still "keeping all of his options open." By that he means that he has spoken to Doug but that he is also looking at several other opportunities that are out there. "Nothing is done as of today," he told me. "Everyone knows that I would like to keep the core group of guys together that has been with me this year, and if we could stay together as a team that would be great, but right now we're still looking." I have to say that I find that to be a very admirable quality in today's world, a guy who is loyal to his fellow workers and his friends. I think Jim and his crew would be a great addition to any team and, with several new cars coming out next year, I hope that Jim gets his shot as a crew chief where ever it may be. When you look at where the next group of top notch crew chiefs will come from, you can always start with Jim Dupuy. And how neat would it be to see Jim race against his brother,
Wayne,
in a final round this year?
Wayne
, by the way, has taken
Doug Herbert
to new heights over the past few races and I would be surprised if the
Snap-On Tools
team doesn't win one of the final two races of the season. How about #600, Doug
?...
Rod Fuller
returns to his home town this week and I'm sure he'll be the center of more attention than he was at the first Vegas race this year. The
David Powers
team has to be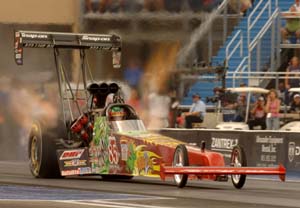 Doug Herbert
considered an odds-on favorite at every race now and they certainly will
be
a factor in the championship chase next year. And, from what I hear, David hasn't ruled out the possibility of adding a second car next year. If that happens and if it happened to be a Funny Car, David would be returning to his roots, since he and his partner,
John Riley
, ran a two-car team back in the late 1960's and early '70's and it included one dragster and one funny car..And a name from the past,
Ray Stutz
, will return to action this weekend in the Top Fuel class. Ray, who ran a variety of cars beginning as far back as 1972, will try to qualify for the field for the first time since his last appearance at the final race of 1999. Ray is one of the few guys who can say that he has raced against Don Garlits,
Jerry Marconi
and Stan Shiroma. Wow, two Stan Shiroma mentions in one column.
Did you know
that's a record
?....
Tony Schumacher is going for a little bit of history this week.
Did you know
that Tony could tie two long standing Top Fuel records this weekend if he goes to the final round and wins the race? Tony has been to five consecutive final rounds and the Top Fuel record is six. And,
did you know
that the record for consecutive wins in Top Fuel is four? The "Sarge" has already won three straight so he could tie that record with a win in
Las Vegas
. One record that will elude Tony is the mark for the most round wins in a season.
Did you know
that Kenny Bernstein won 61 rounds in his last championship season and that remains the best in Top Fuel history? According to my records, even Stan Shiroma never won that many. Hey, I had to do it..And in case you were wondering, the record for the most consecutive round wins in Top Fuel is 19 and that is shared by Scott Kalitta and
Cory McClenathan
. In order to match that mark Tony would have to win this weekend and then go to the final round at
Pomona
.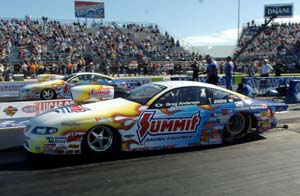 Anderson vs Line
Greg Anderson will continue his domination this weekend and, whether he wins the race or not he will clinch his third consecutive POWERade championship. All Greg has to do to clinch is qualify in the top half of the field, and if you're wondering if that will be a problem for him stop worrying.
Did you know
that during his three year reign as champion Greg has only failed to qualify in the top half of the field three times? Three times, that's amazing, isn't it? And two of those times have come this year, although recently Greg hasn't done much except qualify at the top of the pack. In fact, Greg and
Jason Line
are starting to make a habit of putting their
Summit
Racing GTO's
in the top two spots.
Did you know
that since they became teammates Greg and Jason
have
qualified number 1 & 2 eleven times and that at all eleven of those races either Greg or Jason won the event? And
did you know
that at seven of those races both drivers made it to the money round?...
Warren Johnson
will look to do something this week that he's never done before and that is win at the Strip.
Did you know
that
Las Vegas
is the only venue on tour where the "Professor" has never won a race? Of course with his announcement that he'll be driving for at least two more years he will have plenty of chances to add
Las Vegas
to his list of winning drag strips.
Did you know
that "WJ" has won on 24 different race tracks and, by last count, that's the most of any professional driver in NHRA history..
Mike Thomas
will be driving for
Ken Koretsky
this weekend
which means that if you have a chance to place a "field bet" at any of the casinos, take it. Mike and the
"Nitro Fish"
Dodge can win the
race,
remember you heard it here first. Kenny will be at the track but he'll be pacing himself and believe me, that's not easy for Ken in
Las Vegas
. Hey, maybe Mike will win the race,
Clay Millican
will be selected as the eighth driver in the
Bud Shootout
and Kenny will cash all around.
Or..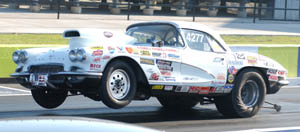 William McLemore
The Lucas Oil sportsman battles will continue this week and, while there are no alky cars running at the national event, there are still a lot of points up for grabs in the other sportsman classes. The most interesting, at least for this one weekend, will be Competition Eliminator where
Jeff Taylor
has taken the lead with his big win at the Division 4 race in Ennis this past weekend. The way I figure it (and remember, this is unofficial and remember that math was never by best subject),
Michael Stone
needs to go to the final round and win at both Vegas and the final race of the year in Pomona to have a chance to win it all. The other sportsman classes have some great battles too, and several drivers could still win it all in Super Stock, Super Gas and Super Comp. I do have to admit that I like
Gary Stinnett's
chances in the 8.90 class. Two of the classes have already been decided and they are Top Alcohol Dragster and Stock where
Steve Torrence
and
Peter Biondo
have already clinched their crowns...Also at that D-4 race this past weekend
William
McLemore
won the Super Stock crown and that's his first win since he won the
Amarillo
race in 1987. Since I like these little ironies,
did you know
that
Jim Hughes
won in two classes this past weekend and the last time that William won a divisional race there was also a guy who won two classes?
Edmond Richardson
won SC & SG in '87 and those are the same two classes that Mr. Hughes won this weekend. And, there's more.
Did you know
that
Tom Conway
owns and tunes the car that Steve Torrence drove this past weekend and it was Tom who won the alcohol dragster class in
Amarillo
in 1987? Anyway, a big "congratulations" to William for his well deserved win and a big "thanks" to his wife, Sarah, for all she does to help with D.R.A.W. Those two really are the essence of drag racing...See you at the "Strip."




NHRA: 10 Most Recent Entries [ top ]

Apr 19- HOUSTON - Friday Schedule
Apr 19- Tige Boats Named Presenting Sponsor of E3 Spark Plugs NHRA Pro Mod Drag Racing Series Portion of NHRA SpringNationals
Apr 19- HOUSTON - Previous Success, Early Win has Funny Car's Courtney Force Excited
Apr 18- Haney Headed for NHRA Pro Mod with Summit Racing on His Side
Apr 18- HOUSTON - Richie Crampton Enjoying Early-Season Success Heading to 31st Annual NHRA SpringNationals
Apr 18- 2018 Mustang Cobra Jet Celebrates 50th Anniversary of Racing Legend with Quickest
Apr 18- New Ford Mustang Funny Car Scheduled to Debut In 2019 NHRA Mello Yello Season Opener
Apr 16- HOUSTON - Fact Sheet
Apr 16- HOUSTON - After Early-Season Mishap Funny Car's Jonnie Lindberg Looks to Get On Track