Wed, 19 Oct 2005, 02:55 PM



Dan Engel Brings Diverse Background To GM Racing's NHRA Program Manager Post



Courtesy of Jeff Romack



LAS VEGAS --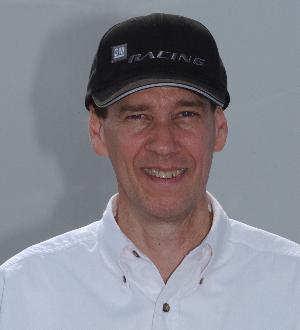 Dan Engel
Dan Engel started with GM Racing's motorsports group in 1985, and he has worked on numerous racing programs since beginning as engine program manager with the IMSA GTO Series, but his affinity for drag racing started long before his current assignment as GM Racing's NHRA Program Manager.
"When I was a high school senior, we had some kind of state competition for writing a paper," said Engel. "So our English teacher told us to write anything you want, just any subject, and then she'd pick the best out of the class and send it into the regional competition, and mine got picked. I lived up in the thumb of Michigan near Ubly Dragstrip, so my paper was titled, "If You Want To Race, Go To Ubly Dragstrip." I just basically wrote about drag racing, so I got picked best in my class but didn't get to state. I wish I still had the paper."
After the GTO Series, Engel worked on GM Racing's IMSA GTP program before moving on to work on the engine program for GM Racing's first win at Pikes Peak in 1990. He then shifted gears to off-road racing where he was a part of the GM program that won the challenging Baja 1000 in 1991. In the mid-'90s Engel worked on GM Racing's successful Trans Am program and was instrumental in persuading a Trans Am driver named Ron Fellows over to the GM camp. Fellows has gone on to great success with GM's sport-car racing efforts with Corvette and Cadillac, and the fan-friendly Canadian has recorded multiple wins for GM Racing in the NASCAR Craftsman Truck and Busch Series. Engel also worked on GM Racing programs in NASCAR and the IRL before assuming his post as NHRA Program Manager in July 2003.
"As program manager I have responsibilities for the administrative side of running our drag racing program, but also the engineering side, and that includes development of new cars as well as the development of the DRCE3 and future engine programs," said Engel. "On our engine program I'm working with the foundries and machine shops to get our parts cast and machined, and also with different suppliers on the bodies and the chassis builders. From the engineering side I'm a one-man show, so it's very time consuming.
"My biggest interaction with the teams revolves around the engine since that's my specialty. Although I've also been involved quite a bit in aero testing over the years, my background is engines. Creating horsepower is the most important aspect of Pro Stock racing and it's what consumes most of a team's budget. You can see the guys who have invested a lot into their engine programs are doing very well, and the guys with weaker programs are not doing that well. The gaps seems to have widened in the last few years, and engine technology has also picked up here in the last few years as far as what you can get out of them, but you have to spend the money to do all of that development and testing to realize that few extra horsepower. The engine budget can be more than 50 percent of some team's racing budgets. NHRA tried to help that a little bit last year when they implemented a minimum weight on certain engine components. That was a good step in the right direction. In the IRL they were replacing cylinder heads and the block after every few races. You're almost to a point there where you have a throwaway engine after each race. Certainly we can't afford to do that in Pro Stock, but even internal parts, you don't want to be throwing crankshafts away after each race because they're light, or pistons, and we're to the point now where valve springs don't last too long. Every weekend teams check valve springs after each run and usually replace a few."
This season Engel oversaw a dramatic makeover in GM's Pro Stock lineup with the introduction of the Chevy Cobalt at Bristol (Tenn.) in the spring and the Pontiac GTO at Denver in June. Both cars have had quick success in their maiden seasons, the Pontiac GTO leading the way with six victories and six No. 1 qualifiers, and the Cobalt right behind with three wins, eight final-round appearances and four No. 1 qualifiers through the season's first 21 races.
"I think it's been a very successful year," said Engel. "Besides the Pro Stock bodies we did with the Cobalt and the GTO, we also did the Sportsman bodies for both the Cobalt and the GTO. One of the things we focused on was making sure that the difference between the Cobalt and the GTO was minimal from a performance standpoint so that one team didn't have the edge over another as far as Pontiac and Chevrolet teams. Just recently we put both cars in the wind tunnel, and these were in just-raced condition, and it turns out that in fact both cars were identical. They literally overlaid each other as far as the aero data goes.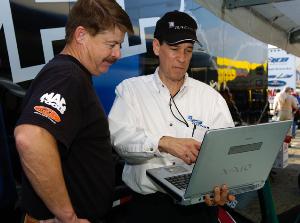 Mike Edwards and Engel.
"Even though we had both cars in the wind tunnel as they were being developed, the final product weren't cars under race conditions, and those numbers can be different from the car that you're actually racing. We were hoping they would be close, so it was comforting to see that. The perception is that the GTO is better than the Cobalt, but we can look people in the eye and tell them that both cars are the same. You'll never completely get rid of the perception of what people might think, and whoever is running the best, that's the car everyone thinks is the best. Right now Anderson, Line and Warren Johnson are three of the four cars at the top of the pile, so the perception is that the GTO is better. But remember, both of these cars debuted very well. Kurt Johnson had very little time with his new Cobalt, brought it out in Bristol (Tenn.) and ran very good right away. Greg Anderson also ran very well with his new GTO right out of the box as well as did Warren Johnson. We're very happy with the performance of these two racecars."
With his background in engine work and development, Engel has had a vested interest and involvement in the progress of GM's third-generation DRCE (Drag Racing Competition Engine).
"One thing that happens in drag racing that's a little different, say than Nextel Cup Racing, is that we don't really have the budget to go out and do the development work before we go to the sanctioning body and ask for approval," said Engel. "We design the cylinder head and the block and we go to the sanctioning body and ask them for approval. If they do, then we pass out the pieces and have to kind of develop these pieces as they're being tested or raced. That's what Warren Johnson went through last year, and this year as well. We're kind of through that phase of the engine's development now. As Warren was out there racing the DRCE3, we did find some things that we had to go back and redo or fix. That has kind of tapered off now, although that's not to say that we might not make some changes down the road. When Warren came out of the box at the beginning of the year running real well, it generated a lot of attention in the DRCE3 package. In 2006 you will definitely see other teams running the DRCE3. They might run the new heads and the new block at the same time, or they might start out with just the head on the old block or vice versa. Some people like to jump in with both feet, some people like to develop one component at a time to cut down on the variables. But there are teams working on the DRCE3 right now, so you'll see more teams racing with it next year."
GM Racing has always had a strong commitment to safety, constantly evaluating and improving the safety systems in place with both GM drivers and their competitors.
"We've worked with the teams quite a bit with the HANS device, pointing out the benefits of using a head-and-neck device," said Engel. "I think most, if not all, teams are using the HANS device. We've spent a lot of time with the Funny Car and Top Fuel guys pointing out the advantages of using such a device as opposed to using nothing.
"We're also working on a device that would shut off the engine in the event that the car would make an impact with the wall. The way we would detect that would be with an accelerometer that would measure deceleration of the car. That's pretty much what happens when an air bag deploys in a production car. There's an accelerometer that detects the sudden deceleration and deploys the air bag. Typically, even if you stand on the breaks, that's not enough to activate the airbag. But if you hit another car, or the wall, the air bag would be energized. We're looking at something similar to shut off the engine because what happens if the car hits the wall and the throttle is jammed open? The technology is there, it's just finding the right transducers to work in this harsh drag racing environment. We also have a full-time safety engineer, Tom Gideon, that oversees our safety department, and this is a project he is working on. We've actually done some testing with some pieces, some production-car transducers used for air-bag deployment, but they haven't stood up to the vibration of the Pro Stock cars. We're still trying different transducers. NHRA is also very enthused about this safety aspect and they're working very closely with us."
It's been an interesting journey so far for Dan Engel, one that has come full circle from senior high school essay winner about a drag strip in Michigan to GM Racing's NHRA Program Manager.
"I really enjoy drag racing," said Engel. "I've been involved in many types of motor- sports, but in all honesty I can say that I really, really enjoy the drag racing. The people are all great people, and it's fun working with the different teams and engine builders. I'm learning quite a bit just dealing with the teams and engine builders. The respect that these guys have for each other is amazing. I remember when Kurt Johnson had a problem at the starting line and Larry Morgan, being in a competitor's car, held back waiting for Kurt to get his engine started and get to the starting line. Larry didn't want to win on a bye round without racing against somebody. Jason Line just did the same thing in Chicago with Erica Enders, and that was in a final round. You just don't see stuff like that happen in other racing series where everything is so cutthroat. Although there is a lot on the line, these guys still help each other out, they're always floating parts and advice back and forth, much more than I would have ever expected. When Ron (Krisher) had his incident in Seattle, people were making cars available for him to use. That happens every single weekend, there's never any hesitation to loan something out and that's really admirable."




NHRA: 10 Most Recent Entries [ top ]

Apr 24- CHARLOTTE 1 - Steve Torrence Enjoying Four-Wide Success Heading to NGK Spark Plugs NHRA Four-Wide Nationals
Apr 24- CHARLOTTE 1 - Fact Sheet
Apr 24- Kalitta Motorsports Welcomes NASCAR Stars to the SealMaster Track Walk in Charlotte
Apr 24- zMAX Dragway Celebrates 10th Anniversary
Apr 24- CHARLOTTE 1 - NGK Spark Plugs NHRA Four-Wide Nationals Brings 40,000 Horsepower Thrill Show to zMAX Dragway
Apr 23- HOUSTON - Lucas Oil Drag Racing Series Wrap Up The NHRA Lucas Oil Drag Racing Series Wrap Up
Apr 23- CHARLOTTE 1 - J.R. Todd Aiming for Two Four-Wide Racing Wins in 2018
Apr 23- Mid America Dragway Joins NHRA Member Track Network
Apr 23- HOUSTON - Special Awards
Apr 23- HOUSTON - Sunday Video