Wed, 19 Oct 2005, 02:29 PM



Happy 100, Las Vegas



Courtesy of Judy Stropus



MATCO Tools Drag Machines Return to Las Vegas for Appearance at Hard Rock Hotel & Casino



LAS VEGAS --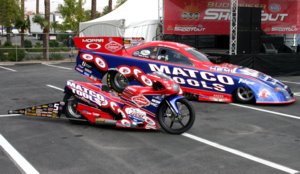 Treble's Suzuki & Bazemore's Stratus
In April, Las Vegas provided the backdrop for an unveiling that culminated with the first public showcase of two Las Vegas Centennial-themed drag racing machines: Whit Bazemore's MATCO Tools Iron Eagle Dodge Stratus funny car and Craig Treble's MATCO Tools Suzuki pro stock bike.
Now, Bazemore, Treble and their respective Las Vegas Centennial drag machines are back in town for a special event at the Hard Rock Hotel & Casino. Today (Tuesday, Oct. 19), the drivers will be present for a press engagement at the famous hotel, which will include a display of the MATCO Tools Iron Eagle funny car and Suzuki pro stock bike.
On Thursday, October 20, Bazemore and Treble will return to the Hard Rock, along with the MATCO Tools funny car and motorcycle, for the National Hot Rod Association Budweiser Shootout Draw Party and Fan Zone Festival in the hotel's parking lot. The festival, slated to begin at noon, will include live music and a visit from the majestic Budweiser Clydesdales. From 5 p.m. until 6:30 p.m., Bazemore and Treble will host an autograph session. Beginning at 7 p.m., the Budweiser Shootout Draw Party will commence at The Joint, the rocking concert venue inside the Hard Rock Hotel.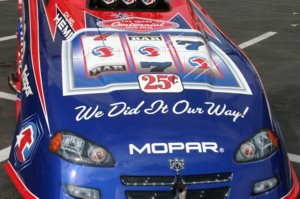 Bazemore's Hood Detail
Drag racing fans finally will get to see both Las Vegas-themed MATCO Tools machines revving out loud and in action when the NHRA Nationals race down The Strip at Las Vegas Motor Speedway on Oct. 20-23, 2005. This year, Las Vegas is celebrating its centennial anniversary with a yearlong tribute, including the April and October NHRA Nationals races. Officially, the city hit the century mark on May 15, 2005.
"The NHRA drag races are an embodiment of the energy that fuels Las Vegas, and these races are among the most popular and anticipated events of the season," said Fred Wagenhals, Action Performance1s chairman, president and CEO. "As Las Vegas celebrates its 100-year anniversary, it seems only appropriate to share in the festivities and salute a city that has fast become a 'must-experience' spectacle for drag racing fans."
Action Performance designed both Las Vegas Centennial NHRA drag vehicles and will produce authentic die-cast replicas of both the MATCO Tools Dodge Stratus funny car and Suzuki pro stock bike. For an authorized Action products dealer in your area, call 1-888-332-5823.




NHRA: 10 Most Recent Entries [ top ]

Apr 23- Mid America Dragway Joins NHRA Member Track Network
Apr 23- HOUSTON - Special Awards
Apr 23- HOUSTON - Sunday Video
Apr 22- HOUSTON - Sunday Pro Mod Wrap Up