Wed, 19 Oct 2005, 10:19 AM



Top Fuel Upstart Fuller Hopes to Give Hometown Las Vegas Fans Something to Cheer for at The Strip



Courtesy of NHRA Communications



LAS VEGAS --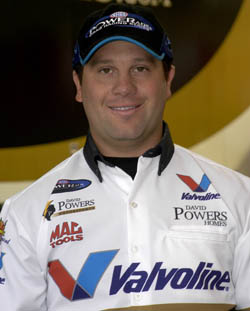 "Hot Rod" Fuller
Many performers have excelled at just the right moment in time under the bright lights in Las Vegas and made the transformation from just another face in the crowd to instant celebrity.
Liberace, Wayne Newton, Siegfried and Roy, The Blue Man Group, and Charro are just a few entertainers who took advantage of Las Vegas' glitter and found fame.
"Hot Rod" Fuller, Las Vegas resident and NHRA Top Fuel standout, hopes to add his name to that list. However, Fuller's performances - which will come in 4.4-second bursts at more than 320 mph - won't take place on a stage on the traditional Vegas Strip.
Fuller will entertain his hometown fans at The Strip at Las Vegas Motor Speedway.
Fuller hopes to celebrate a victory in front of his friends and family at the ACDelco Las Vegas NHRA Nationals, Oct. 20-23 at The Strip at Las Vegas Motor Speedway. The $1.8 million race, which will be televised on ESPN2, is the 22nd of 23 events in the $50 million NHRA POWERade Drag Racing Series for 2005. The defending winners of the event include Doug Kalitta (Top Fuel); Gary Scelzi (Funny Car); Greg Anderson (Pro Stock) and Chip Ellis (Pro Stock Motorcycle).
Fuller, a virtual unknown when he made his first start at The Strip in April, feels certain that this time around more of the Las Vegas fan base is going to be cheering him on.
"At the first race in Las Vegas this year I don't think a lot of people knew who I was and maybe didn't take me or the team for real," said Fuller, who drives the Valvoline dragster for Houston-based team owner David Powers. "We did pretty well at that race in qualifying and I think we turned some heads. Since then I think our performance on the track has shown that we're really one of the top teams out there. It's funny, because now I am getting a lot of attention and being recognized a lot more in the Vegas area and this town has really got behind me. I'm doing a lot of media interviews and it's been a lot of fun. I love this area and I really want to do my best to represent Las Vegas when I'm on the track."
At the event here in April, Fuller qualified No. 4 and had a tough first round draw in defending world champion Tony Schumacher, who qualified an uncharacteristic 13th. Schumacher took the first round win, but Fuller feels his team rounded the corner at that race and started to gain respect for their potential.
"More people are recognizing me now," Fuller said. "There are a lot of fans out there who love Tony Schumacher, but there are also a lot of fans who love to pull for the underdog. We have picked up a lot of those fans. I think with the job that (crew chief) Lee Beard and (assistant crew chief) Rob Flynn are doing each week, we are proving that we can run with anybody."
It's been a long road to drag racing's big time for Fuller, who actually made his Top Fuel debut a decade ago. He drove part-time in 1995 and 1996 for John Mitchell's Montana Express and attended nine races over those two seasons with little success. After his first shot at Top Fuel was a bust, he regrouped and showcased his driving talents in NHRA's Lucas Oil Series for sportsman racers. He raced to 13 victories in Super Comp and Super Gas and also claimed two divisional championships. For his efforts, Fuller was named the Sportsman "Driver of the Decade" for the '90s. At the beginning of this season he added another chapter to his racing history by partnering with Houston-based home builder David Powers, himself a former Top Fuel drag racer. With a newly-signed three-year contract with Powers to run the full NHRA schedule with sponsorship from Valvoline already signed and sealed, Fuller is very optimistic about his future in the sport.
"I consider this to be my first real season in Top Fuel," Fuller said. "When I drove back in the mid-'90s, we were just out there trying to qualify. This year we won a race and went to three finals and worked our way into the top 10. I think when we made that first final round some teams may have thought it was a fluke. But then we went to another final, and when we won at Memphis, that really showed everyone that we have a consistently fast race car. It also feels good to get into the POWERade Top 10 even though we've only ran half the races."
Racing a 15-event schedule this season, Fuller and his team have been able to capitalize on their opportunities. He posted a runner-up finish at Bristol in only the fifth start for the team. He followed that effort with another runner-up finish at Chicago in June and scored an impressive first career victory at Memphis, where he qualified third and defeated Larry Dixon in the semifinals and Tony Schumacher in the final. With a semifinal effort at Dallas last weekend, Fuller likes his chances at the upcoming event at The Strip.
"I think we have a great shot at winning this race," Fuller said. "In the spring all of the casinos had me at the bottom of the list of Top Fuel drivers with the longest odds to win. I don't think that will happen again this time. If it does, I am not a betting man, but I think I might put a few dollars down."




NHRA: 10 Most Recent Entries [ top ]

Mar 20- Strong Stable of Contending Pro Stock Racers Vie for Final Starting Position for K&N Horsepower Challenge
Mar 20- GAINESVILLE - Special Awards
Mar 20- GAINESVILLE - Lucas Oil Drag Racing Series Wrap Up
Mar 19- GAINESVILLE - Sunday Video
Mar 18- GAINESVILLE - Pro Mod Sunday Wrap Up
Mar 18- GAINESVILLE - Sunday Wrap Up
Mar 18- GAINESVILLE - Pro Mod Championship Points
Mar 18- GAINESVILLE - Bonus Points
Mar 18- GAINESVILLE - Championship Points
Mar 18- GAINESVILLE - Mickey Thompson Top Fuel Harley Series Championship Points