Fri, 14 Oct 2005, 03:55 PM



The 9.90 Class It's A Gas, Gas, Gas



By Bob Frey


Photo copyright 2005 Auto Imagery, Inc.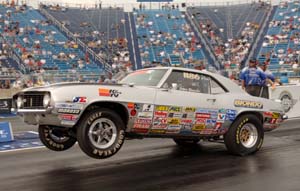 Peter Biondo
It was about three months ago that I ran my mid-season look at the point standings in the sportsman classes. I mentioned at that time that there were a lot of races still to run and dozens of racers, and maybe more, who could sneak in and contend for the championships. Well, that's pretty much been the case in almost every class. With the exception of Steve Torrence in the Top Alcohol Dragster class and Peter Biondo in Stock Eliminator who have already clinched the championships, the other classes are still pretty wide open with over fifty drivers who could still end up as the 2005 Lucas Oil World Champions. But no class is as wide open as the 9.90 Super Gas category where no less than twenty-two drivers still have enough races remaining to claim that they could be the champ. Twenty-two and we only have two national events and four divisional races remaining on the schedule. The problem for some of these racers is that three of those races are on the same weekend. The Las Vegas national event is October 20 thru 23 and that's the same weekend that the re-scheduled Atco Division 1 race will take place along with the Division 2 event at Silver Dollar Raceway. So, some of the racers who are still in contention will run out of races before they reach their full allotment of six national and eight divisional races to claim. Still, with this many drivers still in the running it will be hard to believe that the Super Gas title won't be decided until the final race of the year. Of course that's what I thought about the fuel Funny Car class and look how that's turning out.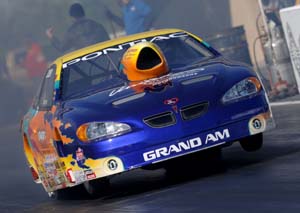 Steve Cohen
The leader in the clubhouse at this time is the veteran, Steve Cohen. The 1987 Super Gas champ, Cohen has but one divisional race remaining at which to claim points so he has to do well at that event. In fact, to add to his total, Steve would have to go at least five rounds at his final race and that's never easy even if you have already won the world title, and you've gone to thirty national event finals rounds and you've won over two dozen divisional races. In short, it's not easy even if you are Steve Cohen. Only five points behind Steve we find Ray Sawyer, part of a father and son team who are both still, mathematically, in the chase. Ray is one of those guys who got messed up by the weather. When the Atco points race rained out and was re-scheduled for the October 22-23 date, it meant that Ray would be forced to go west if he wants to run the maximum number of races. With two national and two divisional races still to claim, Ray may be in the best position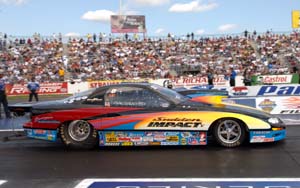 Ray Sawyer
of all of the contenders. To add points Ray needs to go to at least the third round at a divisional race and he has to make it to the fifth round at a national event. His son, Michael, is also still alive in the chase but he has three national races and two divisional so he's going to leave some points on the table. It wouldn't surprise me to see the guys show at in Dallas this weekend although a better bet would be the Vegas national and divisional races coming up. A guy who is in a similar position but has a much easier travel schedule would be Rick Beckstrom. The Division 7 standout has two national and two divisional races on his schedule and it's a lot easier for a Californian to go to Las Vegas and then Pomona than it is for the east coast guys. But, like the Sawyers, unless Rick goes to Dallas this weekend he'll also leave at least one division race unclaimed and that could be the deciding factor at the end of the year. Rick is currently forty-five points behind Steve Cohen so he needs a good showing, like a fourth or fifth round performance at his final races. Rick, the 2004 Indy champ, is certainly capable of going rounds and I'm sure he'd like to get the Sawyer's on his home turf in D-7.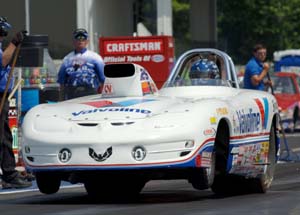 Sherman Adcock
A couple of other guys who still could pull this thing off are Sherman Adcock and Michael Miller. Sherman, who is thirty-one points out of first place, almost assuredly will run the Silver Dollar event next week. The five time Division 2 champion and 1990 World Champion is down to one last race to claim and he has to make it to the final round in order to have a shot at the title. Miller, who is currently seventy-three points off the pace, has a national and divisional race still to claim and he's replacing a second and third round finish at those races so it may be easier for him to add to his total than it will be for some of the others. But a seventy-three point deficit is a lot to make up and that's assuming the Steve stays put with his current total. And the real sleeper in the field appears to be Ed Olpin. With 521 points right now, Ed is eighty-four points off the lead but he can claim both of the final national races and a divisional event. I guess that means that the Utah resident will be living in Vegas for a few weeks beginning next Wednesday. And since he will be replacing a first and second round race, Ed could move up the food chain very quickly.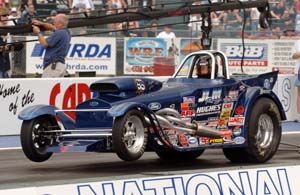 Michael Miller
Like I said, there are a lot of racers who could still grab the title and then grab a tuxedo for the award's ceremony in Rancho Mirage, California next month. And if you remember, the last few years the battle for the Super Gas title has not been decided until the last race of the year and I will be stunned if that doesn't happen again this year. It's fun, exciting and, I'm sure, a bit nerve wracking for the players, but it sure is enjoyable for those of us who love great drag racing. Now if I could just figure out where Hugh Meeks came from to take a commanding lead in the Super Stock class. Let me go back to my July column and see if I mentioned him in that one. I'll get back to you..




NHRA: 10 Most Recent Entries [ top ]

Apr 20- HOUSTON - Friday Wrap
Apr 20- HOUSTON - Saturday Schedule
Apr 20- HOUSTON - Top Fuel Qualifying, Session #2 Order
Apr 20- HOUSTON - Top Fuel Qualifying Notes, Session #2
Apr 20- HOUSTON - Pro Stock Qualifying, Session #2 Order
Apr 20- HOUSTON - Funny Car Qualifying, Session #2 Order
Apr 20- HOUSTON - Pro Modified Qualifying, Session #2 Order
Apr 20- HOUSTON - Funny Car Qualifying Notes, Session #2
Apr 20- HOUSTON - Pro Stock Qualifying Notes, Session #2
Apr 20- HOUSTON - Pro Modified Qualifying Notes, Session #2