Wed, 12 Oct 2005, 12:07 PM



Let The Celebrations Begin



By Bob Frey


Photo copyright 2005 Auto Imagery, Inc.





Before checking the status of the point's races as we head into the next to last race of the season I wanted to shed some light on the new, proposed
Doug Davenport
Top Fuel team. A lot of speculation has been centered on the current team that consists of
Morgan Lucas, Jim
Dupuy
and the rest of the organization that runs under the
Lucas Oil
banner in the car that is owned by Hall of Fame member
Joe Amato
. Doug has purchased the car and the hard parts from Joe and that will be the center of his team next year. Morgan, Jim and the crew are not part of the deal, so any speculation about who that group will be working for next year is pretty simple, they will be part of the team that will be owned and operated by
Forest Lucas
. Doug will have to come up with an entire team, crew chief and a driver and I can only imagine how many résumés he has already received in that regard. The Lucas team has already leased some space in Indy and that's where they will be based next year while it appears that Doug will keep his team in
Las Vegas
….
Doug Davenport Update…10/12/05
After reading my initial story on the status of the new Doug Davenport Top Fuel team I got a call from Joe Amato and I spoke with Doug and I want to clarify one thing. The status of the crew that is currently with the team is this. According to Doug, "In Dallas I sat down with the entire team and gave them an update of where we stand. I told  them that I would like to keep everyone on the team that is currently with it. This is a very good crew and my intention is to keep them entirely intact. In fact, one of the conditions of Joe selling me the team was that I offer all of the guys on the team a job with my team and that's what I intend to do. Whether they take me up on my offer or not is up to them but I would love to have the entire team on my side next year." This does not include Morgan Lucas, the current driver of the team and when I asked Doug about the status of his driver search he told me that he has already had about forty applications from people who are interested in the position. "We haven't filled that spot yet but I think I can say that we're ninety percent sure who the driver will be. Having said that, if anyone wants to send me a résumé I would be more than happy to take a look it." Doug went on to say that he thinks Jim Dupuy has done a wonderful job with his current team and that he would make an exceptional crew chief and would be a nice addition to any team. He also told me that he hopes to be able to make an announcement in the "very near future" about the his plans for the 2006 season. "We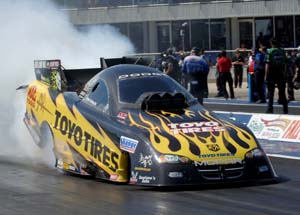 Frank Pedregon
are still putting a lot of things into place so I'd rather not make any statements right now but I will be surprised if we don't make some announcements in the next few weeks. My intention is to take this current crew, make them an integral part of my team and then contend for a championship." My initial story was meant to state that there would be two teams next year, one with Morgan Lucas driving for his dad's team and one that Doug would have.…The other team that has received a lot of attention lately is the proposed new team from
Frank Pedregon
. Frank keeps mentioning in his interviews at the track that "I hope these sponsors stay with me next year" and I think they should. Frank has provided
Toyo Tires, MAC Tools, Mopar
and his other sponsors with a lot of media time and exposure already this year and there's no reason to think that trend won't continue. Whoever ends up on
brother
Frankie's car, remember where you heard it first…..the upcoming announcements (plural) from Frank could be among the biggest in the sport in a long time and I'm not just talking about
Lisa Kubo
.
Now….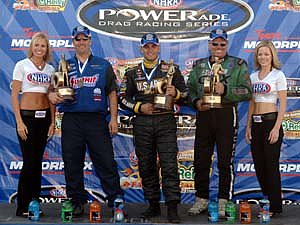 Anderson, Schumacher, and Force
As much as they both have tried to play it down over the recent weeks, I think that even
Tony Schumacher
and
Greg Anderson
now have to admit that they will be the 2005
POWERade
champions. With their strong performances of late both Tony and Greg have put themselves far enough in front that all they basically have to do at the next race is show up and they will be the champs. Not that there was a lot of doubt about that for several weeks, but the politically correct thing for both of them to say has been "It ain't over until it's over." Well guys, it's over. Once Tony and his
"U.S. Army"
car attempt to make a qualifying run in Vegas he will have enough points to win his third title and his second consecutive one regardless of what
Larry Dixon
or
Doug Kalitta
do at the last two races. Greg, meanwhile, actually has to qualify and the trophy will be his. Regardless of what goes on next week I can assure you that we will have at least two repeat champions this year and probably more.
In fact, if all of the current leaders hang on to win their respective championships we will have a little bit of history in 2005
. Did you
know
that we have never had the same four professional champions win in consecutive years? All of the champions in 1985 did repeat in '86 but we only had three pro classes back then.
Don Garlits, Kenny Bernstein
and
Bob Glidden
all won in 1985 and came back to repeat in 1986, but other than that we have never had the same professional champions in consecutive years. The top three guys won in 1990 and 1991 but the motorcycle champ was different.
Joe Amato, John Force
and
Darrell Alderman
won in consecutive years but
John Myers
was the bike champ in 1990 while
Dave Schultz
won it in 1991. With that little tidbit as a backdrop it just goes to show you how tough it is to win one, let alone two POWERade titles. And, while John and Andrew Hines have not wrapped up their championships they are in the lead and I'd much rather be in their position than in anyone else's, wouldn't you?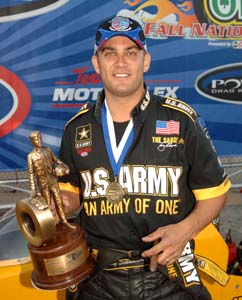 Tony Schumacher
Tony Schumacher had another great weekend in
Dallas
and you have to give a lot of credit for his success to
Alan Johnson.
All Alan has done over the years is make every car that he has been associated with a winner and a champion. From the years with his brother,
Blaine Johnson
, to
Gary Scelzi
to Tony if Alan's tuning it it's winning. This past week the team went to their fifth consecutive final round and that leaves them just one short of the record for consecutive final round appearances in Top Fuel and that's one of the few records that the Army car doesn't have right now. Still, as good as they have been over the past two years, they are still short of some of the numbers that Larry Dixon and his
"Miller Lite"
team put up in their two championship years.
Did you know
that Tony has been to twenty-three final rounds over the past two seasons and he has won seventeen of those final rounds? But
did you know
that Larry, in his two championship seasons, also won seventeen races but he went to an amazing twenty-seven final rounds? That's a pretty good two year run, isn't it?....
Doug Herbert
has been much improved since bringing
Wayne Dupuy
on board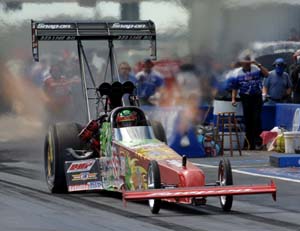 Doug Herbert
in St. Louis. Doug may have the best car that he has ever had and that includes his great 1999 season.
Did you know
that since he added
Wayne
to his team Doug has gone from languishing in ninth place to being a very competitive fifth in the standings? The best previous finish for Doug was seventh place and he looks like a mortal lock to improve on that this year. In fact, if he has a good final two races, the driver of the
"Snap-On Tools"
dragster could finish as high as fourth in the standings.
Did you know
that Doug has faced thirteen different drivers in his twenty-one final rounds, but Tony is the only guy he has faced more than twice?...The
"Carrier Boyz"
dragster will have
Wes Cerny
as their interim crew chief for the final two races of the season. The "Boyz" and their former crew chief,
Todd Smith
, parted ways after the
Dallas
race and a new crew chief will be named after the last race of the season. When you think about the tasks facing folks like
Mark
and
Andy Carrier
and Doug Davenport, who would you choose to fill the gaps? Doug needs a good crew chief and a driver and the
"Fram Air Hog"
dragster also needs a new leader, so who do you pick? The list of available "A-list" crew chiefs is a short one and the decision on who to drive a car ultimately comes down to your philosophy. By that I mean, do you get a marquee driver with a good track record or do you go for someone who can bring funding and publicity to your team? Do you pick the "best person available" for the job or do you try to take advantage of every marketing opportunity and pick, let's say, a young female driver? There is no right answer for that and it simply depends on what the team owner is looking for. I think that some of the decisions that are forthcoming will surprise a lot of people, at least if what I'm hearing is correct..
Rod Fuller
and the
84 Lumber /
Valvoline
team have moved into tenth place in the standings and that's quite a job for a team that hasn't made all the races this year, but they have made the most of the ones they have attended. And there's still a chance that
David Powers
could add another car to his team next year. I'm not saying it's going to happen I'm just saying that there's a chance..
Did you know
that only three drivers have recorded top speed in the dragster class this year? Do you know who they are?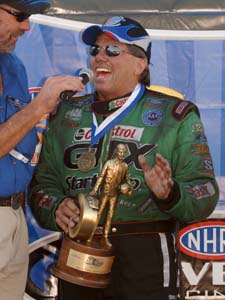 John Force
If you told me two weeks ago that the Funny Car title could be wrapped up before we went to
Pomona
I would have told you that you were wacky. But with his strong performance in Dallas John Force has moved into first place with a thirty-six point lead over Gary Scelzi. That means that John is almost two rounds ahead of
Gary
with eight rounds of racing remaining this year. Anyone care to bet against John?...
Ron Capps
, who was the number one qualifier in Dallas and who lost in the second round, is now fifty-seven points back while both
Robert Hight
and
Eric Medlen
are basically out of contention. Robert is 104 points back and Eric is 133 points off the pace and that's just about insurmountable with only eight rounds to go. John was the picture of confidence in
Dallas
and that was a big factor in his surge to the top.
Did you know
that John was first off the line in each of his three rounds of racing on Sunday? Obviously he didn't need to be sharp on the line in the final round because Frank Pedregon was broken and didn't even stage his car, but prior to that John beat
Tommy Johnson
,
Tim Wilkerson
and
Tony Bartone
off the line. Throw in the fact that his team gave him a great race car and it's easy to see why the
"Castrol GTX Start Up"
Mustang is in the lead and why he may stay there..There haven't been a lot of final rounds when the opponent didn't even stage against John but it has happened before.
Did you know
that John won the
MAC Tools U.S. Nationals
in 1993 when
Kenji Okazaki
didn't make it to the starting line? He also won the '96 "Finals" when
Tony Pedregon
didn't make it past the burnout process. Of course it doesn't seem to make any difference if the opponent stages or not because John certainly wins more than he loses.
Did you know
that with his
Dallas
appearance in the money round John ran his final round record to an amazing 119-68? Maybe that's another reason why he is in the point's lead and while he'll probably stay there!!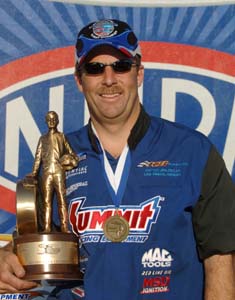 Greg Anderson
Greg Anderson just continues to crush anyone and everyone who gets in his way and his sweep of the
Dallas
event just goes to show how tough his
Summit Racing GTO
is. Of course that final round staging battle with his teammate,
Jason Line
, was a classic. While everyone else was grouped closely behind him in the field Greg put up numbers that continue to amaze almost everyone. And when the top sixteen cars are all qualified within seven-hundredths of a second it never ceases to amaze me how many times Greg can step away from the pack on race day. The 6.647 that he ran in qualifying was stunning and then he went out and ran low elapsed time of every round on Sunday..again.
Erica Enders
made the semi-finals and she continues to do well with her
Slammer's Ultimate Milk Machine
. I'd like to hear the argument about why she doesn't get the press that
Danica Patrick
does because Erica has had a better year than her Indy counterpart don't you think? Of course if you're going to do cover shots on
ESPN The Magazine
like Danica does, maybe you don't have to perform on the track. Of course that's just my opinion and I'll probably get flack for just mentioning Erica and maybe therein lies the problem.By the way, where was
David Howard
this past weekend?....Almost overlooked this weekend was the stellar final round qualifying effort for
Warren Johnson
. The "Professor" wasn't in the show and it took all the tools and resources of his crew chief,
Pat Barrett
, to fix an air gap problem in the clutch right before the final run. "WJ" then went out and made a very impressive pass of 6.696 to make the show. He truly is amazing..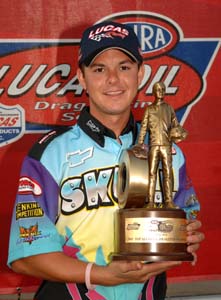 Steve Torrence
Steve Torrence
won the race in
Dallas
and with it he clinched the 2005
Lucas Oil World
Championship
in Top Alcohol Dragster. Steve has had an amazing run this year going to the final round at nine of the eleven races that he has entered. Along the way the
Tom Conway
owned and tuned car has been among the quickest, fastest and most consistent cars that I've ever seen in the class. Since I mentioned Alan Johnson earlier
did you know
that Tom Conway's car is using the new Alan Johnson cylinder heads?
In fact, several of the top winning fuel injected cars in the country are using Alan's heads this year. Like I said, he is the MAN!!...
Michael Stone
won the Division 6 race in
Oregon
this past weekend and that moves the young driver right into the thick of things in the battle for the Competition Eliminator world title. Michael still has two national events at which he can claim points so this thing looks like it could go down to the final event of the year. Of course that's what I thought about the fuel Funny Car class, too..
Steve Gasparrelli
won the TA/FC class and that kept his slim, and I mean slim title hopes alive. With the rainout in
New Jersey
we'll have to wait until we see what
Frank Manzo
and
Bob Newberry
do, or where they will race later this month. Steve could add to his total this weekend back in
Dallas
a race that will be without
Gene Snow
. As I'm sure you know by now, Gene had a "blow-over" during a testing session on Monday and it demolished his car. Ironically, Gene was making a test run to see how the car was performing and then he was going to let one of his crew members drive it and get his license. Too bad for both of them.




NHRA: 10 Most Recent Entries [ top ]

Mar 21- LAS VEGAS 1 - Fact Sheet
Mar 21- LAS VEGAS 1 - Event Preview
Mar 20- Strong Stable of Contending Pro Stock Racers Vie for Final Starting Position for K&N Horsepower Challenge
Mar 20- GAINESVILLE - Special Awards
Mar 20- GAINESVILLE - Lucas Oil Drag Racing Series Wrap Up
Mar 19- GAINESVILLE - Sunday Video
Mar 18- GAINESVILLE - Pro Mod Sunday Wrap Up
Mar 18- GAINESVILLE - Sunday Wrap Up
Mar 18- GAINESVILLE - Pro Mod Championship Points
Mar 18- GAINESVILLE - Bonus Points