Sun, 9 Oct 2005, 10:07 PM



Force, Schumacher, Anderson Win at Texas Motorplex



Courtesy of NHRA Communications


Photo copyright 2005 Auto Imagery, Inc.





ENNIS, Texas --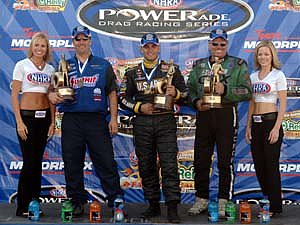 Anderson, Schumacher & Force
Perennial world champion John Force reclaimed the lead in the tightest Funny Car points chase in NHRA history by winning the event at the Texas Motorplex on Sunday.
Force won the O'Reilly NHRA Fall Nationals after his opponent Frank Pedregon's Toyo Tires Dodge Stratus R/T broke on the starting line. Tony Schumacher (Top Fuel) and Greg Anderson (Pro Stock) also won their respective categories at the $1.5 million race, the 21st of 23 events in the $50 million NHRA POWERade Drag Racing Series.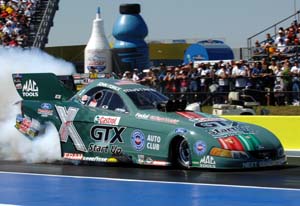 John Force
Force, who drove his Castrol GTX Start Up Ford Mustang to a 4.797-second finish at 324.05 mph, now holds a 36-point edge over former frontrunner Gary Scelzi. Scelzi fouled out for only the second time in his nine-year career in the first round of eliminations.
"I actually felt kind of bad for him, because I've been there," Force said. "He's trying real hard. He's under pressure like all of us. I consider him one of the best, and when the best pushes it to the edge, that's when you win. Sometimes it catches you, and that's how it caught him today.
"Next week it can be turned back around. Next week I can come out here and lose in the first round and they'll take the points lead again."
Tony Schumacher
Schumacher piloted his U.S. Army Top Fuel dragster down the track in 4.523 at 331.77 to defeat No. 1 qualifier Doug Herbert and his Snap-on Tools dragster. Herbert stopped the clocks in 4.629 at 320.05 in his final pass.
Schumacher, the defending NHRA POWERade Top Fuel world champion, needs only to make a qualifying attempt at the next event, in Las Vegas, to earn a third title.
"What an awesome team," Schumacher said. "Our team's running so great. I am deep in the Funny Car battle, and I'm just a spectator over there. It's just fun to watch. It's so much fun to be a part of it."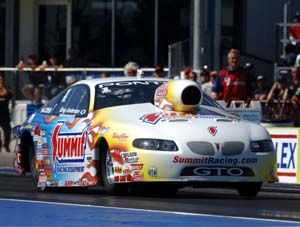 Greg Anderson
Following a lengthy burndown, Anderson defeated teammate Jason Line with a 6.690 at 206.61 effort in his Summit Racing Equipment Pontiac GTO.
Anderson, the defending two-time NHRA POWERade world champion who clinched his '04 world championship at the Texas Motorplex, extended his lead in the POWERade point standings and inched closer to his third consecutive series crown.
"The way we started this season (so poorly), now we're back in the game," Anderson said. "I think a lot of people, a lot of our competitors, thought 'you know what, we've got him this year. He's done.' We really had to find something extra this year, and obviously we did. My hat's off to my crew. I can't say enough about them. They are the three-time defending champions.
"Points are almost secondary to me. They certainly are the pot of gold at the end of the rainbow, the reason why people come out. For me, it's going to that race and winning that race and getting that Wally trophy at the end of the day. It means everything to me. To me, you go to win the race and prove you're the baddest dog out there."
With only two events remaining on the 2005 schedule, the NHRA POWERade Drag Racing Series enters the final few weeks of the season. The 23-race series returns to the Nevada desert for the fifth annual ACDelco Las Vegas NHRA Nationals, Oct. 20-23, at The Strip at the state-of-the-art Las Vegas Motor Speedway.
Sunday's final results from the 20th annual O'Reilly NHRA Fall Nationals presented by Castrol Syntec at Texas Motorplex. The 1.5 million race is the 21st of 23 in the $50 million NHRA POWERade Drag Racing Series:
Top Fuel -- Tony Schumacher, 4.523 seconds, 331.77 mph def. Doug Herbert, 4.629 seconds, 320.05 mph.
Funny Car -- John Force, Ford Mustang, 4.797, 324.05 def. Frank Pedregon, Dodge Stratus, broke.
Pro Stock -- Greg Anderson, Pontiac GTO, 6.690, 206.61 def. Jason Line, GTO, 6.713, 206.48.
Top Alcohol Dragster -- Steve Torrence, 5.259, 268.71 def. Aaron Olivarez, 5.316, 266.32.
Top Alcohol Funny Car -- Steve Gasparrelli, Pontiac Firebird, 5.668, 256.70 def. Jimmy Jones, Chevy Camaro, 5.679, 255.10.
Competition Eliminator -- Richard Freeman, Chevy Cavalier, 8.471, 162.08 def. Craig Bourgeois, Dragster, 6.935, 181.52.
Super Stock -- Hagen Gary, Chevy Camaro, 10.982, 95.13 def. Kevin Helms, Olds Achieva, broke.
Super Comp -- Tommy Phillips, Dragster, 8.920, 161.96 def. Rodney Costlow, Dragster, 8.935, 167.28.
Super Gas -- Carl Cochran, Roadster, 9.897, 148.25 def. Gary Free, Chevy Lumina, 9.892, 144.30.




NHRA: 10 Most Recent Entries [ top ]

Mar 22- LAS VEGAS 1 - Defending Funny Car Winner Tommy Johnson Jr. Excited for Four-Wide Racing
Mar 22- NHRA Northwest Nationals Tickets on Sale Now
Mar 21- LAS VEGAS 1 - Fact Sheet
Mar 21- LAS VEGAS 1 - Event Preview
Mar 20- Strong Stable of Contending Pro Stock Racers Vie for Final Starting Position for K&N Horsepower Challenge
Mar 20- GAINESVILLE - Special Awards
Mar 20- GAINESVILLE - Lucas Oil Drag Racing Series Wrap Up
Mar 19- GAINESVILLE - Sunday Video
Mar 18- GAINESVILLE - Pro Mod Sunday Wrap Up
Mar 18- GAINESVILLE - Sunday Wrap Up