Sat, 8 Oct 2005, 08:31 PM



Capps, Herbert and Anderson Top Qualifiers at Texas Motorplex



Courtesy of NHRA Communications


Photo copyright 2005 Auto Imagery, Inc.





ENNIS, Texas --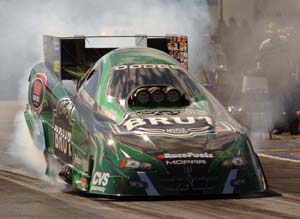 Ron Capps
Ron Capps broke a lengthy drought at Texas Motorplex on Saturday, when he claimed his first Funny Car No. 1 qualifier award in five years.
Doug Herbert (Top Fuel) and Greg Anderson (Pro Stock) also topped their respective categories at the O'Reilly NHRA Fall Nationals presented by Castrol Syntec. The $1.5 million race is the 21st of 23 events in the $50 million NHRA POWERade Series. Professional eliminations begin at 11 a.m. on Sunday.
Capps piloted his Brut Dodge Stratus R/T Funny Car to a track record time of 6.694 seconds at 327.82 mph. Essentially, Capps earned eight points for his leading qualifying effort and passed fellow championship contender John Force in the point standings with his track-record time.
"It's great timing (to qualify No. 1)," said Capps, a seven-time No. 1 qualifier. "We're getting hot right now, and we picked a good time for it. It seems like a home game when conditions warm up with Ace (Ed McCulloch) as a crew chief. I feel pretty confident.
"It'll be another night of not being able to sleep and throwing up breakfast in the morning."
Capps faces No. 16 qualifier Jack Wyatt in the first round of Sunday's eliminations. Capps entered the Fall Nationals third in the point standings, 45 points behind leader and teammate Gary Scelzi and two points behind Force. But Force earned only three points for qualifying seventh and Scelzi earned four points for qualifying fifth as the battle for the NHRA POWERade world championship continues.
"You look in the mirror, and it's like, this is it. This is what it comes down to," said Capps, who will begin Sunday feeling carefully optimistic. "Fighting for a championship, when the pressure is on, to qualifying where we did."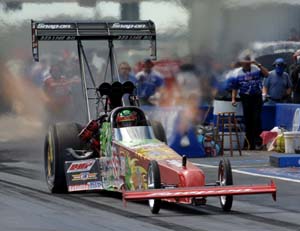 Doug Herbert
Herbert passed by his category's points leader with a track record time of 4.441 at 328.06 in his Snap-on Tools dragster for his first No. 1 qualifier since the fall race at Las Vegas in 2002. Tony Schumacher, who leads the point standings, qualified No. 3 after Herbert and Melanie Troxel, who became the sport's fastest and quickest female with a 4.458 at 330.31-mph pass during Friday's first qualifying session in her Skull Gear/Torco Race Fuels dragster. Larry Dixon and Doug Kalitta remain second and third in the point standings, respectively, after qualifying No. 7 and No. 8.
"We just haven't had our act together," said Herbert, whose crew is beginning to gel after several late-season changes. "We've been good enough; we just haven't had our act together. I think it's just really coming together. (Crew chief) Wayne Dupuy is awesome. He's aggressive. I've never met a more intense guy. We just have a team that's really coming together. It's a shame it's late in the season, but we're setting the stage for next year."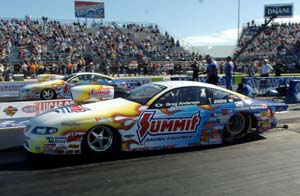 Greg Anderson
Anderson set the track records for both time and speed in his Summit Racing Equipment Pontiac GTO when he shut the clocks off in 6.647 at 207.40 for his sixth No. 1 qualifying position of the season and the 39th of his career.
He will race unopposed in the first round. Bruce Allen, who was involved in an accident on Friday, would have been his opponent as the No. 16 qualifier but will be unable to compete. Allen qualified in his first attempt Friday afternoon and remained one of the 16 quickest vehicles in the 22-car field.
"It's not what we want," Anderson said. "We don't want a bye run first round tomorrow, but that's the way the rules are written. It allows us a chance to take a free shot at the track and get in tune with it (for the later rounds). That doesn't ever happen in this class. It's a battle from first-round on.
"That's going to be, I think, good for us, but it can also come back to haunt us. You need to get up for every race you go to, and certainly I won't be up for that first-round no-match. You've got to make sure somehow you rebound and get up for that second-round one."




NHRA: 10 Most Recent Entries [ top ]

Mar 22- LAS VEGAS 1 - Defending Funny Car Winner Tommy Johnson Jr. Excited for Four-Wide Racing
Mar 22- NHRA Northwest Nationals Tickets on Sale Now
Mar 21- LAS VEGAS 1 - Fact Sheet
Mar 21- LAS VEGAS 1 - Event Preview
Mar 20- Strong Stable of Contending Pro Stock Racers Vie for Final Starting Position for K&N Horsepower Challenge
Mar 20- GAINESVILLE - Special Awards
Mar 20- GAINESVILLE - Lucas Oil Drag Racing Series Wrap Up
Mar 19- GAINESVILLE - Sunday Video
Mar 18- GAINESVILLE - Pro Mod Sunday Wrap Up
Mar 18- GAINESVILLE - Sunday Wrap Up