Thu, 6 Oct 2005, 06:05 PM



All Hail The Snowman



By Bob Frey


Photo copyright 2005 Auto Imagery, Inc.





Gene Snow
A few really important things have happened to Gene Snow in the last few weeks. First of all, on September 28th the guy they call the "Snowman" turned sixty-eight years old. And then, just a few days later, driving his A/Fuel Dragster, Gene won the Jeg's All Star race in Joliet. "That was about as much fun as I've had in a long while," he said prior to running at the Texas Motorplex this weekend. And when I asked him about the standing ovation that the racers gave him when he was presented with his winner's trophy after the race he said, "I have to tell you that was thrilling. This old guy actually had goose-bumps when they did that." It may have been the most recent standing ovation that Gene received, but it certainly wasn't the first. Nor, by the way he's running these days, will it be the last.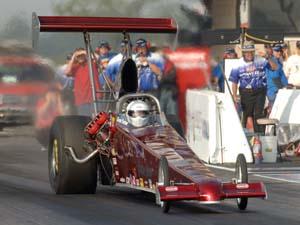 Snow's injected dragster.
Gene Snow's latest entry, a nitro-burning fuel injected dragster, took him to the win at the prestigious sportsman all star event when he beat Steve Federlin in the final round. "I was surprised that we got into a little bit of a staging battle in the final," he said. "Steve and I are good friends and we pitted right next to each other in Chicago so I was a little bit surprised that we had that staging duel." Gene told me that he was prepared to let the car run out of fuel before he would stage first. "At least it ended well for me," he said, "so I'm not upset. How could I be after a weekend like that?" Before running Steve, who is the current Lucas Oil point's leader, Gene had beaten Robert Perkins and Marty Thacker and he had established a personal best elapsed time of 5.261. "I have to thank Tom Conway for pointing me in the right direction, "Gene said. "I was lost for a while but that man's a genius and he was a big help." Gene said that he had actually asked Tom about driving one of his cars but Tom told him no. "He said that I'd want to tinker with it too much and he wouldn't like that." Tom, a three-time winner of the Jeg's All Star event, is obviously a very wise man because anyone who knows Gene knows that that is exactly what would have happened. "I love driving the car. I drive it to see how good I tuned it." When I asked him which he enjoys more, the tuning or the driving, Gene said that they are "equally enjoyable." And then he added that he is enjoying the sport now as much as ever, and with his history in the sport, that's saying something.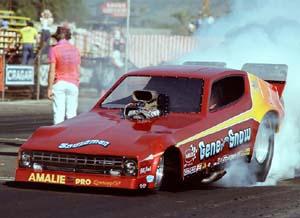 Snow's '78 Funny Car.
Gene Snow won his first divisional race at Six Flags Dragway in Victoria, Texas in 1966. His first NHRA national event victory came later that same year in Indianapolis in Competition Eliminator. He followed that with a win at Indy the next year in his "Rambunctious" Dodge Funny Car which was running in the Super Eliminator class. Since then he has added wins in both Top Fuel and Funny Car with his last national event victory coming in 1989. "I haven't had many wins recently and that's another thing that made this All Star win so special." When I asked Gene about his favorite car I expected to get a long pause, which I thought would be followed by several responses since he's had so many great cars. But I was surprised when he didn't hesitate a moment and said, "The 4.99 dragster. That had to be my favorite." That reference was to Gene's Top Fuel car that made the first four-second pass at an NHRA national event. It came back in 1988 at the Supernationals in Houston and that just helped cement his place in history. At that same event Gene would run along side Eddie Hill, the man who made the first four second pass in drag racing history at the IHRA race in Ennis earlier that year. On their run Eddie set the national record and beat Gene in the semi-finals. After a discussion about the four-second dragster Gene threw out another car, his direct-drive Funny Car that he had in the late 1960's, a car that made one of the first 200 mile per hour runs by a Funny Car. In the early '70's Gene also had a fleet of cars for a while, and by "fleet" I mean that he had a couple of Funny Cars and a Top Fuel car all running at the same time. One of the Funny Car was driven by Jake Johnston and it was one of the most feared cars on the national event trail and the match race circuit. The dragster was wheeled by Chip Woodall and it set the national record at Epping, New Hampshire in 1972. Gene also toyed with a turbo-charged Funny Car but it never saw the light of day in actual competition. "We tested in California without the body on it and it ran real well," he said. "We were ready to race it but when we put a body on it nothing fit and I mean nothing and we just never touched it again."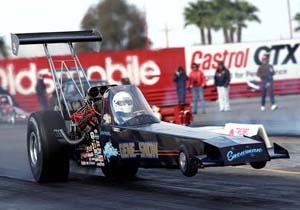 Snow's '87 Top Fueler
As I spoke with Gen Snow he was sitting in his shop in Fort Worth and he was looking at a lot of the mementos of his racing career. From trophies to sponsor decals to participant decals from the 1970 World Finals, there were reminders everywhere of the stellar career that he has had. "I won the World Finals in 1970 and they gave me a Yamaha motor scooter and I still have it," he said. "I'm not like a lot of guys who have all their stuff organized and in a trophy case, but I do have a lot of it and it just reminds how fortunate I have been. This is a great community we're involved with, Bob, isn't it?" Yes it is Gene, and you're one of the reasons why it is so good. I then proceeded to tell Gene how I was at Indy in '67 when he won the U.S. Nationals. "And you were there last week when I won the All Stars. Frey, you're getting old!" Nice Gene, real nice.
Gene Snow seems to be thoroughly enjoying life and one of the reasons is that he has a competitive car. When you've done as much in the sport as Gene has you don't want to just hang on, you want to be competitive and he is. "This is a good car I have, and I have to thank Tom Conway for that. He helps me out but he doesn't tune it, that's my thrill. We've worked on it a lot lately and it's nice to see that work paying off." And it's nice to see a sixty-eight year old man can still run and compete with the best in the class. "I guess that fact that I won means I can still do this, doesn't it? And even though I'm not as good on the starting line as a lot of these kids, I can't be too bad." No, not bad at all, and with the way Gene is running right now, I think we'll have many more years of watching the "Snowman" race at the NHRA national events, and we'll probably see him in the winner's circle a lot, too.




NHRA: 10 Most Recent Entries [ top ]

Apr 24- CHARLOTTE 1 - Steve Torrence Enjoying Four-Wide Success Heading to NGK Spark Plugs NHRA Four-Wide Nationals
Apr 24- CHARLOTTE 1 - Fact Sheet
Apr 24- Kalitta Motorsports Welcomes NASCAR Stars to the SealMaster Track Walk in Charlotte
Apr 24- zMAX Dragway Celebrates 10th Anniversary
Apr 24- CHARLOTTE 1 - NGK Spark Plugs NHRA Four-Wide Nationals Brings 40,000 Horsepower Thrill Show to zMAX Dragway
Apr 23- HOUSTON - Lucas Oil Drag Racing Series Wrap Up The NHRA Lucas Oil Drag Racing Series Wrap Up
Apr 23- CHARLOTTE 1 - J.R. Todd Aiming for Two Four-Wide Racing Wins in 2018
Apr 23- Mid America Dragway Joins NHRA Member Track Network
Apr 23- HOUSTON - Special Awards
Apr 23- HOUSTON - Sunday Video