Wed, 5 Oct 2005, 05:55 PM



"Aussie Dave" Grubnic's Top Fuel dragster Gets StriVectin-SD Makeover



Courtesy of



For NHRA's Make-up Race in Dallas



YPSILANTI, Mich. --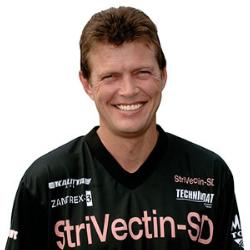 "Aussie Dave" Grubnic
When Top Fuel dragster pilot "Aussie Dave" Grubnic and the rest of the stars of the NHRA POWERade Drag Racing Series descend upon the smooth quarter-mile drag strip at the Texas Motorplex this weekend, Oct. 6-9, there will be new StriVectin-SDR "skin" covering Grubnic's 330-mph machine as a major sponsorship partner at the O'Reilly NHRA Fall Nationals in Ennis, Tex., just south of downtown Dallas.
Grubnic drives for the Kalitta Motorsports NHRA-only full-time, three-car dragster team with teammates Doug and Scott Kalitta. StriVectin-SDR previously endorsed the magnesium body panels of a part-time fourth Kalitta Motorsports dragster driven by Ben Marshall at NHRA events this season in Las Vegas, Englishtown, N.J., and Sonoma, Calif.
"StriVectin was the talk of the track every time we ran the car," said Gina Gay, spokesperson for Klein-Becker USA, maker of StriVectin-SDR. "People don't expect to see a high-end cosmetic brand on high-speed race car. StriVectin positively stands out. Customer response and the reaction of our retail partners to our sponsorship have been overwhelming, so we want to test the great NHRA market again at a different level."

Grubnic's StriVectin dragster rendering.
StriVectin-SD will utilize its black and pink Top Fueler to cater to their retail partners and to help thank them for their support. On hand for the Dallas event will be retail partner representatives from Saks 5th Avenue, Bloomingdale's, Macy's, Foley's and Sephora. StriVectin-SDR was formulated to reduce the appearance of existing stretch marks, but it also helps reduce the appearance of fine lines, wrinkles, and crow's feet. Now, the fastest-growing segment of the product's users is men who are using StriVectin-SDR as an off-label aftershave.
Native Australian Grubnic, 43, won the Budweiser Shootout last fall in Las Vegas. He made history May 29th in Topeka, Kans., by becoming the first non-North American to win an NHRA Top Fuel national event. The win in Topeka was Grubnic's first in his 11-year career. The Ennis, Mont., resident is currently fourth in championship points.
Zantrex-3 will remain on Grubnic's nitro-guzzling 7,000 horsepower race car as an associate sponsor.
The threat of Hurricane Rita postponed the O'Reilly NHRA Fall Nationals which was originally set to take place Sept. 22-25.
The O'Reilly NHRA Fall Nationals begins Friday, Oct. 7, for the Top Fuel class with two qualifying sessions at 5:00 p.m. (CT) and 7:30 p.m. Two more qualifying sessions follow on Saturday at 12:30 p.m. and 3:30 p.m. The top sixteen qualified cars will race Sunday in final eliminations beginning at 11:00 a.m.
All times and dates subject to change.
The O'Reilly NHRA Fall Nationals is the 21st of 23 national events in the 2005 NHRA POWERade Drag Racing Series.




NHRA: 10 Most Recent Entries [ top ]

Mar 17- GAINESVILLE - Saturday Wrap Up
Mar 17- GAINESVILLE - Super Gas Round 3 Eliminations
Mar 17- GAINESVILLE - Pro Modified Eliminations Ladder
Mar 17- GAINESVILLE - Pro Modified Final Qualifying, Session #4 Order
Mar 17- GAINESVILLE - Super Stock Round 3 Eliminations
Mar 17- GAINESVILLE - Super Comp Round 3 Winners
Mar 17- GAINESVILLE - Stock Eliminator Round 3 Eliminations
Mar 17- GAINESVILLE - Super Comp Round 3 Eliminations
Mar 17- GAINESVILLE - Top Alcohol Funny Car Round 1 Eliminations
Mar 17- GAINESVILLE - Total Qualifying Bonus Points