Wed, 5 Oct 2005, 05:55 PM



GM, Local Colleges Team Up at Chicago NHRA Event



Courtesy of Kirk Weeks, GM Racing



Custom-Designed Chevy Cobalts on Display at Route 66 Raceway



JOLIET, Ill. --
At most NHRA POWERade events the excitement is generated on the quarter-mile dragstrip, but fans at this past weekend's Ameriquest Mortgage NHRA Nationals at Route 66 Raceway got to experience a little excitement on the Manufacturer's Midway as well, courtesy of General Motors and some local college students.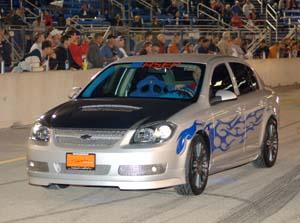 Illinois Central College's entry.
General Motors provided two 2005 Chevrolet Cobalts, one each to Illinois Central College in East Peoria,Ill., and Triton College in River Grove, Ill. Students enrolled in each school's GM Automotive Service Educational Program (ASEP) received their respective Cobalts just 30 days ago, along with $10,000 to customize them with exterior, interior and power train modifications. The students teamed up with businesses in their communities to create these custom rides.
Jim Swinson, GM's North Central Region Service Director, said, "We were looking for something to bring a little excitement to our ASEP display tent at the NHRA events here at Route 66 Raceway and came up with this idea. It's been a great project and the kids really did a nice job on the cars. It definitely exceeded our expectations and we're now looking for other events where we can do a project like this."
"We had about 10 guys working on our car," said Triton College instructor Joey Fuesting. "I thought this was a great idea and a lot of fun."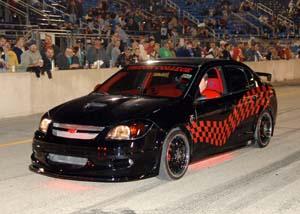 Triton College's entry.
The students had one month to complete the project, and the final results were on display at the GM Performance Parts display trailer on the Manufacturer's Midway during the Ameriquest Mortgage NHRA Nationals at Route 66 Raceway on Sept. 30-Oct. 3. Fans were allowed to view each vehicle up close and vote for their favorite. More than 1,000 race fans voted and Triton College, whose Cobalt got the most votes, won $15,000 to be used for tools and equipment for its service educational program. Illinois Central College received $5,000.
"Hey, we won!" said Triton College student Dustin Radman. "This was a cool project. It gave a lot of guys an opportunity to do some custom work on a car that they might not get a chance to do."
"I think it's great that more than 1,000 people voted for our cars," said Craig Ingold, also from Trinity College. "But the voting was pretty close - I think we won by less than 100 votes."




NHRA: 10 Most Recent Entries [ top ]

Apr 20- HOUSTON - Friday Wrap
Apr 20- HOUSTON - Saturday Schedule
Apr 20- HOUSTON - Top Fuel Qualifying, Session #2 Order
Apr 20- HOUSTON - Top Fuel Qualifying Notes, Session #2
Apr 20- HOUSTON - Pro Stock Qualifying, Session #2 Order
Apr 20- HOUSTON - Funny Car Qualifying, Session #2 Order
Apr 20- HOUSTON - Pro Modified Qualifying, Session #2 Order
Apr 20- HOUSTON - Funny Car Qualifying Notes, Session #2
Apr 20- HOUSTON - Pro Stock Qualifying Notes, Session #2
Apr 20- HOUSTON - Pro Modified Qualifying Notes, Session #2