Tue, 4 Oct 2005, 09:01 PM



It's Hard To Believe!!



By Bob Frey


Photo copyright 2005 Auto Imagery, Inc.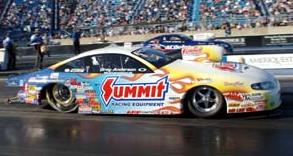 Greg Anderson
Before I go any further
did you know
that something happened at this week's
Ameriquest Mortgage Company Nationals
that hasn't happened at an NHRA race in twenty-nine years? And
did you know
that another thing happened that hasn't occurred in twenty-three years? And I'll tell you what those two things were a little bit later on in this column. But for now, if you told me a week ago that
Tony Schumacher
would have a larger lead in the points than
Greg Anderson
would after the
Chicago
race I probably would have taken that bet. But after his 138 point barrage this past weekend Tony finds himself a healthy 205 point lead over
Larry Dixon
while Greg's lead is 182 points over
Kurt Johnson
. Both Larry and Kurt could still catch the leaders and I applaud that "never say die" attitude but let's be honest, these two classes are over. Tony is going to win his third NHRA
POWERade
championship and Greg is about to do the same. They could both clinch this weekend, but more realistically it will happen in
Las Vegas
, but it will happen.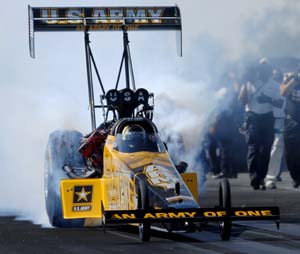 Tony Schumacher
Tony Schumacher and his
U.S. Army
team ran over everyone who got in their way this past week and the "Sarge" posted the maximum amount of points that a pro driver can get, 138, when he qualified number one, set the national record and won the race. Tony's number one qualifying spot was the twenty-first of his career, the tenth of this year and the sixth straight and they are all record breakers in one way or another.
Did you know
that Tony is now in eighth place in the Top Fuel class for number one qualifying spots and his latest effort moved him past
"Big Daddy" Don Garlits
on that list? Tony's six straight number one spots sets a single season record in the Top Fuel class and it breaks the old mark that was shared by
Darrell Gwynn, Gary Beck
and
Blaine Johnson
while
his
ten top spots for the year ties the record that is also held by Gary and Blaine. The national record that Tony set was a real milestone and it gave him those twenty extra bonus points that are equal to one round win at a national race. This is the fourth time this year that Tony has set the record and his elapsed time mark goes with his three other speed records this year.
Did you know
that this is the first time since 1982 that one Top Fuel driver has set the national record four times in one season? Not since
Mark Oswald
did it twenty-three years ago has one dragster driver put his name in the record book this many times in a single season. Like Tony, Mark set three speed records and one elapsed time mark in that season and he did it all at the wheel of the potent
Candies and Hughes
car. I remember that just two years ago I was saying how good the Larry Dixon
"Miller Lite"
car was and how it may be one of the best TF cars ever. Well, with the way Tony has run the past two seasons I have to think that this team also has to go way up to the top of the list for great Top Fuel cars. By the way,
Alan Johnson
has to be considered one of the best, if not the best Top Fuel crew chief ever. Some of the records that Tony is breaking or tying this year are ones that were set by the great Blaine Johnson when Alan was his crew chief. Nobody makes power like Alan Johnson, do they?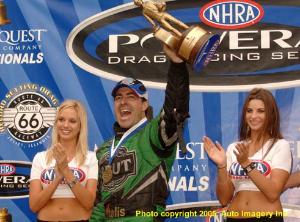 Capps celebrates win.
The Funny Car class continues to be the
talk of the sport as five drivers still have
a realistic shot at winning the championship this year. I guess the total is actually more than that if you consider that
Tommy Johnson
, who is in sixth place, is actually closer to the leader in his class than Larry Dixon is in his. But, in fact, it's the top five guys who will run for the title and that includes
Gary Scelzi, John Force, Ron Capps, Robert Hight
and
Eric Medlen
. Of course it was Ron who made the biggest move this past weekend by winning the event and by taking out both Robert Hight and John Force along the way. Ron's win over John was especially big since he has had trouble beating the champ over the years.
Did you know
that Ron's career record against John is 11-36? Any win over John is huge especially when it comes at this time of the year and right in the midst of a title race.
Ed McCulloch
, Ron's crew chief, continues to make the
"Brut"
car run well and very consistently and that's the kind of stuff that championships are made of. To indicate just how consistently this car has been this year,
did you know
that Ron is right in the middle of the title chase despite the fact that he hasn't been a number one qualifier, set low elapsed time or recorded top speed all year long? Ron did make his career best runs this weekend and he was one of thirty two drivers who did so at the "Fastest Track in the World."
Did you know
that Ron's win was the fifteenth of his Funny Car career and that moves him into a tie for tenth place on the all-time list? Ron is now tied with
Al Hofmann
on the list and the next driver ahead of him on that list is the aforementioned Mark Oswald. Ron has been in these title chases before and I have to think that will help him down the stretch. All Ron does is win rounds, and based on that I think that Ron, and not John Force, may be the biggest threat to the leader, Gary Scelzi right now. Of course it's not usually very smart to pick against Mr. Force but I honestly believe that Ron's car is running well and doing what it has to do to win rounds and races right now. I will also tell you that it's a lot of fun to go to the races right now and the battle for the Funny Car championship is one of the reasons why..
Cruz Pedregon
led the pack in qualifying in
Joliet
and this was Cruz's second top spot of the year and the thirty-second of his career. Cruz's pass of 4.680 also gave him low elapsed time of the race and that was the thirty-fifth of his career.
Did you know
that Cruz is now tied with
Kenny Bernstein
on the low elapsed time list and that only two Funny Car drivers,
Don Prudhomme
and John Force are ahead of him on that list?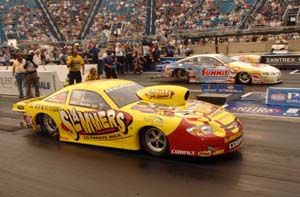 Erica in Pro Stock final.
The Pro Stock class now finds Greg Anderson and his
Summit Racing Pontiac GTO
about nine rounds ahead of
Kurt

Johnson
and his
A.C. Delco Chevrolet
. Since there are only twelve rounds of racing still on the schedule I like Greg's chances of winning his third consecutive championship. As tough as he has been in the past three seasons Greg still can't seem to find a way to win in
Joliet
. The
Illinois
track continues to be the only stop on the tour where Greg hasn't won and that's amazing considering that he has a very strong car and the track is perfect for the high horsepower machines. Go figure, huh
?...
Jason Line
won his eighth national event over the past two seasons when he beat
Erica Enders
in the final round. Erica, in the
"Slammers Ultimate Milk" Chevrolet
, fouled in the final round and that kept her from making even more history than she already had. In the post-race press conference Erica was very honest when she said "I just let the clutch out early" and fouled. Her foul came after the team had to change motors between rounds and was a little rushed just to get into the staging lanes and it would have been easy for her to blame her bad start on all of that thrash, but she didn't. Erica's foul came after both
Warren Johnson
(against her) and
David Connolly
(against Jason) fouled in the semi-finals.
Did you know
that the last time we had two fouls in the semis and a foul in the final round at the same race in Pro Stock was way back in 1976?
That's right, not once in the past twenty-nine years have the final three races in Pro Stock been decided by red light starts. And as hard as it may be to believe,
did you know
that Warren Johnson was also part of the trio of red lights in 1976?
Warren
won his semi-final race at the Fallnationals when
Kevin Rotty
fouled out and then he met
Wally Booth
who had won when
Larry Lombardo
fouled out. "WJ" then fouled out to give Booth the win and that's the last time we had that many red lights in the final two rounds of Pro Stock. Hard to believe, isn't it?....
Max Naylor
showed up with his Dodge Stratus and it was featuring the band
"Disturbed"
on the side. The boys from the band were there and they really seemed to enjoy themselves. Any time you can cross promote with a big time group like that it has to be good for everyone. Nice job, Max. By the way, for all of you wrestling fans out there,
did you know
that "Disturbed" did the theme song for "
Stone Cold" Steve Austin
? Just thought I'd ask.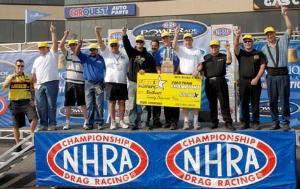 Division 6 celebrates win.

Congratulations to the team from Division 6 and their leader,

Jonathan Adams

, for winning their first sportsman All Star team title since 1988. Led by

Dave Barcelon

who won the Competition Eliminator title, the boys from the great Northwest edged the home team from Division 3 for the championship...

Dudley Gee

, in his really neat 1966 Mustang, raced for D-6 and made it to the final round on Saturday where he lost to

Eric

Reiff. Dudley

then came back on Sunday to make it to the final round again and this time he closed the deal with a win over

Allen Sharp

..

Frank Manzo

, who won his fourth All Star individual title on

Saturday

came back on Sunday to "double up" and pick up an extra $7,000. Frank will race at Atco this week in the final Division 1 race of the year and he needs to win it to keep his slim,

Lucas Oil World Championship

title hopes alive..In other sportsman notes,

Bill Reichert

became only the second driver in the Top Alcohol class to go over 280 miles per hour. Bill, who joined

Mike Gunderson

in that very exclusive 280 club, then went on to win his second consecutive race with his "

Bar's Leaks"

car..

Jeff Taylor

took the Competition Eliminator title and, even though he couldn't count this race, he is within shouting distance of

Rodger Brogdon

in the battle for the Competition Eliminator World Championship and it will be interesting to see where he shows up next.

Meanwhile,

Peter Biondo

did it again in Stock Eliminator and that simply adds to his already impressive 2005 season numbers.. Congrats also go out to

Henry Sliwinski

who took his Corvette to his first national event victory..The

Brut "Essence of Racing

" award was given to

George

and

Jane Etterman

and that is an honor that is richly deserved.




NHRA: 10 Most Recent Entries [ top ]

Apr 19- HOUSTON - Friday Schedule
Apr 19- Tige Boats Named Presenting Sponsor of E3 Spark Plugs NHRA Pro Mod Drag Racing Series Portion of NHRA SpringNationals
Apr 19- HOUSTON - Previous Success, Early Win has Funny Car's Courtney Force Excited
Apr 18- Haney Headed for NHRA Pro Mod with Summit Racing on His Side
Apr 18- HOUSTON - Richie Crampton Enjoying Early-Season Success Heading to 31st Annual NHRA SpringNationals
Apr 18- 2018 Mustang Cobra Jet Celebrates 50th Anniversary of Racing Legend with Quickest
Apr 18- New Ford Mustang Funny Car Scheduled to Debut In 2019 NHRA Mello Yello Season Opener
Apr 16- HOUSTON - Fact Sheet
Apr 16- HOUSTON - After Early-Season Mishap Funny Car's Jonnie Lindberg Looks to Get On Track