Tue, 4 Oct 2005, 05:59 PM



Torco Racing Fuels Joins Worsham as Major Associate Sponsor through 2006



Courtesy of Bob Wilber



ORANGE, Calif. --
Worsham Racing has announced that TORCO Racing Fuels, Inc. will become the major associate sponsor on Del Worsham's red Checker, Schuck's, Kragen Monte Carlo for the remainder of 2005 and the entire 2006 NHRA season. Building toward a run at the 2006 POWERade championship, Worsham will add TORCO Racing Fuels, Inc. to his Checker, Schuck's, Kragen family of partners, and will position TORCO as the key associate sponsor on his car.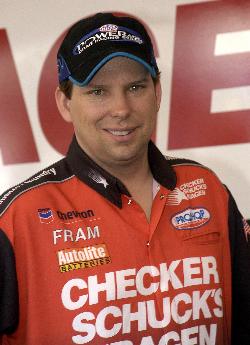 Del Worsham
Beginning with this weekend's race in Dallas, the TORCO Racing Fuels logo will be positioned on the rear quarter panels of Worsham's red CSK Funny Car, and will remain there for the full 2006 campaign. The addition of TORCO to the Worsham Racing program further integrates this marketing partnership, which began midway through the 2005 season when TORCO's Skull Gear apparel brand announced its sponsorship of Mike Ashley's Funny Car, a program owned and operated by Worsham Racing.
"All of us at Worsham Racing are extremely pleased, and very honored, to welcome TORCO Racing Fuels to our Checker, Schuck's, Kragen program," Worsham said. "All of our dealings with Evan Knoll, the President of TORCO Racing Fuels, Inc., have been professional, supportive, and absolutely first class. With TORCO and Skull Gear's backing, we were able to get the Mike Ashley program up and running competitively almost immediately, and now we're thrilled to bring TORCO Racing Fuels, Inc. on board with our red CSK team.
"We consider ourselves legitimate contenders for the 2006 POWERade Funny Car championship, and we've worked hard to build our team into the sort of organization that is clearly part of the elite group at the top of the class. The addition of TORCO Racing Fuels as our major associate sponsor represents a huge step forward in that mission. We absolutely believe this takes us to another level."
Knoll, who has built a sizable presence for TORCO Racing Fuels, Inc. and Skull Gear throughout the drag racing world, joins a Worsham program which has consistently competed at a level very near the top of the Funny Car class, and is now poised to take its next big step.
"I've paid close attention to Del Worsham and his Checker, Schuck's, Kragen program for many years, and have always appreciated how they work tirelessly to compete well on the track," Knoll said. "I firmly believe they will be title contenders in 2006, but to us it's just as important that Del has also consistently proven that he is among the great personalities in the sport. Everything about the Worsham team is based on hard work, family values, and class. That's exactly the type of program we want to be associated with, and we're honored to be partners with Del, his team, and Checker, Schuck's, Kragen."
Del Worsham is a 21-time winner on the NHRA POWERade tour, including a dramatic win at this year's Mac Tools U.S. Nationals in Indianapolis, where he not only took home the Funny Car trophy but also "doubled up" by winning the $100,000 Skoal Showdown. Worsham also recently announced a new multi-year extension to his Checker, Schuck's, Kragen primary sponsorship, which will mark its 10th season in 2006. Worsham Racing fields three Nitro Funny Cars on the NHRA POWERade tour. The red and blue Checker, Schuck's, Kragen cars are driven by Worsham and his teammate Phil Burkart, while the Skull Gear car is driven by Mike Ashley.




NHRA: 10 Most Recent Entries [ top ]

Apr 24- CHARLOTTE 1 - Steve Torrence Enjoying Four-Wide Success Heading to NGK Spark Plugs NHRA Four-Wide Nationals
Apr 24- CHARLOTTE 1 - Fact Sheet
Apr 24- Kalitta Motorsports Welcomes NASCAR Stars to the SealMaster Track Walk in Charlotte
Apr 24- zMAX Dragway Celebrates 10th Anniversary
Apr 24- CHARLOTTE 1 - NGK Spark Plugs NHRA Four-Wide Nationals Brings 40,000 Horsepower Thrill Show to zMAX Dragway
Apr 23- HOUSTON - Lucas Oil Drag Racing Series Wrap Up The NHRA Lucas Oil Drag Racing Series Wrap Up
Apr 23- CHARLOTTE 1 - J.R. Todd Aiming for Two Four-Wide Racing Wins in 2018
Apr 23- Mid America Dragway Joins NHRA Member Track Network
Apr 23- HOUSTON - Special Awards
Apr 23- HOUSTON - Sunday Video