Tue, 4 Oct 2005, 09:45 AM



Jim Luikens' Reporter's Notebook at the 5th Annual Ameriquest NHRA Nationals



By Jim Luikens


Photo copyright 2005 Auto Imagery, Inc. & NHRA





JOLIET, Ill. --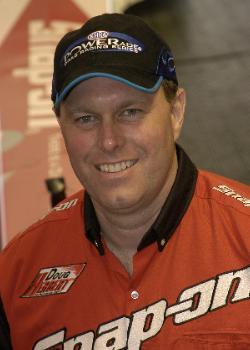 Doug Herbert
Tony Schumacher qualified number one here in Top Fuel with a great 4.437-second elapsed time, which was quick enough for a new elapsed time national record. The number one qualifying position was his sixth consecutive T/F pole position and it set a new NHRA single-season consecutive pole mark for T/F pilots. On race day Tony went all the way to the final round where he defeated a tire-smoking Doug Herbert.
Doug Herbert, the event's defending T/F champ, announced a three year extension of his Snap-on Tools sponsorship at a luncheon here. The new agreement extends to 16 years total one of the longest sponsorships in all of motorsports. Roy Hill was a constant in the Herbert pit area throughout the weekend. Roy could not be pinned down as to the reason for his presence but did admit that his long-hyped announcement, now rescheduled for this weekend in Dallas, does involve Top Fuel.
The Stevens Family top fueler, driven by Tim Gibson here, carried a memorial on its cowl to Tim Mahrenholz of Lawrenceville, Illinois. Tim passed away recently after a single car accident while returning home from the NHRA race in Reading, Pennsylvania. Tim was a member of the David Baca team at the time of his passing but originally got his start in racing with the Stevens' team. In fact, was buried wearing a Stevens Family racing uniform. On a related note, Marshall Topping may drive the Stevens Family fueler at the Las Vegas and Pomona races later this year.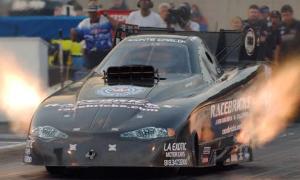 Gary Densham
Gary Densham had a scary moment during Saturday's first Fuel Funny Car qualifying session. Unbeknownst to Gary one of his body mounts had pivoted 90 degrees when his Monte Carlo body was lowered. When he left the starting line under power it interfered with the operation of his steering linkage and prevented him from steering his car. Gary started his run in the right lane, drifted left, narrowly missed clipping the rear of Mike Ashley's Monte Carlo and struck the left wall. Gary was unhurt but that could not be said for his car. Besides the body, his frame, left header and left front wheel and tire combination all suffered damage. Gary and his crew straightened their frame, replaced the damaged parts and installed his spare body for the final qualifying session. Gary was not able to improve his elapsed time but his earlier 4.842 elapsed time held up for the 16th, and final, position in the field. On race day Gary lost to Cruz Pedregon in the first round but remains happy with the recent progress his team has made. After a slow start to the season his team has really gathered momentum in the back half of the year.
Cruz Pedregon had not qualified at the two most recent NHRA events. In fact, he went 0-for September. But that has all changed now that we are into October. In an unusual turn of events both Cruz and Tony Pedregon tied for the Fuel Funny Car pole with a class-best identical elapsed time of 4.680 seconds. To make things even more interesting Tony and Cruz were also tied at 31 number ones each. Cruz broke the tie when he was awarded the number one qualifying position for this event because his 330.80 top speed was better than brother Tony's 320.36 best.
Vinnie Arcadi
One of the big surprises in Fuel Funny Car qualifying was the 4.879 elapsed time that was recorded by Vinnie Arcadi of Lancaster, New York. Vinnie, who is most famous for his mid-track wheelstands, had never run run below five seconds before this weekend. Out of the field going into Saturday's final qualifying session he leapt right over the 4.90 bracket, and all the way up into the 80s. Unfortunately, his 4.879 was only good enough for the first alternate position in the final F/C standings. Part of the credit for the improvement goes to crew chief Jay Lewis, who moved some weight around on Saturday in an attempt to make the car more drivable for Vinnie.
Greg Anderson and Jason Line shared the Pro Stock qualifying honors here. Greg qualified number one with a 6.646 elapsed time, a new track record and the second best elapsed time ever recorded by a Pro Stocker. Meanwhile, Jason Line qualified second with a 6.663 elapsed time but his 208.17 mile-per-hour top speed was good for a new track speed record as well as the second best P/S speed ever recorded. Route 66 Raceway is the only track on the current tour that Greg has not won on. His streak continued for at least one more event here when he was defeated by Warren Johnson in the second round. On the other hand, Jason went all the way to the final round where he defeated Erica Enders.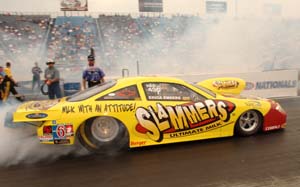 Erica Enders
Erica Enders made NHRA history here when she became the first woman to advance to a Pro Stock championship round. Previously this year she had become the first woman to qualify at the US Nationals (in a 16 car field) and the first to advance past the first round at any event. On Sunday she became the first woman to reach the semi-finals and, then, the finals. Her race day ended with an untimely red-light after going further in eliminations than any woman previously had in Pro Stock.
There were so many special paint schemes here that one might have thought they were at a NASCAR race. By my unofficial observation the Top Fuelers of Scott Weis (Chicago Carpenters), Morgan Lucas (Fuel for the Fight Breast Cancer Fund) and Clay Millican (Nitro Fish) were all carrying special colors, although some had been seen at earlier events this season. Over in Fuel Funny Car, Tony Bartone (Johnny Lightning), Whit Bazemore (Rat Fink) and Phil Burkart (Techron Fuel Additive) all gave fans something different to look at. All of the above went on to qualify except Scott Weis, who had over 1000 carpenters in attendance for the second straight Chicago event. Although he has only run the specially painted carpenters body twice he did admit that he might run it once more this year to make up for not qualifying here. Additionally, Aaron Olivarez had his Top Alcohol Dragster also painted in the special black with pink trim Fuel for the Fight color scheme.




NHRA: 10 Most Recent Entries [ top ]

Apr 18- Haney Headed for NHRA Pro Mod with Summit Racing on His Side
Apr 18- HOUSTON - Richie Crampton Enjoying Early-Season Success Heading to 31st Annual NHRA SpringNationals
Apr 18- 2018 Mustang Cobra Jet Celebrates 50th Anniversary of Racing Legend with Quickest
Apr 18- New Ford Mustang Funny Car Scheduled to Debut In 2019 NHRA Mello Yello Season Opener
Apr 16- HOUSTON - Fact Sheet
Apr 16- HOUSTON - After Early-Season Mishap Funny Car's Jonnie Lindberg Looks to Get On Track