Sun, 2 Oct 2005, 08:39 PM



Schumacher Wins Again



Courtesy of NHRA Media Relations


Photo copyright 2005 Auto Imagery, Inc.





Extends Lead In POWERade Series Top Fuel Points Race



JOLIET, Ill. --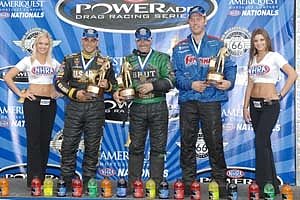 Schumacher, Capps and Line (l-r)
POWERade Series points leader Tony Schumacher backed up his national-record run in qualifying with a win Sunday at the Fifth annual Ameriquest Mortgage NHRA Nationals at Route 66 Raceway.
The other winners at the $1.5 million race, the 20th of 23 events in the $50 million POWERade Series, were Ron Capps (Funny Car) and Jason Line (Pro Stock). Line's win came against 21-year old Erica Enders, who became the first female to advance to an NHRA Pro Stock final round.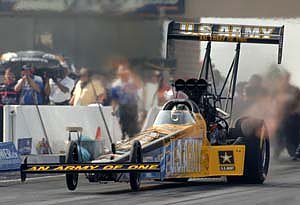 Tony Schumacher
With his 4.535-second pass at 328.94 mph in his U.S. Army dragster in the final round win over the tire-spinning Doug Herbert (9.877 at 82.52) -- on a weekend when his two closest competitors were eliminated in the first round -- Schumacher continued a steady charge toward a third overall and second straight POWERade Series championship. With three events remaining, he has built a 205-point lead over Larry Dixon.
"It's kind of upsetting that (Herbert) smoked the tires (on his Snap-On Tools dragster). You want to see a good race, but ... all in all, I got the trophy and I didn't care how I did it," said Schumacher, who has advanced to four straight final rounds.
Asked if he was ready to crown himself the POWERade Series champion, Schumacher said: "I'd much rather be in my spot, there's no question about it."
Schumacher set the provisional national record of 4.437 seconds during qualifying Friday night. His first pass on Saturday, 4.473 seconds, was good enough to validate the time -- an NHRA national record requires a second run within 1 percent of the record run -- and it earned him a valuable 20-point bonus. Schumacher held the previous record of 4.441 seconds, set on Oct. 5, 2003 at Reading, Pa.
"I was the No. 1 qualifier ... I set the national record ... I won the race," Schumacher said. "I couldn't have left with less points."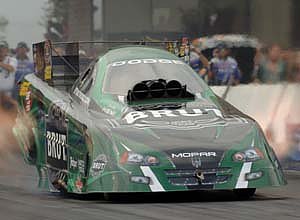 Ron Capps
In Funny Car, Ron Capps (4.760 at 327.82) beat a tire-spinning Tony Pedregon (7.369 at 138.50) in his Q Racing Chevy Monte Carlo to jump from fifth to third in the standings and pull to within 45 points of first-place Gary Scelzi.
"Any of these guys in the points chase that say they don't think about it all the time, they're lying," said Capps, who drives the Brut Dodge Stratus R/T. "I think about it when I'm taking the kids to school. I think about it in the shower. I call (team owner) Don (Schumacher) every five minutes and ask him if it's time to go racing. Then we have to wait a week when Dallas got postponed. I've been so anxious to get back into it so this feels great."
Capps took out second-place John Force and his Castrol Syntex GTX Ford Mustang in the semis and Pedregon eliminated first-place Scelzi and his Mopar/Oakley Dodge Stratus R/T in the other semifinal.
So with three events remaining (Dallas, Las Vegas 2 and Pomona 2), the still-too-close-to-call Funny Car point standings look like this: Scelzi 1,326; Force 1,283; Capps 1,281; Robert Hight 1,256; Eric Medlen 1,226.
"At this point in the game you have to win rounds or you're done," Capps said. "We felt like we had a good chance to make up ground in Reading racing Robert Hight in the first round but he beat us. Then we draw him again here in the first round. It was destiny."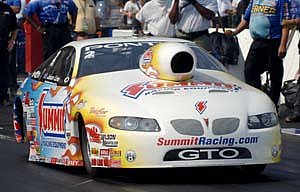 Jason Line
In Pro Stock, Jason Line (6.719 at 205.88) beat Erica Enders, who fouled out at the starting line, to win for the fourth time in 2005 and for the second consecutive year at Route 66 Raceway.
"I love racing here," said Line, who drives the Summit Racing Pontiac GTO. "I wish I knew what it was ... I'd like to put it in a bottle and bring it to Dallas."
With her performance Sunday, Enders became the first female in NHRA history to advance to a Pro Stock final round. Enders picked up her first round-win in her Slammers Ultimate Milk Chevy Cobalt just one event earlier at the Toyo Tires NHRA Nationals in Reading, Pa. and Sunday she punctuated her run to the finals with a semifinal win over NHRA legend Warren Johnson (who fouled) in the semifinals.
"First of all, we would really liked to have won, but we're going to get our win here soon," said Enders, who then spoke about being the first woman to advance past the first round in an NHRA Pro Stock race.
"That's a huge point of interest for the public and the media, but for me, I don't consider there to be any difference when I strap the helmet on," Enders said.
Line began the weekend by setting the track speed record with a 208.17 mph pass in Friday night qualifying.
Final Round Results:
Top Fuel -- Tony Schumacher, 4.535 seconds, 328.94 mph def. Doug Herbert, 9.877 seconds, 82.52 mph.
Funny Car -- Ron Capps, Dodge Stratus, 4.760, 327.82 def. Tony Pedregon, Chevy Monte Carlo, 7.369, 138.50.
Pro Stock -- Jason Line, Pontiac GTO, 6.719, 205.88 def. Erica Enders, Chevy Cobalt, foul.
Top Alcohol Dragster -- Bill Reichert, 5.248, 275.84 def. Jeff Wilson, 5.378, 265.74.
Top Alcohol Funny Car -- Frank Manzo, Pontiac Firebird, 5.615, 257.87 def. Mick Snyder, Firebird, 5.666, 254.71.
Competition Eliminator -- Jeff Taylor, Pontiac Grand Am, 9.086, 121.68 def. David Eaton, Bantam, foul.
Super Stock -- Hugh Meeks III, Olds Achieva, 9.794, 138.22 def. Dan Fletcher, Chevy Camaro, 9.888, 128.02.
Stock Eliminator -- Peter Biondo, Chevy Camaro, 10.888, 115.79 def. Lee Zane, Buick Apollo, 12.065, 99.33.
Super Comp -- Shane Carr, Dragster, 8.883, 166.58 def. Gary Stinnett, Dragster, 8.877, 171.36.
Super Gas -- Henry Sliwinski, Chevy Corvette, 9.943, 156.37 def. Steve Hoyt, Corvette, 9.895, 153.58.
Super Street -- Dudley Gee, Ford Mustang, 10.880, 140.55 def. Allen Sharp, Chevy S-15, 10.821, 128.52.




NHRA: 10 Most Recent Entries [ top ]

Apr 24- CHARLOTTE 1 - Steve Torrence Enjoying Four-Wide Success Heading to NGK Spark Plugs NHRA Four-Wide Nationals
Apr 24- CHARLOTTE 1 - Fact Sheet
Apr 24- Kalitta Motorsports Welcomes NASCAR Stars to the SealMaster Track Walk in Charlotte
Apr 24- zMAX Dragway Celebrates 10th Anniversary
Apr 24- CHARLOTTE 1 - NGK Spark Plugs NHRA Four-Wide Nationals Brings 40,000 Horsepower Thrill Show to zMAX Dragway
Apr 23- HOUSTON - Lucas Oil Drag Racing Series Wrap Up The NHRA Lucas Oil Drag Racing Series Wrap Up
Apr 23- CHARLOTTE 1 - J.R. Todd Aiming for Two Four-Wide Racing Wins in 2018
Apr 23- Mid America Dragway Joins NHRA Member Track Network
Apr 23- HOUSTON - Special Awards
Apr 23- HOUSTON - Sunday Video