Wed, 28 Sep 2005, 04:49 PM



The David Powers Top Fuel Team



by Bob Frey


Photo copyright 2005 Auto Imagery, Inc.





Coming Soon To A Drag Strip Near You!!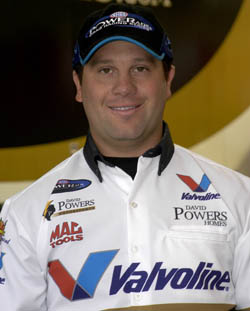 Rod Fuller
If you have been following the Top Fuel class closely this year you have noticed that one of the hottest teams out there is the David Powers' Valvoline car. During the season the team has attended eleven races and they have managed to make it to three final rounds, culminating with their win in Memphis. And, despite the fact they have missed a big portion of the season they are very close to moving into the POWERade top ten in the points and that would be quite an accomplishment.
You may have also noticed that some of the top tuners in the sport have joined the team, including Lee Beard and Rob Flynn. The team announced a few weeks ago that both Lee and Rob had signed contracts that will enable them to be with the team for the next few years.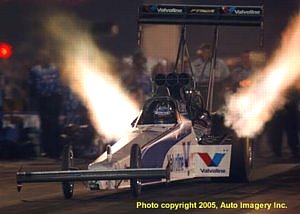 David Powers' Valvoline Dragster
The one thing that you may not have noticed was the fact that the driver, Rod Fuller, had not been inked to a contract for next year. Well, that is about to be rectified. From what I hear there will be a formal announcement coming in the very near future, maybe as early as today, that will state that Rod has been signed as the driver of the car for the foreseeable future. And, while I don't have any vested interest in any team I can tell you that I think this is a great announcement, it's good for the team and it's good for the sport.
With the personnel that he has on this team David Powers has assembled a team that will make a serious run for the POWERade championship in 2006 and beyond. With David's managerial expertise, the tuning abilities and experience of Lee and Rob and the skills of a very talented driver like Rod Fuller, the Valvoline team will be a force to be reckoned with every time they hit the track. Now, let's just wait for the formal announcement and then watch this team compete with the best in the sport.




NHRA: 10 Most Recent Entries [ top ]

Apr 24- CHARLOTTE 1 - Steve Torrence Enjoying Four-Wide Success Heading to NGK Spark Plugs NHRA Four-Wide Nationals
Apr 24- CHARLOTTE 1 - Fact Sheet
Apr 24- Kalitta Motorsports Welcomes NASCAR Stars to the SealMaster Track Walk in Charlotte
Apr 24- zMAX Dragway Celebrates 10th Anniversary
Apr 24- CHARLOTTE 1 - NGK Spark Plugs NHRA Four-Wide Nationals Brings 40,000 Horsepower Thrill Show to zMAX Dragway
Apr 23- HOUSTON - Lucas Oil Drag Racing Series Wrap Up The NHRA Lucas Oil Drag Racing Series Wrap Up
Apr 23- CHARLOTTE 1 - J.R. Todd Aiming for Two Four-Wide Racing Wins in 2018
Apr 23- Mid America Dragway Joins NHRA Member Track Network
Apr 23- HOUSTON - Special Awards
Apr 23- HOUSTON - Sunday Video