Wed, 28 Sep 2005, 11:47 AM



Whit Bazemore: Rat Fink Redux and More



Courtesy of Judy Stropus



JOLIET, Ill. --
For the second straight year at the Ameriquest Mortgage NHRA Nationals at Route 66 Raceway, Whit Bazemore will pilot the Rat Fink Dodge Stratus R/T Funny Car to commemorate Ed "Big Daddy" Roth and his drag-racing legacy.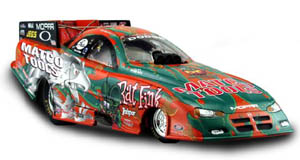 Matco Rat Fink car rendering.
Bazemore's longtime sponsor, Matco Tools, in cooperation with RC2 Corporation, one of the largest toy manufacturers in the U.S., which produces die-cast vehicle replicas under the Racing Champions, Johnny Lightning and ERTL brands, will introduce this new paint scheme this weekend in honor of the man who is widely credited with having spawned the pin-striper hot-rod and Kustom Kar Kulture that blossomed in the '50s and '60s.
Rat Fink was created in the early '60s by Roth, who died in 2001. The designer of eye-popping custom hot rods and far-out monster illustrations, Big Daddy brought a fantastic style and humor to the art and car cultures. Since the early 1960s his work has inspired the outlook and attitudes of young artists throughout the world.
"This is one of our most successful programs," said Bob Jacobsen, Vice President of Sales for RC2 Corporation.
"It's cool to be driving the Rat Fink Dodge Stratus again this year in Chicago," said Bazemore. "I'm excited about it because it certainly draws a lot of fans to our pits."
The Rat Fink die-casts are available for purchase through local Matco Tools dealers. For the name of a local Matco Tools dealer, call 866-289-8665. They will also be available on the Matco Tools Franchised Distributor trucks in the second week of October.




NHRA: 10 Most Recent Entries [ top ]

Mar 22- LAS VEGAS 1 - Defending Funny Car Winner Tommy Johnson Jr. Excited for Four-Wide Racing
Mar 22- NHRA Northwest Nationals Tickets on Sale Now
Mar 21- LAS VEGAS 1 - Fact Sheet
Mar 21- LAS VEGAS 1 - Event Preview
Mar 20- Strong Stable of Contending Pro Stock Racers Vie for Final Starting Position for K&N Horsepower Challenge
Mar 20- GAINESVILLE - Special Awards
Mar 20- GAINESVILLE - Lucas Oil Drag Racing Series Wrap Up
Mar 19- GAINESVILLE - Sunday Video
Mar 18- GAINESVILLE - Pro Mod Sunday Wrap Up
Mar 18- GAINESVILLE - Sunday Wrap Up