Wed, 28 Sep 2005, 11:09 AM



Welcome To Final Four



By Bob Frey


Photo copyright 2005 Auto Imagery, Inc. & RacersEdgePhotography.com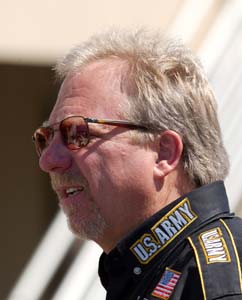 Alan Johnson
The NCAA has it's "March Madness," NASCAR has the "Chase" and this year NHRA has its own version of the final four and the chase all wrapped into one and it all begins this weekend in Chicago. With nineteen races in the books and only four to go there is no room for error. Like the basketball program it is, basically, one and done for the contenders for the 2005 NHRA POWERade championship. And while that may seem overly simplistic to some, think about it, one bad race for
Larry Dixon
or
Doug Kalitta
could take them right out of the chase. A bad race for one of the five guys who are still in the chase for the Funny Car title and it could be all over. OK, so it's not quite that bad for the Funny Cars but believe me, if
Tony Schumacher
adds to his lead this weekend in
Joliet
the chase for the Top Fuel title could be over. As it stands right now Tony and his
U.S. Army
team have a 100 point lead over Larry and they're 105 ahead of Doug. That means that those two drivers need to gain more than a round a race on Tony for the final four events or forget about being the champ. Joliet, being the fast track that it is, could play right into the hands of crew chief
Alan Johnson
and the Army team, and if it stays cool and dry this weekend it will be a real tuner's race. Whatever happens, it should be fun this weekend as the 2005 season heads into the final four..Tony Schumacher has been to the final round at the last three races and it was about this time last year that he got really hot.
Did you

know
that in 2004 Tony went to four final rounds at Indy,
Dallas
,
Chicago
and
Maple Grove
and that was the last time he made it to the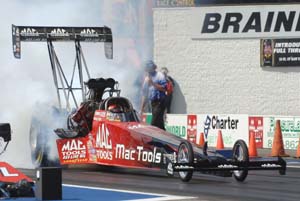 Doug Kalitta
money round at four consecutive events? For his part, Larry has taken the
"Miller Lite"
car to three finals in the last four events including two straight.
Did you know
that the last time Larry went to three consecutive finals was back in 2003 when he swept the Western Swing? The other title contender, Doug Kalitta, has had a tough three races since his win at Brainerd.
Did you know
that Doug has only won two rounds since his win in
Minnesota
and over that time he has gone from first place to third place? It should be pointed out here that the two quickest runs in drag racing history were made at this track and they were both made by, you guessed it, Doug Kalitta. Doug went 4.428 at this race in 2003 and then he made a jaw-dropping run of 4.420 here last year. Maybe the Rt. 66 tracks is just what the doctor ordered for the
MAC Tools
team....The Top Fuel class will be even more exciting this weekend since both
Rod Fuller
and
Clay Millican
will be there. Rod, who drives the red hot
David Powers' Valvoline
car, will be a tough draw for anyone in the first round on Sunday and I'm sure the three contenders certainly hope he doesn't line up against them. Clay, who locked up his fifth IHRA title this past weekend, would love to win his first NHRA event at the track where he once drove the
Chicago White Sox
car in Top Fuel. Now wheeling
Ken Koretsky's
car which is sponsored by
Werner Enterprises
and
Nitro Fish
, Clay is always a factor and you can be sure the top three want to stay away from him as well. Now I know what you're saying, none of those three are afraid of either Rod or Clay and you may be right, but believe me when I tell you that if they have to run either one of those guys they certainly hope that it comes in the final round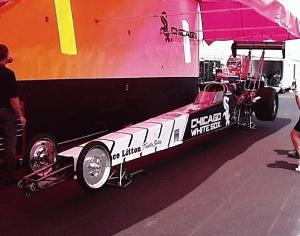 Millican's White Sox car.
and not the first...
Doug Herbert
is the defending champion at this event and, as well as he has run lately,
did you know
that his Chicago win in 2004 was the last race that he won? The
Snap-On Tools
car is going to be running in front of a lot of friends and distributors in Joliet and it would be a great time for "Dougzilla" to pick up his first win of the year...
Morgan Lucas
is the other guy who is running too well to get shut out of the winner's circle this year. Morgan's losing time of 4.538 at
Maple Grove
in the semi-finals would have been good enough to win the other semi-final round. For a while we were looking at the possibility of having the two
Dupuy brothers,
Wayne
and
Jim
, race each other in the final round. Maybe the
Lucas Oil
car and the Snap-On team will meet in the money round this weekend.
Then again..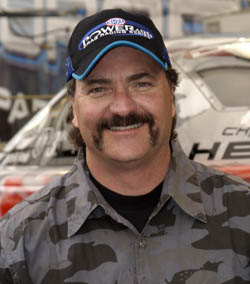 Gary Scelzi
The on-line poll at NHRA.com asking if
Gary Scelzi
will hold on to win the Funny Car championship has been a bit surprising to me. By a margin of almost two to one the fans, at least the voting fans, think that
Gary
will squander his lead and not win the championship. OK, so tell me then, who will win it? From what I've seen this year the
Oakley
car certainly has as good a shot as anyone at winning the whole deal and since Gary has been through the rigors of a championship battle before he certainly has the temperament for it. I think a better question would be, if not
Gary
than
who
do you think will win it all?
I imagine that most fans would pick
John Force
because, well, because he's John Force and he always seems to find a way to separate
himself
from the pack. But this year John has looked human and the fear that the
Castrol GTX
car once struck in the hearts of his competitors just doesn't seem to be there this time around. In fact, on a one run basis, the other two cars from the "Team Force" stable seem more capable of putting up the big numbers than John does right now. Like the TF class, this weekend's race will be very important and, while it may not leave us with a clear leader, it could go a long way toward deciding who the champ will be. By the way,
Gary
, I voted for you!!...There are twenty five cars entered for this weekend's race in the FC class and that means that a bunch of guys won't make the cut.
John Lawson, Dale Creasy, Vinny Arcadi, Bob Bode
and others will all slug it out for one of those sixteen coveted starting spots.
Frank
Pedregon
,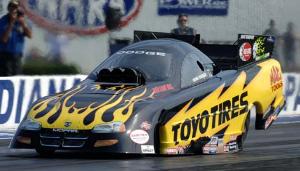 Frank Pedregon
who has run very well with his
Toyo Tires
car at the last few races, could be a real factor again this weekend. Brother Tony, meanwhile, is coming off his first win as a car owner with the
"Q"
car while the other brother,
Cruz
, is coming off a couple of DNQ's at the last two races.
Did you know
that the last time Cruz failed to qualify at two consecutive races was at the end of the 2003 season? Cruz is hanging on to the final spot in the POWERade top ten while
Tim Wilkerson
is 76 points back in eleventh place...With every point being so important right now a team might look to pick up a quick twenty points by setting the national record and the Rt. 66 track would seem like a perfect place to do it.
Did you know
that the current Funny Car record was set in
Joliet
last
year? John Force set the mark at a sizzling 4.665 at 333.58 mph but that will be hard to break this year. Not only is a 4.665 a very good run but the cars now have those rev limiters on them and that could make it hard, if not impossible to lower the mark this weekend. But if someone could set the mark those twenty points would be huge wouldn't they. And you still don't get any points for the speed record and that's a shame. Hey, maybe we could have a poll about that.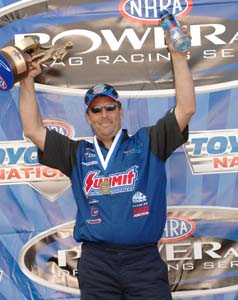 Greg Anderson
Greg Anderson
can't wrap up the championship this week but he will soon. The driver of the
Summit Racing Pontiac GTO
has been red hot lately and he's got a little something to prove this weekend.
Did you know
that the
Joliet
track is the only place on the current NHRA national event roster where Greg hasn't won? He's done everything else there including not qualifying, crashing, setting the record, being number one, setting low elapsed time and top speed and going to the finals, but he hasn't won. Of course all of that could change this weekend. A cool, fast track could be just what
Rob Downing
and
Jeff Perley
ordered and that current national record of 6.63 could fall. Remember
where
you heard it first..In case you're counting,
Kurt Johnson
is 176 points behind Greg and that's about eight rounds and that's a lot of ground to make up in just four races. I know I said that last week but I had some folks e-mail me this past week and say that this thing is far from over. Well, good luck to you if you have Kurt or
Warren
Johnson
in the office pool because this thing
is
over..
Dave Connolly
is the defending champ at this event and he seems to be the subject of a great deal of speculation lately about where he will end up next year. Dave is certainly one of the top drivers in the class and he is a vital part of the
Torco Fuels / Skull Gear
team right now and I expect that he will be in 2006. Having said that, I understand that several teams are seriously interested in having him drive for them next year and that's got be a pretty good position for a twenty two year guy to be in isn't it? I wonder if Dave needs an agent
?....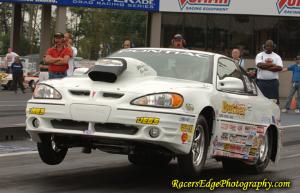 Jeff Taylor
The Jeg's All Star race takes place this week in
Joliet
and that always makes for a great time for the real, hard cord drag racing fans. I know you realize that a lot of the guys in the sportsman ranks eventually moved up to the pros but just so you'll realize how many have made the jump I thought I'd give you a few names of drivers who have participated in the all star race over the years. How about
Tommy Johnson, Cory McClenathan, David
Baca, Greg Stanfield, Jeg Coughlin, Tony Bartone, Tim Wilkerson
, Gary Scelzi and Morgan Lucas just for starters?...From what I understand all of the top ten drivers from the Top Alcohol Funny Car class will be in attendance at the race this week and that should make the TA/FC race one of the best of the weekend..
Bob Newberry
and
Frank Manzo
will be there and, even though they can't add any national event points to their total, it should be fun to watch them since it looks like one of them will be the
Lucas Oil World Champion
this year.. And, in case you didn't notice it,
Jeff Taylor
had a pretty good weekend in
Columbus
. Jeff won not one but two divisional races, the re-scheduled Beech Bend affair and the regularly scheduled
Columbus
race and by my unofficial count that will jump him all the way to the number two spot in the points. It's not over yet but the leader,
Rodger Brogdon
, may have his hands full trying to hold off one of the best drivers in the sport. Let's hope for nice weather and the racing will take care of itself. By the time we leave
Chicago
the championship pictures in a lot of classes may come into focus.




NHRA: 10 Most Recent Entries [ top ]

Apr 22- HOUSTON - Pro Modified Round 3 Eliminations
Apr 22- HOUSTON - Pro Stock Round 3 Eliminations
Apr 22- HOUSTON - Funny Car Round 3 Eliminations
Apr 22- HOUSTON - Top Fuel Round 3 Eliminations
Apr 22- HOUSTON - Top Fuel Harley Round 2 Eliminations
Apr 22- HOUSTON - Super Stock Round 5 Eliminations
Apr 22- HOUSTON - Super Gas Round 5 Eliminations
Apr 22- HOUSTON - Super Comp Round 5 Eliminations
Apr 22- HOUSTON - Stock Eliminator Round 5 Eliminations
Apr 22- HOUSTON - Pro Modified Round 2 Eliminations