Tue, 27 Sep 2005, 03:33 PM



Motorsport's Fastest Couple Competes for Rival Camps at Route 66 Raceway



Courtesy of NHRA Communications


Photo copyright 2005 NHRA





Tries to be Fastest Half



JOLIET, Ill. --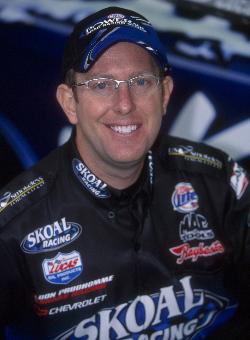 Tommy Johnson Jr.
Melanie Troxel and Tommy Johnson Jr. met when she was 13. He was four years older. Both were children of drag racers - but at those ages, dating would have been, according to Johnson, "a little weird." Girl noticed boy; boy was oblivious. Until 1999, that is.
Troxel remembers the first time Johnson made his move. The two said "hello" to each other at NHRA events through the years, but after her first national event win he called to her from a hospitality tent near the finish line. They started seeing more of each other. In 2001, they went out for their first dinner together. Age was no longer an issue.
"I asked her if she wanted to go to dinner, but it took a long time to get her to do that," Johnson said. "She was standoffish. She was making me work for it, making sure I was serious."
At first, Troxel told him their outings were just "two friends going to dinner." Over time, the two discovered a list of things they had in common.
On New Year's Eve of 2003, they were married.
Together, they are motorsport's fastest couple. The two will compete for opposing camps at the fifth-annual Ameriquest Mortgage NHRA Nationals at Route 66 Raceway, Sept. 29-Oct. 2 - she in the Torco Gear Top Fuel dragster owned by Don Schumacher and he in the Skoal Chevrolet Monte Carlo Funny Car owned by Don "the Snake" Prudhomme.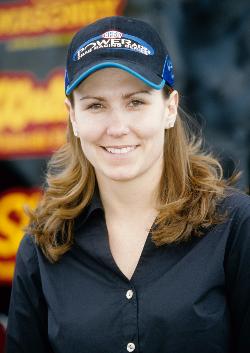 Melanie Troxel
While the two do not take the same types of rides down the quarter-mile, the list of things they have in common is long.
"We both like to shop," said Johnson, 37. "We're kind of home-bodies. When we're away from the race track, we stay home and do stuff around the house. We're both kind of project-people."
She starts projects; he finishes them. The two paint, organize their Avon, Ind. garage and landscape together.
"We're very detail-oriented people," Johnson said. "We like everything organized and neat. I'm a little more overboard than she is. I think it comes from racing. You learn to be very organized."
Troxel, 33, loves her husband for the little things -- like his love of all things technical, from new computers to the latest televisions. People often ask her what it is like to spend almost every hour with her husband. The two drive to each race in their motor home, but when they need a break, they can retreat to their separate team trailers at the track.
"There are a lot of days when we're not apart at all," Troxel said. "That's probably been one of the best parts of our relationship. We are able to travel and go to the races and get along all of the time that we're together. I don't think either of us would deal very well if one was off racing the schedule and we were apart."
When the couple rolls into Route 66 Raceway - together - they'll face different issues on the quarter-mile. Ranked sixth after 19 events, Johnson is in the midst of an intense points battle where every round is key. Schumacher-backed Gary Scelzi holds a 26 point lead in the Funny Car point standings, followed by the trio of Robert Hight, John Force and Eric Medlen, and Scelzi's teammate Ron Capps.
Since Troxel joined Schumacher's roster late in the season, she doesn't have to worry about her own hunt for the championship. Instead, Troxel and her crew will focus on eliminating key players that may get in the way of teammate Tony Schumacher. Schumacher, a two-time and defending world champion, leads the Top Fuel standings with Larry Dixon and Doug Kalitta close behind.




NHRA: 10 Most Recent Entries [ top ]

Apr 19- HOUSTON - Friday Schedule
Apr 19- Tige Boats Named Presenting Sponsor of E3 Spark Plugs NHRA Pro Mod Drag Racing Series Portion of NHRA SpringNationals
Apr 19- HOUSTON - Previous Success, Early Win has Funny Car's Courtney Force Excited
Apr 18- Haney Headed for NHRA Pro Mod with Summit Racing on His Side
Apr 18- HOUSTON - Richie Crampton Enjoying Early-Season Success Heading to 31st Annual NHRA SpringNationals
Apr 18- 2018 Mustang Cobra Jet Celebrates 50th Anniversary of Racing Legend with Quickest
Apr 18- New Ford Mustang Funny Car Scheduled to Debut In 2019 NHRA Mello Yello Season Opener
Apr 16- HOUSTON - Fact Sheet
Apr 16- HOUSTON - After Early-Season Mishap Funny Car's Jonnie Lindberg Looks to Get On Track