Tue, 27 Sep 2005, 12:55 PM



Some Updates, Rumors and Other Stuff.



By Bob Frey


Photo copyright 2005 Bob Johnson Photography, Barry Bergeron, and Extreme Photos





With the top sportsman racers in the country heading to Joliet, Illinois next week for the big all star bash I thought I would give you some updates on some things that I have heard about various sportsman racers. So, in no particular order..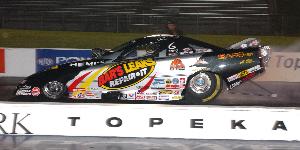 Tate Branch
George Etterman, one of the truly nice guys in this sport, is recovering from a quintuple heart bypass operation about a week ago. According to what I hear, George is resting comfortably and may actually go home today or tomorrow (if he isn't there already). Our best wishes go out to George and his wife, Jane, who have been familiar figures on the sportsman trail for almost twenty years.
In a related story, Tate Branch, who has teamed up with George this year to run the Bar's Leaks Top Alcohol Funny Car, reportedly is in line to go Top Fuel racing next year. From what I hear Tate may team up with Chris Russell as they both step up to the sport's top class. "I've been friends with Chris for a while and am very flattered that he would want me to be a part of this team," Tate told me. Chris has a car but the pair hopes to be able to attract some additional funding in order to build a complete new car for their venture into the fuel ranks. As of this moment, Chris would like to run the IHRA schedule along with selected NHRA events in 2006 and, if the sponsorship programs develop fully, run the complete NHRA schedule as well. While Tate doesn't have a TF license yet, he has plans to run Mark Kinsella's car in the next few weeks in order to upgrade his current license. "I have mixed feelings about this," Tate said. "It would break my heart not to race with George and Jane next year but I think every racer wants to run in the professional classes and it's been a dream of mine for a while. Hopefully we'll be able to work something out with George so that he can be part of this new team." Tate said that his team will compete next week in Joliet and then head to Las Vegas for the Division 7 finale and finish the season at Pomona. "The doctor told George that he can't drive a car for three weeks and he can't drive the truck for three months but we want him to be with us out west so, if the doctors will allow it, we'll take him with us and try to win a national event for him before the end of the year." Good luck to everyone..
Staying in that same geographic region and in the same vein.. I hear that a former Top Alcohol Dragster driver, one with a Lucas Oil World Championship to his credit, has recently upgraded his license to Top Fuel and may, if everything goes well, compete at a national event before this year is over. While I can't mention his name (there will be an official press release next week), I can say that he drove Virgil Hartman's car after the Maple Grove race and made one pass of 4.77 and another one at 4.65 and 317 mph. When I asked this driver what he pans to do with his new TF license he said, "Polish it, frame it and look at it." Then he told me about his plans to race this year if "everything falls into place."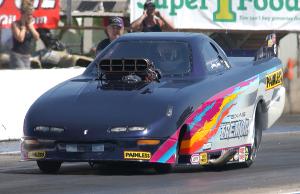 Jimmy Jones
With all of the top stars in the sport headed to Joliet this week I wanted to congratulate one of the real surprise members of one team. In Division 4 the Top Alcohol Funny Car representative is Jimmy Jones, the same Jimmy Jones who has been racing since the 1980's and who won his first division race at Hallsville Dragway in 1988. Jimmy has had a career year this season with three wins and a runner-up in four final round appearances. In a division that includes Tate Branch and the always tough Jackie Stidham, Jimmy can always be counted on to show up, make a nice presentation, run well and, this year, win races. Congratulations to a truly nice man and a guy who is a credit to the sport, Jimmy Jones. If there is a guy who should qualify for the "Brut Essence of Racing" award I think it would be Jimmy Jones.
Steve Torrence will also be in Joliet next week and the kid, who is driving Tom Conway's car and who took over for Shelly Howard, is living a dream. Steve has competed in nine races this year and has made it to the final round at eight of them. Ironically the only place where he didn't go to the finals was at Joliet when he competed at the D-3 points race earlier this year. Since Steve can claim points at all of the remaining races you have to like his chances to win the Lucas Oil World Championship. Now I don't want to take anything away from any of the other contenders but I have to ask you, if Steve should win the title wouldn't that be one of the great stories of this or any other year?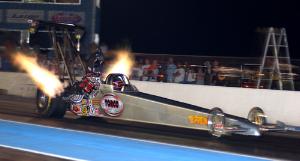 Steve Torrence
At the complete other end of the spectrum, how about that Gene Snow? Gene will be the Division 4 representative in Top Alcohol Dragster next week. Gene is one of the great stars of this sport and his All Star appearance is just one more thing to add to his Hall of Fame legacy. Gene won his first divisional race in 1966 at Amarillo Dragway when he joined such stars as Fred Swanda (Top Fuel), Charlie McClintock (Top Gas) and Don Grotheer (Top Stock) in the winner's circle and he's been racing ever since. I always think that it's interesting to see Gene line up against someone like Ashley Force, Steve Torrence or some of the other young kids out there who weren't even born when the "Snowman" won his first race.
David Smith, who has been a big fan of the alky cars for a while, will have a presentation and a fund raiser when the tour returns to Dallas in two weeks. David will be posting money for the low qualifiers in the Top Alcohol Dragsters ($250 to quickest injected car and $250 to the quickest blown car) at the Ennis track and he will also present the winner with a beautiful plaque that features a tribute to the late Shelly Howard. David also is selling t-shirts to raise money for the Special Olympics, a charity near and dear to Shelly's heart. If you can't make the race and would like to see the plaque or make a donation or buy a shirt just go to http://www.shellyhowardracing.com. Nice job, David..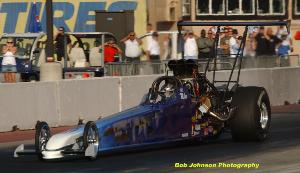 Mike Austin
You may have noticed that Mike Austin has been driving the Jerry Maddern car lately and that's because the regular driver, Chris Demke, is still recovering from his accident in July. "I'm doing well, back working and have been since about two weeks after the accident," Chris told me. "But the doctor told me that I have a concussion and that it would be best to sit out for the rest of the year. My mom and my wife were very concerned and we all decided that it would be best for me to take the rest of the year off from driving." In his absence Mike has gone out and won three races and now is actually in a position where he could win the division, if he can pass Robert Perkins and Chris. "I'm still in the lead," Chris said, "and I think Robert would have to win the Las Vegas divisional race to catch me. And Mike has a shot at the title, too, so now I have to worry about two guys." Mike and Jerry have been friends for a while and the new team seems to be working together very well. If all goes well we will see Chris back behind the wheel next year, but for now, the race is on for the D-7 championship.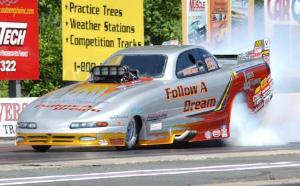 David Ray
I had heard a rumor that Jay Blake and his "Follow A Dream" Team might be heading for Pomona at the end of the year to run at the Auto Club Finals. Well, that is no longer a rumor. According to Jay the folks at the Permatex Corporation have stepped up and will help fund the team's trip out west. "It's a great opportunity for our team to race with some of the best cars in the country at Pomona and that's something that we've always wanted to do. I can't say enough about the Permatex people and what they have meant to our team." In addition to racing out west Jay will also make some speaking engagements and he will be part of the Permatex booth at the SEMA show. Way to go Permatex and good luck to Jay, David Ray and the rest of the dream team.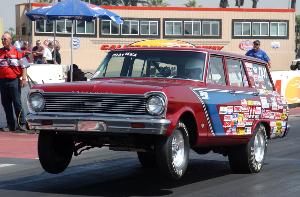 Gregg Luneack
With all of the talk about the fuel Funny Car race let's not forget that there are a bunch of guys who are still vying for the Super Stock title this year. Jimmy DeFrank, Dan Fletcher, Gregg Luneack, Tom Sheehan and Joe LoCicero all have a shot at being the last man standing in the class which looks like it could go down to the final race in Pomona. And in case you're wondering why I didn't mention Peter Biondo who is currently in second place, well, he is all out of races to claim so it looks like the "Terminator" will have to be content with winning the Stock Eliminator title..which he will.
A good friend drag racing fans everywhere, Tom Kasch, missed Indy this year and we may have seen him race for the last time and that would be a shame. Right now Tom is undergoing therapy in order to avoid having a sixth operation on his left leg. "I don't want to have another operation if I can avoid it," Tom told me. "So today they tried some new medicine and they are also trying a procedure where they hook me up to some wires and try to stimulate the leg electrically. I had that for the first time today and it took about fifteen minutes and I'm waiting to find out if it helped or not." Tom and his wife, Ruth, have been fixtures on the NHRA and Division 3 trail for a long while and even though he still has his classic Oldsmobile Toronado, Tom thinks that his racing days may be over. Let's keep Tom and Ruth in our thoughts and prayers..




NHRA: 10 Most Recent Entries [ top ]

Apr 19- HOUSTON - Friday Schedule
Apr 19- Tige Boats Named Presenting Sponsor of E3 Spark Plugs NHRA Pro Mod Drag Racing Series Portion of NHRA SpringNationals
Apr 19- HOUSTON - Previous Success, Early Win has Funny Car's Courtney Force Excited
Apr 18- Haney Headed for NHRA Pro Mod with Summit Racing on His Side
Apr 18- HOUSTON - Richie Crampton Enjoying Early-Season Success Heading to 31st Annual NHRA SpringNationals
Apr 18- 2018 Mustang Cobra Jet Celebrates 50th Anniversary of Racing Legend with Quickest
Apr 18- New Ford Mustang Funny Car Scheduled to Debut In 2019 NHRA Mello Yello Season Opener
Apr 16- HOUSTON - Fact Sheet
Apr 16- HOUSTON - After Early-Season Mishap Funny Car's Jonnie Lindberg Looks to Get On Track