Fri, 23 Sep 2005, 02:47 PM



With Four Events Remaining, Every Point Critical in Tight Races



Courtesy of NHRA Communications



For POWERade Series World Championships



GLENDORA, Calif. --
Hurricane Rita has given already anxious NHRA drivers another week to squirm.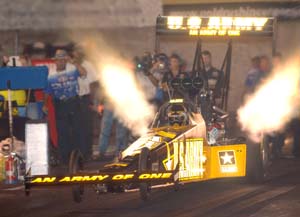 Tony Schumacher
The four-race sprint to championship Sunday, Nov. 6 at Pomona, Calif., was supposed to have begun this weekend at Dallas, but the expected path of Hurricane Rita forced the postponement of the 20th annual O'Reilly Fall Nationals (to the weekend of Oct. 6-9). This gave the dozen or so drivers with a very realistic chance of winning a POWERade Series world championship another sleepless week to ponder all of the possible outcomes before they return to racing a week from now at the Fifth annual Ameriquest Nationals, Sept. 29-Oct. 2, at the state-of-the-art Route 66 Raceway outside Chicago.
Someone who is certainly sleeping better is defending POWERade Series Top Fuel world champion Tony Schumacher, who made the biggest move in the point standings with his victory at the Toyo Tires Nationals. In the critical final round, Schumacher lined up against his closest rival, Larry Dixon, and sped to his third straight Toyo Tires Nationals win to effectively add 60 points to his lead. He began the weekend with a 40-point edge over Doug Kalitta and by Sunday night he had a 100-point bulge over Dixon (Kalitta, who lost to Dixon in the second round, is 105 behind).
"I came to the final round up 80 points (on Dixon) and I'm thinking, 'I leave this race up 60 points or up 100 points. That's huge," said Schumacher, who drives the U.S. Army dragster. Schumacher (2003) and Dixon (2002) have one win apiece at Route 66 Raceway, site of next weekend's race, the 19th of 23 on the $50 million NHRA POWERade Series schedule, while Kalitta (2002, 2004) has won there twice.
The music continues to play in the game of musical chairs in Funny Car as none of the five drivers in contention for that championship was mathematically eliminated after the Toyo Tires Nationals. Ron Capps suffered the worst fate with his first-round loss to Robert Hight, but he still finds himself within striking distance from his fifth place position, 82 points back of his Schumacher Racing teammate, Gary Scelzi.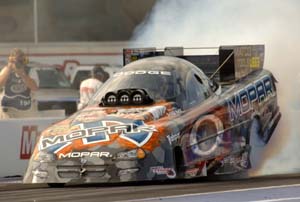 Gary Scelzi
Scelzi, meanwhile, proceeded to knock out Hight in the quarterfinals to give himself some breathing room - he increased his lead over second-place Hight from one to 26 points -- and the No. 1 qualifier appeared headed toward a finals showdown with John Force until he smoked the tires and lost to eventual champion Tony Pedregon in the semifinals.
Force did show up for that finals date - where he lost a pedal-fest to Pedregon - and with the best performance of any of the five contenders on final eliminations Sunday at the Toyo Tires Nationals the 13-time POWERade Series world champion emerged just 31 points behind Scelzi.
"Nobody can break away and get the clean air and get away from everybody," said Scelzi, who is tracking down his first POWERade Series Funny Car world championship after winning three (1997, 1998, 2000) world championships in Top Fuel.
Complicating matters for the five Funny Car drivers in contention (Eric Medlen is the other, 76 points back in fourth place) is the fact that the last two races have been won by drivers in eighth (Del Worsham) and ninth place (Pedregon).
"There's no dominating anywhere," said Scelzi, who picked up one of his three wins in 2005 during the NHRA's first of two trips to Route 66 Raceway, at the CARQUEST Auto Parts Nationals on June 12.
Force echoed those sentiments when he talked recently about how deep the Funny Car category is now, how it has evolved over the years from the days when you used to be able to use the first round to tune your car. With nine first-round losses in 2005, Force can personally attest that those days have long since past.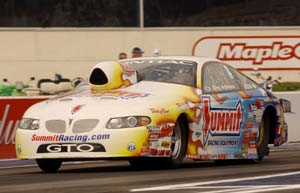 Greg Anderson
The stock classes are a bit clearer with Greg Anderson in charge in Pro Stock and the Screamin' Eagle Vance & Hines Harley-Davidson teammates, Andrew Hines and GT Tonglet, in good position in Pro Stock Motorcycle.
Coming off of his second straight win and seventh overall in 2005, Anderson built his lead over second-place Kurt Johnson to 176 points. Not insurmountable, but .
"There's no way to call it over, but I like my chances a lot better than the rest of them," said Anderson, whose record-setting 15 wins in 2004 were the springboard to winning the SPEED Channel's prestigious Driver of the Year award.
Pro Stock Motorcycle, which runs a 15-race schedule, is in the midst of a two-event hiatus before returning to competition for the final two events of the season, the ACDelco Las Vegas Nationals, Oct. 20-23, and the Auto Club NHRA Finals, Nov. 3-6.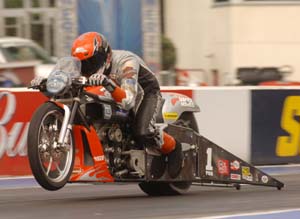 Andrew Hines
Hines is the defending POWERade Series world champion and with nine No. 1 qualifying positions earned so far in 2005 - he needs two more in the final two events to match the single-season record of 11 in the class set by his brother Matt - he appears to have a tough bike to beat.
Perhaps nothing illustrates the crazy rollercoaster ride this 2005 season has been more than the week-by-week standings where there have been a total of 26 lead changes and 17 drivers who've been in first place of their respective class for at least one week:
TO FOLLOW IS A BREAKDOWN BY CLASS
Top Fuel (through 19 of 23 events): Lead changes: 5; Points leaders: 3 (Scott Kalitta, Tony Schumacher, Doug Kalitta); Current Standings: Tony Schumacher 1,492, Larry Dixon 1,392, Doug Kalitta 1,387, Dave Grubnic 1,181, Morgan Lucas 1,139.
Funny Car (through 19 of 23 events): Lead changes: 7; Points leaders: 6 (Tommy Johnson, Phil Burkart, Whit Bazemore, John Force, Robert Hight, Gary Scelzi); Current Standings: Gary Scelzi 1,250, Robert Hight 1,224, John Force 1,219, Eric Medlen 1,174, Ron Capps 1,168.
Pro Stock (through 19 of 23 events): Lead changes: 10; Points leaders: 4 (Dave Connolly, Allen Johnson, Warren Johnson, Greg Anderson); Current Standings: Greg Anderson 1,575, Kurt Johnson 1,399, Warren Johnson 1,299.
Pro Stock Motorcycle (through 13 of 15 events): Lead changes: 4; Points leaders: 4 (Andrew Hines, Steve Johnson, GT Tonglet, Antron Brown); Current Standings: Andrew Hines 966, GT Tonglet 924, Antron Brown 817.




NHRA: 10 Most Recent Entries [ top ]

Mar 21- LAS VEGAS 1 - Fact Sheet
Mar 21- LAS VEGAS 1 - Event Preview
Mar 20- Strong Stable of Contending Pro Stock Racers Vie for Final Starting Position for K&N Horsepower Challenge
Mar 20- GAINESVILLE - Special Awards
Mar 20- GAINESVILLE - Lucas Oil Drag Racing Series Wrap Up
Mar 19- GAINESVILLE - Sunday Video
Mar 18- GAINESVILLE - Pro Mod Sunday Wrap Up
Mar 18- GAINESVILLE - Sunday Wrap Up
Mar 18- GAINESVILLE - Pro Mod Championship Points
Mar 18- GAINESVILLE - Bonus Points