Fri, 23 Sep 2005, 01:51 PM



CSK Auto Signs Multi-Year Extension with Worsham Racing



Courtesy of Bob Wilber


Photo copyright 2005 NHRA.com





Two-Car Program to Continue Well into the Future



ORANGE, Calif. --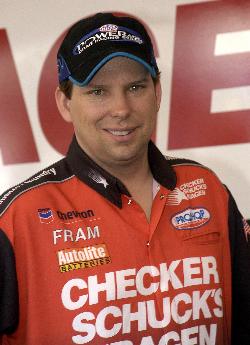 Del Worsham
Del Worsham, owner/driver of the red Checker, Schuck's, Kragen Monte Carlo Funny Car, announced today that CSK Auto, Inc. has signed a new multi-year contract with Worsham Racing, with an option for further extensions which could carry the long-running partnership to near the end of the current decade.
CSK Auto, the parent company for Checker Auto Parts, Schuck's Auto Supply, and Kragen Auto Parts has been the primary sponsor on Worsham's NHRA Funny Car since 1997, and has backed a two-car effort in the Worsham camp since 2000. The 2006 season will mark CSK's 10th campaign with the Worsham team.
"We've been discussing this current extension for some time, and we verbally agreed to the program near the end of August," Worsham said. "We scheduled a quick trip to the CSK Auto Annual Leadership Conference in Las Vegas for the week after the Mac Tools U.S. Nationals, to officially sign the new contract and meet with about 1,000 CSK associates and vendors. I guess our timing was perfect, as we went in there right after the double-up sweep at Indy to finalize the contract. Everyone at the conference was really charged up and very excited about what we had done.
"We've always been proud of the value we provide to CSK in return for all the great support they give us, and this new contract will allow us to keep pushing and improving well into the rest of the decade. Our relationship with CSK Auto is fantastic, very much more like a family thing rather than strictly business. The business part of the relationship is critical, we have to keep generating value for them, but the way they support us and treat us is what makes it special. We're very fortunate to have people behind us who care about us, and who recognize what we do for them."
Jim Schoenberger, Vice President of Marketing for CSK Auto, was quick to point out a few of the reasons why CSK has maintained, and grown, this partnership since 1997.
"From our perspective, we know we're fortunate to be associated with one of the great class acts in the sport," Schoenberger said. "There are a lot of very good teams in the Funny Car class, teams that work hard and win races. What we have is a group of people led by the Worsham family, and the entire team follows Del's lead. He's as genuine as they come, and a truly great ambassador for our company and for the sport. We're thrilled to extend this contract and keep moving forward with the Worsham team.
"Being a great guy is one thing, but Del and his teams also win, and that means a lot to our CSK associates and our customers," Schoenberger continued. "Between the red and blue teams, since we joined the Worshams, we've seen a Checker, Schuck's, Kragen Auto Parts car in the NHRA winner's circle an amazing 22 times, and we've won the $100,000 Skoal Showdown twice. We're extremely proud of the team and appreciative of the results."
Worsham is likewise appreciative of the continuity CSK has provided his team, and he strongly believes this extension will further bolster his team's chances at eventually winning the NHRA POWERade Championship.
"Our program with CSK started small, back in 1997, but together we've worked very hard to develop it and grow it into something we can all be proud of," Worsham said. "This new extension allows us to focus totally on the future, while we work non-stop to position ourselves for a POWERade Championship. With a long-term contract such as this one, we don't have to worry about anything other than racing, and we plan to do that well.
"Next year will be our 10th season with CSK," Worsham continued. "People throw around the phrase 'Win/Win situation' a lot, but I think we've proven that's exactly what we have here. Our goal is to keep winning races, and hopefully a championship, because we know our successes are always huge wins for CSK Auto."




NHRA: 10 Most Recent Entries [ top ]

Apr 19- HOUSTON - Friday Schedule
Apr 19- Tige Boats Named Presenting Sponsor of E3 Spark Plugs NHRA Pro Mod Drag Racing Series Portion of NHRA SpringNationals
Apr 19- HOUSTON - Previous Success, Early Win has Funny Car's Courtney Force Excited
Apr 18- Haney Headed for NHRA Pro Mod with Summit Racing on His Side
Apr 18- HOUSTON - Richie Crampton Enjoying Early-Season Success Heading to 31st Annual NHRA SpringNationals
Apr 18- 2018 Mustang Cobra Jet Celebrates 50th Anniversary of Racing Legend with Quickest
Apr 18- New Ford Mustang Funny Car Scheduled to Debut In 2019 NHRA Mello Yello Season Opener
Apr 16- HOUSTON - Fact Sheet
Apr 16- HOUSTON - After Early-Season Mishap Funny Car's Jonnie Lindberg Looks to Get On Track