Wed, 21 Sep 2005, 02:51 PM



Twenty Years At The Motorplex



By Bob Frey


Photo copyright 2005 Auto Imagery, Inc. and Robert Grice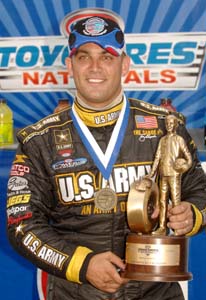 Tony Schumacher
As everyone knows the Texas Motorplex is and always has been a very fast track. From the time it opened twenty years ago when it was billed as the sport's first "super track," the facility in Ennis, Texas has been a haven for really fast times and great races. With the way the points battles are going this year it should take on even more significance because having a lot of power and being able to use it should be a good thing in drag racing, right?
This past week we saw one of the most exciting and impressive rounds of Top Fuel racing in a long while and most of the teams with the power used it at
Maple Grove
. In the first round all eight of the top qualified cars won their races and the slowest winning time was
Cory McClenathan's
4.575. In the next round the top four qualifiers all advanced with the slowest winning time being
Doug Hebert's
4.569. Then in the semi-finals the top two qualifiers both won with
Larry Dixon's
4.540 being the slower winning time of the pair and in the final round the top qualifier,
Tony Schumacher
won with a strong 4.498. So think about it, four rounds and not a single upset in the Top Fuel field.
Did you know
that the last time all of the higher qualified cars won in every round of Top Fuel was way back in Seattle in 2001 or 96 races ago? You almost always have at least one upset, and usually more, but not this time. Maybe that's a sign of things to come over the next four races. Whatever it was, it sure gave us one great show in the dragster class at
Maple Grove
. At the first race in
Dallas
back in 1986 the two top qualifiers did make it to the final round but that's when
Don Garlits
beat the number one qualifier,
Darrell Gwynn.
That initial race at the "Plex" also featured
Shirley Muldowney, Joe Amato,
Connie Kalitta
and
Dan Pastorini
among others. Not a bad little group, huh?....The "Sarge," Tony Schumacher, added to his point's lead this past weekend when he beat Larry Dixon in the final and
Doug Kalitta
lost in the second round. Tony now has an even 100 point lead over Larry and that's five rounds of racing and we have four races to go. So, as I often say, you do the math. Larry needs to gain more than a round a race over the next four and the way the
U.S. Army
car is running that won't be easy.
Did you know
that Tony has now been the number one qualifier at five consecutive events and at nine of the nineteen races this year? When you consider that he won the
POWERade
Championship last year and he was the top qualifier at only two races you begin to see just how strong this car is this year. Tony has a great crew and crew chief
Alan Johnson
to thank for his success and he may do a lot of that thanking on the stage at the end of the season if the other guys can't figure out a way to slow him down and beat him...Larry Dixon has beaten Tony more than he has lost to him but it's the other way in final rounds.
Did you know
that Larry owns an overall 23-17 record against Tony but it's 6-4 in favor of Tony in the money round?...Unless Larry or Doug wins the race this
weekend and sets the national record Tony will leave Dallas as the point's leader no matter what he does (assuming that he shows up which I'm pretty sure he will) and that's a pretty good position to be in, isn't it?...In one of the little sidelights to the race this past weekend, Cory McClenathan moved past
Scott Kalitta
in the battle for the seventh and final guaranteed spot in the
Bud Shootout
program.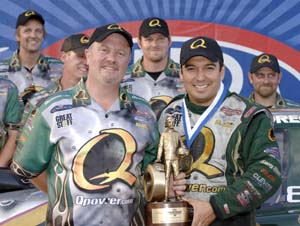 Dickie Venables and Tony Pedregon
The Funny Car chase is in high gear and the big winners this past weekend were
Gary Scelzi
and
John Force
. Gary and his
Oakley
team came into
Pennsylvania
with a one point lead and they left with a twenty-six point edge. Anytime you can improve your lead it's a good thing, a very good thing and the top five drivers are now separated by just eighty-two points, or about four rounds of racing. Like their dragster brethren all of the top qualified Funny Cars advanced past the first round but then the upsets started to happen. Eventual winner
Tony Pedregon
in the big
"Q"
car beat his brother
Frank Pedregon
in the
Toyo Tires
car before
Whit Bazemore
gave his teammate, Gary Scelzi, a big lift by taking out
Eric Medlen.
When Gary then beat
Robert Hight
in a monster match up in round two it meant that three of the top five contenders were gone before the semi-final...Tony Pedregon's win over John Force was his first since becoming a car owner at the beginning of the 2004 season, and with
Dickie Venables
and his crew working hard to rebound from that bizarre incident on the line at Indy two weeks earlier, Tony outlasted John in a wild, tire smoking final round that had the capacity crowd on its feet. After the race, in the press room, Tony was very candid about his win and his struggles as a team owner. "Our sponsors deserve better than what we've given them and we think this is just the start of a lot of good things to come," he said. "I'm going to meet with the 'Q' folks this week and I'll put this trophy right in the middle of the table and thank them for all of their support." A little honesty from an owner and a driver is very refreshing, isn't it? Tony and his team have been nothing but a class act since they got together last year and this win is just the first of many to come. With the win and coupled with
Cruz Pedregon's
second consecutive DNQ, Tony moved around his brother and into ninth place in the points. By the way, that classic final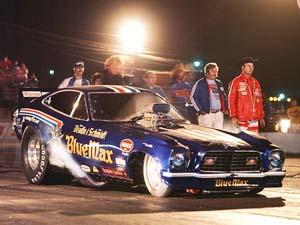 Blue Max from '77
round race reminded a lot of folks of the final round encounter between John Force and Cruz at the Motorplex in 1992, one of the legendary final rounds of all time...That all important win by John over Whit in the semi-finals gave the "champ" forty round wins over Whit and it puts Whit in a very select club.
Did you know
that of all of the 116 guys whom John has faced in his career he has beaten six of them more than forty times? Whit joins
Chuck Etchells, Al Hofmann
, Cruz and Tony Pedregon and
Del Worsham
as guys who have trailed John across the finish line forty or more times...Speaking of Del, look for the popular young
driver
to debut his nostalgia Funny Car this weekend in
Texas
. The refurbished 1977
"Blue Max"
Mustang will not only be on display but it will make a couple of runs down the track on Friday and Saturday. And for the hard core fans watch for
Raymond Beadle, Harry Schmidt
and
Richard Tharp
to all
be
on hand for the show. That was one nasty car and it will be great to see the "Blue Max" back at the race track. While Raymond, Richard and even
Jake Johnston
got a lot of the credit for driving the "Blue Max," do you know who the first guy to ever drive Harry Schmidt's Funny Car was? Stay tuned.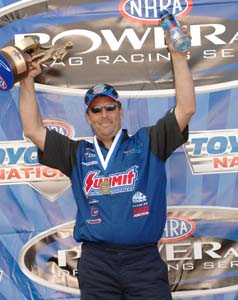 Greg Anderson
With his win at
Maple Grove
Greg Anderson
accomplished a couple of things. First he won at one of the two tracks where he had been winless. Now if he can win in
Chicago
in a couple of weeks he will have at least one win at every NHRA national event track on the tour. Well at least until we go to
Richmond
next year. And, more importantly, he opened up a huge 176 point lead over his closest competitor,
Kurt Johnson
. With just four races to go Kurt would have to win at least two more rounds than Greg at every event to climb back into this thing and that's just not going to happen. Call the engraver,
the
Pro Stock championship race is over.. Greg's
Summit Racing
GTO did win the race but he may not have had the best car at the track.
Did you know
that Greg's teammate,
Jason Line
, was the number one qualifier and he recorded top speed in his Pontiac GTO? Still, it wasn't enough to keep Greg from winning for the 38
th
time in his relatively short career and from adding to his lead in the battle for the POWERade championship
.. Jim Yates
had his best race in quite some time and his new GTO was among the fastest cars at the track all weekend long. With some help from his friend Kevin at
Bayshore Power and Marine
, Jim took his
Sea Ray
boats car to a final round for the first time since the
Maple Grove
race three years ago. Even though he didn't win Jim had a very good outing especially when you consider that he didn't even make the starting field at Indy.
Did you know
that Jim Yates ranks fourth among all Pro Stock drivers in the number of final rounds that he's reached? This was the 56
th
final round for Jim and only
Warren Johnson
(148),
Bob Glidden
(122) and Kurt Johnson (60) have been to the final round more times that that..
Max Naylor
made a very nice debut in his Dodge car and his "off the trailer" run of 6.85 got everyone's attention. Max's car also looked great and it should because it was painted by the guys at
Banshie Studios
, the same folks who did
Jim Head's
car and many others..And for the first time in my career I had a driver tell me that I was making him younger than he actually was.
Bill Shorts
, who has been doing this for a long while, has is age listed as sixty seven on the tech card. Well, after saying that he was younger than
Jim Cunningham
who was also trying to qualify and who is sixty eight, I got a note that said Bill was really sixty eight years old and that he was just about to turn sixty nine. Like I said, that's a first.
Did you know
that Bill Shorts was one of the thirty eight Pro Stock drivers who tried to qualify at the first
Dallas
race back in 1986? But then so were
Darryl Warren, Bobby Burns
,
Mike Garvie
and
Joe Sway
.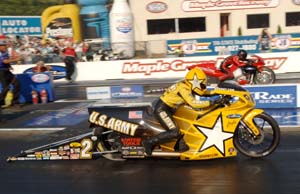 Sampey vs Schnitz
The Pro Stock Motorcycle chase is down to a two bike affair, with
Andrew Hines
leading his
Vance & Hines Screamin' Eagle Harley-Davidson
teammate,
GT Tonglet
by thirty two points. While either of them could win it all one thing's for sure, a Harley-Davidson will win the championship for the second, consecutive year.The slow but almost inevitable change over from the races that had mostly Suzuki's to ones that have mostly Harley and / or Buells took on a new look this week when no less than eight of the V-rod or twin bikes qualified for the Maple Grove event. There were seven Suzuki's and one lone Kawasaki in the field and let's give credit to
Pete Briggs
and
Mike Berry
for getting their green
Lake Mortgage
bike in the show..
Angelle
Sampey
won her sixth race at Maple Grove and that's a lot for any driver at one race.
Did you know
that the record for most national event wins at one track is ten and that's held by John Force? Bob Glidden holds the mark for most wins at an event with his eleven wins at the last race of the year but they came at different venues..Angelle's win, coupled with Tony's in Top Fuel, gave
Don Schumacher
the coveted "double" win at the track for the second straight year.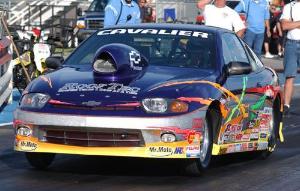 Rodger Brogdon
Bill Reichert
and
Frank Manzo
were the top guys in the sportsman ranks with Bill winning in Top Alcohol Dragster while Frank was winning in the alky Funny Car class. Frank's win over his arch-rival and good friend
Bob Newberry
extended his success in final rounds to an amazing 27-3 over is last thirty finals rounds. And if that's not impressive enough,
did you know
that Frank has now won nine straight final round encounters? Plus he continues to own Bob in final rounds and he is now an amazing 15-4 against Bob in the championship round. Now that's amazing..
Ron Erks
missed a chance at the very elusive "double" when he fouled out in the final round of Super Gas against
John Asta
. Ron did come back to win in Super Comp when his 8.903 beat
Jim Morrison's
8.904 in the money round...And it looks like
Rodger Brogdon
will be the 2005 Lucas Oil World Champion in Competition Eliminator. The globe-trotting
Tony Stephenson,
who went to
Fallon
,
Nevada
two weeks ago, was in Noble,
Oklahoma
this past week in an effort to stop Rodger but it didn't work. Rodger got just enough points to go around him and take the lead and, since Tony is now out of races to claim, Rodger looks like he's the man!!...And the first guy ever to drive a Funny Car for Harry Schmidt was none other than
Paul Gordon
. There, now you know!!




NHRA: 10 Most Recent Entries [ top ]

Mar 16- GAINESVILLE - Top Alcohol Funny Car Eliminations Ladder
Mar 16- GAINESVILLE - Top Alcohol Funny Car Final Qualifying, Session #2 Order
Mar 16- GAINESVILLE - Friday Wrap Up
Mar 16- GAINESVILLE - Competition Eliminator Eliminations Ladder
Mar 16- GAINESVILLE - Top Alcohol Funny Car Qualifying Notes, Final Session
Mar 16- GAINESVILLE - Competition Eliminator Final Qualifying, Session #2 Order
Mar 16- GAINESVILLE - Top Fuel Harley Qualifying, Session #2 Order
Mar 16- GAINESVILLE - Top Fuel Harley Qualifying Notes, Session #2
Mar 16- GAINESVILLE - Top Fuel Qualifying, Session #2 Order
Mar 16- GAINESVILLE - Top Fuel Qualifying Notes, Session #2