Sun, 18 Sep 2005, 07:37 PM



Schumacher Continues to Own Maple Grove Raceway, Extends Points Lead with Third Win



Courtesy of NHRA Communications


Photo copyright 2005 Auto Imagery, Inc.





Pedregon Wins in Funny Car, Anderson Wins in Pro Stock, and Sampey Wins in Pro Stock Motorcycle



MOHNTON, Pa. --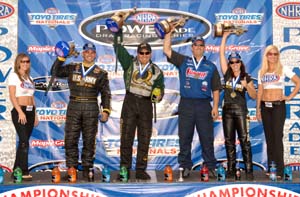 The Pro Winners
Tony Schumacher and crew chief Alan Johnson continued their domination of Maple Grove Raceway with a third straight Toyo Tires Nationals win Sunday.
The other winners at the $1.5 million race, the 19th of 23 events on the $50 million NHRA POWERade Series, were Tony Pedregon (Funny Car), Greg Anderson (Pro Stock) and Angelle Sampey (Pro Stock Motorcycle).
The win over Larry Dixon - his closest chaser in the POWERade Series points race and the driver who beat him two weeks earlier in the finals of the Mac Tools U.S. Nationals - extended Schumacher's lead in the standings to 100 points.
"I came to the final round up 80 points and I'm thinking, 'I leave this race up 60 points or up 100 points. That's huge," said Schumacher, who drives the U.S. Army dragster. "Now I can leave Dallas in no other place than first.
"I raise to a different level when I race Larry," Schumacher said. "There's something about him. He's on time. He's never late. It just brings the best out of you."
Schumacher defeated Dixon with a pass of 4.498 seconds at 323.74 mph to Dixon's 4.575 at 322.11 in his Miller Lite dragster. The No.1 qualifier (Schumacher) defeating the No. 2 qualifier (Dixon) capped a day of Top Fuel eliminations that saw every higher-seeded driver win.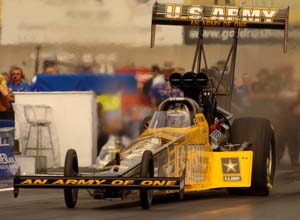 Tony Schumacher
The stretch of six events since his last win (Mopar Mile High Nationals in Denver) was his longest stretch without a win since bringing Johnson aboard as crew chief.
"That final round . when (crew chief) Alan (Johnson) says, 'Big round,' you know it's important because he never says that," said Schumacher, who has now won five times in 2005 in eight final round appearances.
Pedregon (6.349 at 191.02) ended an almost two-year winless streak (Las Vegas II, 2003) with his "pedal-fest" win over John Force (8.339 at 125.82), the man Pedregon drove for back in 2003 when he won the Funny Car world championship.
"There probably isn't anyone better I'd like to beat in the final round (than Force)," said Pedregon, who drives the Q Racing Chevrolet Monte Carlo. "You can beat someone else and they won't give you as much credit. But you win a pedal-fest against John Force and you've earned it."
Pedregon, who broke away from Team Force and now owns his own team, pulled away from a wheel-spinning Force (Castrol Syntec GTX Ford Mustang) before he himself spun his wheels and then the two pedaled it all the way down the track.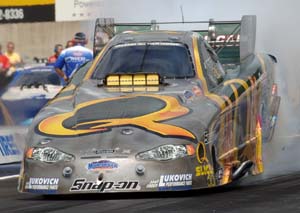 Tony Pedregon
"I was flirting with the center line . I was flirting with the guard wall . sometimes the car does what it's supposed to do and sometimes you have to have your dancing shoes on," Pedregon said.
Driving his Summit Racing Pontiac GTO, Anderson (6.721 at 205.19) defeated Jim Yates (6.771 at 204.57) and his Sea Ray Boats GTO to extend his now commanding lead in Pro Stock to 176 points over Kurt Johnson.
"There's no way to call it over, but I like my chances a lot better than the rest of them," Anderson said.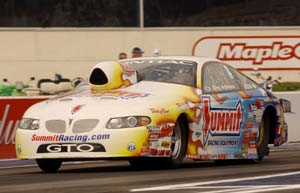 Greg Anderson
It was Anderson's first win at Maple Grove Raceway, one of two tracks that had kept him out of the winner's circle. The only other track that has shut him out is Route 66 Raceway in Chicago and he'll get another crack in two weeks.
The win was Anderson's seventh win in nine final round appearances in 2005.
"I haven't even rode that great this year," Anderson said. "But I've been solid. I've stuck in the 40s and 50s in the reaction times and relied on the performance of the car."
Sampey, who lives in New Orleans, rode her U.S. Army Suzuki to a 7.139 at 191.84 to defeat Ryan Schnitz (7.459 at 181.13) for her second win of the year and 37th of her career, most by a woman in NHRA POWERade Series history.
Angelle Sampey
The critical win on final eliminations day was in the semifinals when she trailered points leader Andrew Hines and the powerful Vance & Hines Screamin' Eagle Harley-Davidson.
"That was a final round right there," said Sampey, who moved into third place in the standings (149 behind Hines). "I don't think I've ever been that excited for a third round. After I beat the Harley in the third round I felt like I'd already won the race."
It was Sampey's second straight win at Maple Grove and her sixth overall at the Pennsylvania track.
"I don't know what it is, if this track likes me, if I like this track," Sampey said. "Mike Lewis said in the winner's circle, 'I bet you wish every race was here,' and I do."
Sunday's final results from the 21st annual Toyo Tires NHRA Nationals at Maple Grove Raceway. The 1.5 million race is the 19th of 23 in the $50 million NHRA POWERade Drag Racing Series.
Top Fuel -- Tony Schumacher, 4.498 seconds, 323.74 mph def. Larry Dixon, 4.575 seconds, 322.11 mph.
Funny Car -- Tony Pedregon, Chevy Monte Carlo, 6.349, 191.02 def. John Force, Ford Mustang, 8.339, 125.82.
Pro Stock -- Greg Anderson, Pontiac GTO, 6.721, 205.19 def. Jim Yates, GTO, 6.771, 204.57.
Pro Stock Motorcycle -- Angelle Sampey, Suzuki, 7.139, 191.84 def. Ryan Schnitz, Buell, 7.459, 181.13.
Top Alcohol Dragster -- Bill Reichert, 6.965, 138.93 def. Arthur Gallant, broke.
Top Alcohol Funny Car -- Frank Manzo, Pontiac Firebird, 5.592, 259.01 def. Bob Newberry, Chevy Monte Carlo, 10.643, 80.54.
Competition Eliminator -- Gerry Russo, Chevy Cavalier, 8.615, 156.81 def. Don Eckel, Dragster, 7.065, 189.50.
Stock Eliminator -- Mickey Whaley, Chevy Camaro, 11.127, 116.19 def. Joe Lisa, Camaro, 11.356, 113.82.
Super Comp -- Ron Erks, Dragster, 8.903, 172.83 def. Jim Morrison, Dragster, 8.904, 171.47.
Super Gas -- John Asta, Pontiac Firebird, 9.859, 154.74 def. Ron Erks, Chevy Corvette, foul.




NHRA: 10 Most Recent Entries [ top ]

Apr 21- HOUSTON - Sunday Schedule
Apr 21- HOUSTON - Saturday Video
Apr 21- HOUSTON - Saturday Wrap Up
Apr 21- HOUSTON - Super Stock Class Eliminations Finals
Apr 21- HOUSTON - Funny Car Qualifying, Session #4 Bonus Points
Apr 21- HOUSTON - Total Qualifying Bonus Points
Apr 21- HOUSTON - Funny Car Eliminations Ladder
Apr 21- HOUSTON - Funny Car Final Qualifying, Session #4 Order
Apr 21- HOUSTON - Top Fuel Qualifying, Session #4 Bonus Points
Apr 21- HOUSTON - Pro Stock Qualifying, Session #4 Bonus Points