Sat, 17 Sep 2005, 08:25 PM



POWERade Points Leader Tops Funny Car Qualifying at Maple Grove Raceway



Courtesy of NHRA Communications


Photo copyright 2005 Auto Imagery, Inc.





MOHNTON, Pa. --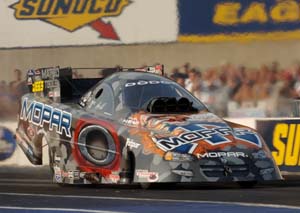 Gary Scelzi
Funny Car points leader Gary Scelzi blasted to the No. 1 qualifying position at the 21st annual Toyo Tires NHRA Nationals at Maple Grove Raceway on Saturday.
POWERade Series points leaders Tony Schumacher (Top Fuel) and Andrew Hines (Pro Stock Motorcycle) also topped their respective categories going into professional eliminations of the event, scheduled to begin at 11 a.m. on Sunday. Jason Line was the No. 1 qualifier in Pro Stock at the $1.5 million race, the 19th of 23 events in the $50 million NHRA POWERade Drag Racing Series.
Scelzi raced to a 4.766-second finish at 322.11 mph in his Mopar/Oakley Dodge Stratus for his fourth No. 1 qualifying effort of the year and the 40th of his career. He plans to face his first round against No. 16 qualifier Gary Densham like he would any other - but he'll also keep his eyes on the match-up between Robert Hight and Ron Capps, who are second and third in the point standings respectively.
"(Tomorrow's first round is) just as important for Capps as it is myself and Robert," said Scelzi, who with Schumacher and Line is the defending event winner. "(The Mopar/Oakley Dodge Stratus) has been the most consistent, the quickest, or right next to the quickest every single run. Which is scary, because sometimes you wait for that one bad one and you think, 'OK, that's out of the way.' We've done well when we've made four qualifying runs in the past, so we'll see what tomorrow brings. No one knows. It's gonna be a hell of a race tomorrow."
Crews who expected cool temperatures and low humidity have been challenged with surprising heat at Maple Grove, comparing it to conditions at some of the series' hottest stops in Memphis and St. Louis.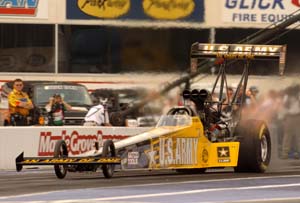 Tony Schumacher
"This track is really good when it's cold, and I've got to eat my words. It's pretty darn good when the sun's out," Scelzi said. "We ran well, the dragsters have run well. As porous as the asphalt is, I wouldn't think that that would be possible. NHRA has done a helluva job.
"We just deal with the weather as it comes. There's nothing we can do about it, so I'm not one to play much into it," Scelzi said. "That's all Mike Neff's problem, it's not my problem. My problem is to hit the gas on time and keep it in the groove, and hopefully the win lights will come on."
Schumacher, who piloted his U.S. Army dragster to a 4.477 at 323.35, will race Scott Weis in the morning. Schumacher led his category by 40 points over Doug Kalitta before this weekend's event, and plans to have a front-row seat when Kalitta faces Brandon Bernstein in the first round.
"It's a big day tomorrow," said Schumacher, who has qualified No. 1 nine times this season and 20 times in his career. "Doug runs Bernstein. That's exciting to watch. (Fans are asking me what it's like to be in a points battle) and I say, 'you know what? It's exciting. It's exciting to be in it. Just because I drive a race car doesn't mean I'm not a race fan. As soon as I'm done, I'm watching them. It's not just that we're in a points battle, but Bernstein and Kalitta? That's a stout race. Bernstein just hauled butt down the track and Kalitta just smoked the tires. You can be sure it's going to have their stomach's turning."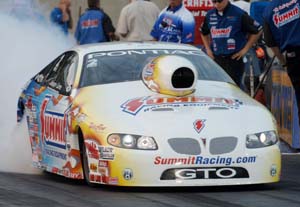 Jason Line
Line drove his Summit Racing Equipment Pontiac GTO to a 6.735 at 204.79 for his first No. 1 qualifying effort of the season and the third of his career. His teammate, two-time and defending world champion Greg Anderson, qualified at No. 2 in his Summit Racing Equipment Pontiac GTO.
"If both Greg (Anderson) and I are running the way we are here, then it's fun to get after each other and try to see who can get the better of the other guy," Line said. "That's not the case when one guy is struggling. I don't know about Greg but I like it when we're one-two on the ladder because I know we can't face each other until the final. It just gives me one less thing to worry about.
"After the way we ran in Indy I was expecting us to be quick right from the start here. It took a little longer to get up to speed, I guess because the conditions never have gotten to what we normally see here. It took a few laps to figure it all out. It feels more like Memphis than it does Reading. I don't know about everyone else, but it's definitely thrown us."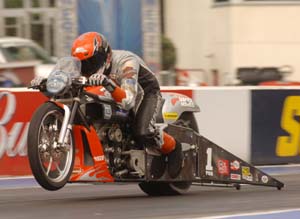 Andrew Hines
Hines recorded a 7.098 at 189.10 on his Screamin' Eagle Vance & Hines Harley-Davidson for his ninth No. 1 qualifier of the season and the 17th of his career. Hines will tie his brother Matt Hines for the NHRA record for Pro Stock Motorcycle No. 1 qualifying efforts in a single season if he can top the fields at Las Vegas and Pomona.
"It's a little tricky this year because it's not as cold as what we're used to in Reading," Hines said. "It hasn't rained, no cold weather. It's definitely the weirdest Reading I've been too. The last few years have been rain or cold or something.
"But to come out here and qualify No. 1 at a race that I haven't before, it's pretty cool. I've got the team behind me that when I do good and when GT does good, it puts us on the top of the world. We just want to go out and go rounds and have the quickest bike every day."




NHRA: 10 Most Recent Entries [ top ]

Apr 20- HOUSTON - Pro Modified Qualifying Notes, Session #2
Apr 20- HOUSTON - Top Fuel Qualifying, Session #1 Order
Apr 20- HOUSTON - Top Fuel Harley Qualifying, Session #2 Order
Apr 20- HOUSTON - Funny Car Qualifying, Session #1 Order
Apr 20- HOUSTON - Top Fuel Harley Qualifying Notes, Session #2
Apr 20- HOUSTON - Top Fuel Qualifying Notes, Session #1
Apr 20- HOUSTON - Funny Car Qualifying Notes, Session #1
Apr 20- HOUSTON - Pro Stock Qualifying, Session #1 Order
Apr 20- HOUSTON - Pro Modified Qualifying, Session #1 Order
Apr 20- HOUSTON - Pro Stock Qualifying Notes, Session #1