Sat, 17 Sep 2005, 11:29 AM



Life is Pretty Good for Jerry MacNeish



By Bob Frey


Photo copyright 2005 Auto Imagery, Inc.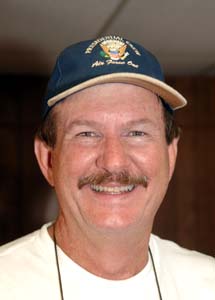 Jerry MacNeish
There are very few people in this world who enjoy life as much as Jerry MacNeish. "I've been very blessed," Jerry told me between rounds of qualifying at Maple Grove Raceway. "I get to do something that I love and I meet a lot of really nice people along the way. Plus I can make a living doing something that is also my passion." Jerry's passion is, and has been for a long while, really nice Z-28 Camaros, and among the nice people that he's met are the members of the family of the late Dave Strickler. "I used to love to watch Dave drive," he said. "He was the best and he drove my favorite kind of car, a Z-28 Camaro. When I was in high school I fell in love with the Z-28's and now they are the focal point of my life." The focal point of Jerry's life this weekend will be trying to qualify his own Z-28 at the Toyo Tires nationals at the "Grove." After this weekend the Z-28's will still be the focal point of his life when he goes back to his shop, Camaro High Performance in Eldersburg, Maryland, a shop that restores Camaros and Camaro parts. "We do a lot of component restoration, including carburetors, distributors, intake manifolds, 4-speeds and things like that." When it comes to Z-28 cars and parts, Jerry MacNeish wrote the book..literally. "I have two books out right now, one that focuses on the 1967 and '68 Camaros and the other that features the 1969 Camaros." To say that the books have been a success would be an understatement. "We're in our third printing of each book," Jerry said. "They both do well but the '69 book is the bigger seller of the two." In these books a Camaro owner or lover can find out everything he needs to know about building or restoring a Z-28. "The books cover everything from what the original equipment was to what options were available and everything in between." If you have a question about your car or any Z-28, Jerry's books are the place to go.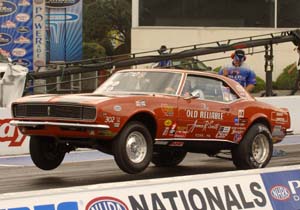 MacNeish launches hard.
One look at Jerry's race car and you know that there is something special about it. It's an all original 1968 Z-28, and that means it has the 302 cubic inch engine, the four speed transmission, the solid lifters and everything else that came stock on the car. "A lot of guys race a car because it's good for the class. I race this car because I love it. I'll never be the number one qualifier but I'll always have a lot of fun." This year has already been fun for Jerry since he won the NHRA National Open event at Mason Dixon Dragway and just last week he finished runner-up at the Division 1 event in Englishtown. "My best season was three years ago when I finished eighth in the division and twenty-fourth in the national points. If things go well the rest of this year I may be able do better than that." If things go well Jerry may take his classic car to the Las Vegas and Pomona national events where, if he has his way, he'll be joined by another driver who has his own classic Z-28. "The brothers, Ben and Dave Wenzel are my heroes. They won the 1967 Indy race with their Camaro and they're still racing it and we've become really good friends over the years. I'd love to line up with that car at Pomona."
To own a car like Jerry's just doesn't happen by coincidence, you have to do a lot of work just to track them down. "I always enjoyed seeing this car race when I was a kid and a few years ago, after Dave passed away, I went to visit Susan Strickler, Dave's wife, and Michael, Dave's son, to see if I could add a chapter about the car to my book. When I was there I discovered that they had the "vin" number for the car and some old pictures of it. A friend told me that he heard that the car was still in the area so I decided to track it down." A couple of visits to the motor vehicle department and a few phone calls later and Jerry was face to face with the owner of a little piece of drag racing history. "The guy who owned it was bracket racing it and was just about to have the car cut up for parts. I guess you could say that I got there just in time." After some long, tedious hours of working on the car Jerry was the proud owner of the historic "Old Reliable" Chevrolet Camaro, complete with the factory Corvette bronze color and distinctive lettering. "Every time I think about how much I used to adore this car and now I own it, well, I just realize how lucky I am." And like most guys who have one classic car, they usually have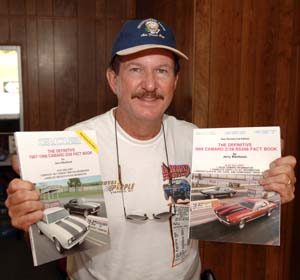 MacNeish with a couple of his books
more, and Jerry is no exception. "I have five Z-28's and they're all really nice. I have a 1967, three '68's and a '93 Indy pace car and none of them are closet queens," he said. "I have my cars to drive and I'll take all of them out for a cruise night or a car show every now and then." One of Jerry's cars is rated among the best of its kind in the country. "My restored '67 car is a national champion. I've won the Vince Piggins award, the Duntov award and a few others," he said modestly. "I get offers to sell it all the time but I don't want to part with it." If he's not out cruising with one of his classics Jerry just might take one of them out for a really quick spin down the quarter mile. As hard as it may be to believe, between racing, writing books and restoring cars Jerry has another little sidelight that keeps him busy. "I am a licensed appraiser," he said. "I travel all over the country checking and inspecting Camaro's, authenticating them and pricing them." I guess you could say that Jerry is the "Galen Govier" of the Chevrolet world. "That would be close," Jerry said, "and I'd take that as a compliment." Jerry also says that his job has helped him meet a lot of very interesting people. "I've met Jay Leno and we've talked cars and I became friends with one of the guys who flew on Air Force 1. In fact I'm proud to say that I've actually been on Air Force 1 and that was really cool." But of all the things that he has done Jerry is quick to point out that the relationships he has made while drag racing are among the best. "I thoroughly appreciate what Ben and Dave have accomplished. To do what they've done over the years with their car and to go to three final rounds this year with it is just amazing. And Tim Bishop has been one of my close drag racing friends for the past fifteen years."
Jerry admits to loving these Z-28 cars from the first time he saw one, or more correctly, from the first time he heard one. "Imagine, you're a sixteen year old kid riding in the back of your dad's station wagon and then you hear a Z-28 go by with those solid lifters. The sound they made was amazing, it was like hearing rock and roll for the first time." And as we all know, there are some things that you can't forget and to Jerry the sound of a Z-28 is one of them. Jerry MacNeish is one of the very lucky people in this world, he gets to spend a lot of his time with the cars he loves, and he gets to restore them, race them and make his living by being around them. Yes it's easy to see why life is good for Jerry MacNeish.
Jerry wanted to thank Ben and Dave Wenzel and Tim Bishop for all of their support as well as Bub Whitaker at Whitaker Racing Engines who builds his engines. He would also like to say thanks to Kerry Stanley and Glenn Sparkman for all of their help and to Norm Shuey, Sam Murray and Don Myers who are part of the staff at the shop. If you'd like to find out about Jerry's business or his books or if you'd just like to contact him you can go to his web site http://www.z28camaro.com.www.z28camaro.com.




NHRA: 10 Most Recent Entries [ top ]

Jun 30- Lucas Oil to Sponsor Summernationals at Indianapolis
Jun 25- Tickets on Sale for 2020 Southern Nationals
Jun 25- Houston Raceway Park to Transform into Drive-In Theater for First NHRA Race Since Lockdown
Jun 25- NHRA Northwest Nationals Canceled Due to State and County Restrictions
Jun 25- Toyota to Serve as Associate Sponsor of Tony Schumacher in Indianapolis
Jun 25- Wally Parks NHRA Motorsports Museum to Reopen July 1
Jun 24- E3 Spark Plugs Named Title Sponsor of July 11-12 NHRA Indianapolis Event
Jun 24- Cory McClenathan to Return for NHRA Indy Double-Header with DSR
Jun 22- AAA Texas Fall Nationals Expects Championship Field In October
Jun 22- Crew Chief Doug Kuch Returning to Foley Lewis Racing