Fri, 16 Sep 2005, 09:47 PM



Scelzi Leads Funny Car Field after Two Qualifying Rounds



Courtesy of NHRA Communications


Photo copyright 2005 Auto Imagery, Inc.





Leads Point Standings by One Point after 18 Events



MOHNTON, Pa. --
Gary Scelzi led all Funny Car competitors Friday at the 21st annual Toyo Tires Nationals at Maple Grove Raceway.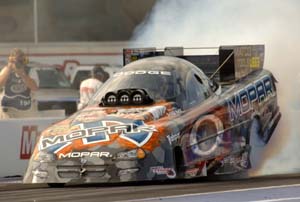 Gary Scelzi
Tony Schumacher (Top Fuel), Kurt Johnson (Pro Stock) and Chip Ellis (Pro Stock Motorcycle) also were the provisional qualifying leaders of their respective categories at the $1.5 million race, the 19th of 23 in the $50 million NHRA POWERade Drag Racing Series. Professional qualifying continues at 11 a.m. Saturday.
Scelzi blasted to the top provisional spot with a 4.766-second performance at 322.11 mph in his Mopar/Oakley Dodge Stratus. Scelzi leads the chase for the POWERade Series world championship by one point over rookie Robert Hight in one of the tightest point battles in NHRA history.
"Everyone's been kidding me that I'm the 'point leader,' as in singular point," Scelzi said. "I didn't think my lead would even last today because [second-place Robert] Hight has been qualifying so well this year I figured he'd pass us up already. It sure is good to see my name on top instead.
"Being No. 1 means a lot for qualifying points but it doesn't mean a lot on Sunday. We saw [John] Force lose a few races ago when he was No. 1. I've lost to Terry Haddock and some of the lesser-funded teams. You have to be ready to win the race every single round. They're all so important now."
Chasing Scelzi (1,172) and Hight (1,171) in the tight Funny Car race are Ron Capps (1,136), who is three spots shy of qualifying for Sunday's final eliminations, John Force (1,125) and Eric Medlen (1,117).
"It's important not to let anything stupid happen now," Scelzi said. "We can't have another (Indianapolis). We're not gonna get lucky like that again where all the big runners fall out early. The best thing is that my confidence in the car is back. I might have been off in Indy but the car wasn't."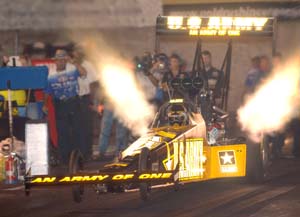 Tony Schumacher
Tony Schumacher, who led the series' fastest category by 40 points over Doug Kalitta and 79 over Larry Dixon entering this weekend's event, piloted his U.S. Army dragster to a 4.477 at 323.35.
"It's been a wild couple of days," said Schumacher, who became a father for the third time Thursday morning. "The baby came at 2:40 a.m., we had some time with her, then I was able to sleep a few hours before flying here. It's been crazy. For the first time in 10 years I forgot to put my earplugs in that time. It's loud in there.
"I'm so used to hearing what the motor sounds like as I go down the track. That time all I could do is see what was happening. It picked the tires up nice and carried them down there. It was a good run."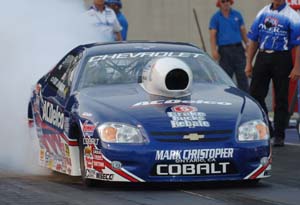 Kurt Johnson
In Pro Stock, Kurt Johnson drove his ACDelco Chevrolet Cobalt to the top spot of the day in 6.739 at 204.54. Johnson was second in the point standings, 135 points behind two-time and defending Pro Stock World Champion Greg Anderson after 18 events.
"Greg's been on a roll and we've been on a roll, it's going to be a close finish," said Johnson, who has qualified No. 1 four times thus far in 2005. "What we need to do is just keep on racing the way we know how and hope that they go flat a little bit.
"Probably what happened to us in Indy was we got too focused on hitting a home run and gaining a bunch of ground on them all at once. It ended up causing us to stumble and I lost in the second round. I can't worry about November right now. I need to worry about Saturday morning."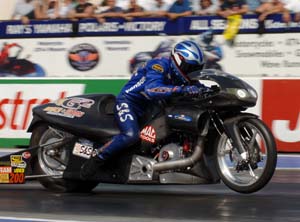 Chip Ellis
Chip Ellis rode his G-squared Star Racing S & S Buell to the provisional No. 1 qualifier spot in - seconds at 181.57 mph. This would mark Ellis' first No. 1 qualifier of the season and third of his career.
"I was figuring we'd pick up in Round 2 but I had my bike leaned over so far I went left," Ellis said. "I thought I was in NASCAR instead of NHRA drag racing I guess. The bike's been very good from the first pass. It's like all these S&S Buells. They just go real well with the Kosman chassis and they run great right out of the box.
"Being No. 1 just means you get a few extra points. We've seen time and again this year that anyone in the field can win. Being No. 1 Friday night is good because at least you know you're probably gonna stay in there so you can work on other stuff. Otherwise, it don't mean much to me. I want to win."




NHRA: 10 Most Recent Entries [ top ]

Apr 21- HOUSTON - Sunday Schedule
Apr 21- HOUSTON - Saturday Video
Apr 21- HOUSTON - Saturday Wrap Up
Apr 21- HOUSTON - Super Stock Class Eliminations Finals
Apr 21- HOUSTON - Funny Car Qualifying, Session #4 Bonus Points
Apr 21- HOUSTON - Total Qualifying Bonus Points
Apr 21- HOUSTON - Funny Car Eliminations Ladder
Apr 21- HOUSTON - Funny Car Final Qualifying, Session #4 Order
Apr 21- HOUSTON - Top Fuel Qualifying, Session #4 Bonus Points
Apr 21- HOUSTON - Pro Stock Qualifying, Session #4 Bonus Points