Thu, 15 Sep 2005, 04:29 PM



Bazemore becomes a Pedaler and a Pusher



Courtesy of Judy Stropus



DETROIT --
Matco Tools Iron Eagle Dodge Funny Car driver Whit Bazemore, his wife Michelle and son Dashiell, made a side trip to Detroit over the weekend to compete in the Red Bull Human-Powered Dragster Day on famed Woodward Ave. in downtown Detroit on Sept. 10.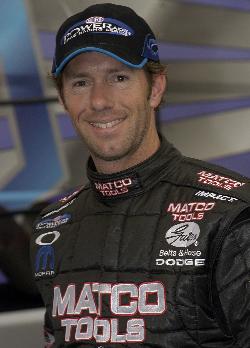 Whit Bazemore
As a guest of Autoweek and managing editor Roger Hart, avid cyclist Bazemore and competitive amateur cyclist Michelle, along with three "co-pushers/pedalers," used their cycling skills to square off against 31 other teams in human-powered, specially-built dragsters on a one-eight-mile course - something like a high-tech soap-box derby for adults.
"The basic rules were that you could have no more than five people touching the dragster and there were various size specifications. But the rules were rather loosely interpreted, to be sure," said Hart.
The Autoweek entry had three pedalers and two pushers, or "mushers," as they were called. The winning team, Cyclepathz from Colorado, made up of a group of retired Air Force officers, had three mushers and two pedalers. "They beat us in the semis," said Hart, when mechanical problems plagued the Autoweek dragster.
"Red Bull, the Austrian energy drink, has sponsored a human-powered flight event before, but this was the first for the dragsters," continued Hart. "All manner of vehicles showed up, but our team, Scuderia Pelotas Rosa, was viewed as the most corporate. Not only did we employ some serious bikers, Michelle Bazemore and Brian Adams, a Michigan-based road-racing cycling champion, but we asked a real drag racer, Whit, to join the ranks."
Scott Kowalkowski and Justin Leuenberger were the other two pedalers/mushers. Kowalkowski is a former special teams player for the Detroit Lions.
"Our car was built by ASC, (American Specialty Cars, formerly known as American Sunroof Company) who build show cars and various production cars for the Big 3 and others, but we also had a hospitality area with an Airstream Skydeck bus with world-renowned chef, Jimmy Schmidt (of the Rattlesnake Club), cooking up our food," added Hart.
The group powered the team through four rounds, despite the problems, before losing in the semis. "It actually was a lot of fun," said Bazemore. "We didn't really know how to take it and what to expect, but Autoweek and ASC made a big effort on building the vehicle and it's really unfortunate that we had mechanical gremlins in the drivetrain every single run. I think we could have gone easily above 30 or so mph in the eighth mile, but that's what did us in.
"If not for that, I feel confident that we could have won the whole thing. As it was, we made it to the semifinals, without ever having full power.
"The car was very cool, but my side kept breaking. I lost the chain three times and bent the axle. We were one round away from the final and it broke again. If it didn't happen we probably would have won. So it was kind of a disappointment."
"We barely won the first round when Whit, who is so strong, torqued the axle, and in the second round, because we were unable to get it fixed, Michelle and Brian [pedaled] that race and Whit pushed," said Hart. "Between the second and third rounds they were able to straighten the axle enough for Whit to get back in the rig, but he couldn't exert a lot of force. We won that round, but in the semis again we had problems when Whit's chain came off.
"It was a fun day, to be sure, and despite not winning it (first place was $7500 or a trip to Frank Hawley's Drag Racing School) everyone seemed to have a good time."
Five-month-old Dashiell was an interested, though perhaps sleepy, onlooker. "Dashiell loved it," said the proud dad. "He had a couple of babysitters. He wheeled around in his stroller and took it all in, like he does."
A full feature story on this event will appear in Autoweek in the coming weeks.




NHRA: 10 Most Recent Entries [ top ]

Apr 21- HOUSTON - Super Stock Class Eliminations Finals
Apr 21- HOUSTON - Funny Car Qualifying, Session #4 Bonus Points
Apr 21- HOUSTON - Total Qualifying Bonus Points
Apr 21- HOUSTON - Funny Car Eliminations Ladder
Apr 21- HOUSTON - Funny Car Final Qualifying, Session #4 Order
Apr 21- HOUSTON - Top Fuel Qualifying, Session #4 Bonus Points
Apr 21- HOUSTON - Pro Stock Qualifying, Session #4 Bonus Points
Apr 21- HOUSTON - Funny Car Qualifying Notes, Final Session
Apr 21- HOUSTON - Top Fuel Eliminations Ladder
Apr 21- HOUSTON - Top Fuel Final Qualifying, Session #4 Order