Wed, 14 Sep 2005, 06:21 PM



Schumacher Looking for The Hat Trick at Maple Grove Raceway



Courtesy of NHRA Communications


Photo copyright 2005 Auto Imagery, Inc.





MOHNTON, Pa. --
With five races to go and the POWERade Series world championship title hanging in the balance, Tony Schumacher could think of no better track to be at than Maple Grove Raceway.
He's won there in each of the last two seasons and it was back in 2003 that Schumacher set the national elapsed time record of 4.441 seconds that still stands today.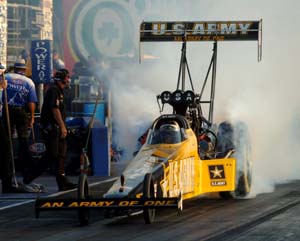 Tony Schumacher
"I do have added confidence (at Maple Grove Raceway)," said Schumacher, who just reclaimed the Top Fuel points lead (by 40 over Doug Kalitta) with his runner-up finish at the Mac Tools U.S. Nationals. "If you've run well at a track, it's like Indianapolis (where Schumacher has won four times since 2000), you're thinking, 'Man, there's no way I can lose this race.'"
The Toyo Tires NHRA Nationals is the 19th of 23 events on the $50 million NHRA POWERade Series, so time is clearly running out in the chase for the Top Fuel championship that Schumacher has won twice, in 1999 and again in 2004.
Last season, the final six races on the POWERade Series schedule turned into almost a victory lap of sorts for Schumacher, as he advanced to five final rounds and won four of the six races (Indy, Reading, Dallas and Pomona 2).
"I'll tell you this," Schumacher said. "I wouldn't trade my chances (of winning the 2005 POWERade Series world championship) for anyone's in the world."
His chances took a turn for the better two months ago when Melanie Troxel was brought on board to give Don Schumacher Racing two dragsters.
Troxel didn't make it through a round in her first four events but she broke through at a key moment at the O'Reilly Mid-South Nationals in Memphis with her first round win over Doug Kalitta.
With Kalitta leading Schumacher by 64 points entering final eliminations, Schumacher needed an assist from his teammate to clear the way for him to make up some ground and Troxel did exactly that with a 4.869-second run to Kalitta's 4.914-second pass to put the Mac Tools dragster on the trailer.
"That's good interference, she went out and beat Doug," Schumacher said. "That's her sole purpose this season. It's her job to go out and help win me a championship."
Schumacher and Co. also will be keeping an eye on the top end scoreboard with every pass at Maple Grove as they seek the magical formula that will send their U.S. Army dragster down the track as quick or quicker as they did here in October, 2003. And if anyone can find the formula, Schumacher said, it's his crew chief --Alan Johnson.
"He can just create mass power," Schumacher said. "And being at sea level (at Maple Grove) . when you give him a place to make power he'll make power and there's so much air there (to create power). He knows how to make (the dragster) stick to the track."
"You give 10,000 horsepower to everyone and there are only a handful of guys that are going to be able to harness it and he's one of them," Schumacher said. "I know I'm going to run fast there and each run I will have a chance to set another record."
The Toyo Tires NHRA Nationals will feature drivers in all four professional categories making a final push in their respective pursuits of a POWERade Series world championship.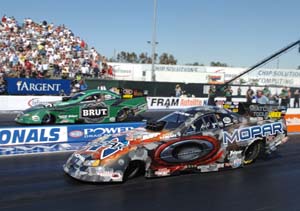 Scelzi vs Capps
While 79 points separate the top three drivers in Top Fuel, only 55 points separate the top five drivers in Funny Car and in Pro Stock Motorcycle less than a round separates Vance & Hines Screamin' Eagle Harley-Davidson teammates Andrew Hines and GT Tonglet. Pro Stock is a bit more clear with Greg Anderson, the two-time defending POWERade Series world champion and '04 Driver of the Year, holding a 135 point lead over Kurt Johnson.
The defending champion at the Toyo Tires NHRA Nationals in Funny Car is the driver who just moved into first place for the first time all season, Gary Scelzi. The other drivers to watch are Scelzi's teammate, Ron Capps, and the Team Force triumvirate of John Force, Robert Hight and Eric Medlen.
In Pro Stock, Anderson, now driving a Pontiac GTO for Summit Racing, will be looking for a win at one of the few tracks that kept him out of the winner's circle in his historic Driver of the Year campaign of 2004. In fact, Anderson has never won at Maple Grove. The defending champion here is Jason Line and he will be a driver to watch along with Warren Johnson, who has four wins at Maple Grove, and Kurt Johnson, who is Anderson's closest pursuer.
In Pro Stock Motorcycle, until further notice, the Vance & Hines team of Tonglet and Hines seem to have a stranglehold on the class. Antron Brown, rider of the U.S. Army Suzuki, is third, 107 points back in third place.
SCHEDULE: Pro qualifying sessions are scheduled for 2 p.m. and 5 p.m. on Friday, Sept. 16. Qualifying continues at 11 a.m. and 2 p.m. on Saturday, Sept. 17 and final eliminations begin at 11 a.m. on Sunday, Sept. 18.
TICKETS: Tickets are available for the Toyo Tires NHRA Nationals. Call Maple Grove Raceway at (610) 856-7200 for ticket information, or check online at maplegroveraceway.com or ticketmaster.com.
ON TV: ESPN2 and ESPN2 HD will televise one hour of qualifying of the Toyo Tires NHRA Nationals at 4 p.m. (ET) on Saturday, Sept. 17. ESPN2 and ESPN2 HD will televise NHRA 2Day, a 30-minute weekly news magazine show, at 11:30 a.m. (ET) on Sunday, Sept. 18. ESPN2 and ESPN2 HD will televise two hours of final eliminations beginning at 4 p.m. (ET) on Sunday, Sept. 18.




NHRA: 10 Most Recent Entries [ top ]

Apr 23- HOUSTON - Lucas Oil Drag Racing Series Wrap Up The NHRA Lucas Oil Drag Racing Series Wrap Up
Apr 23- CHARLOTTE 1 - J.R. Todd Aiming for Two Four-Wide Racing Wins in 2018
Apr 23- Mid America Dragway Joins NHRA Member Track Network
Apr 23- HOUSTON - Special Awards
Apr 23- HOUSTON - Sunday Video
Apr 22- HOUSTON - Sunday Pro Mod Wrap Up