Tue, 13 Sep 2005, 09:23 PM



18 Down, 5 To Go



By Bob Frey


Photo copyright 2005 Auto Imagery, Inc.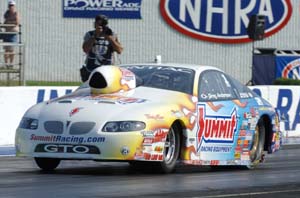 Greg Anderson
It's crunch time right now, time to separate the pretenders from the contenders for the 2005
POWERade
championships. Of course
Greg Anderson
has pretty much taken care of that himself with his latest power surge.
Did you know
that since he was in second place for the last time after the
Seattle
race that Greg has won three of the next four races and has only lost one round?
Over that period he is a flashy 14-1 with only a round loss to
Kurt Johnson
in Brainerd marring an otherwise prefect record. During those same four races Kurt is 11-3 with one win while
Warren Johnson
is 2-4 and has faded from serious title contention. Going into
Maple Grove
this weekend Greg has a lofty (make that an insurmountable) lead of 135 points, or about seven rounds over Kurt while the "Professor" is 213 points back. Only a major upset, like Greg losing in the first round this week and Kurt winning the race, could even make the Pro Stock battle remotely interesting down the stretch. It has been fun to watch for most of the year but when it came to crunch time Greg, driving his
Summit Racing Pontiac
GTO, showed why he has to be counted among the best ever in the class. When he needed to win, he did, and that's why he will be a three-time champion at the end of the season. Now I know that Greg and Kurt and Warren will all say that there are a lot of races to go and that it's far from over but if there's anyone out there who wants to bet on anyone other than Greg, please meet me at the tower at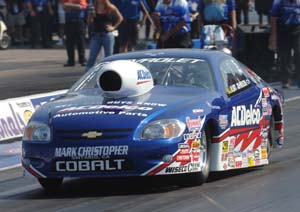 Kurt Johnson
Maple Grove this weekend..If Kurt and Warren are going to climb back into this thing, more Kurt than Warren, Maple Grove is a perfect place to do it.
Did you know
that "WJ" has recorded more Pro Stock wins at the
Pennsylvania
track than any other driver in the class?
Warren
has recorded wins in four different seasons and Kurt has won there three times.
Jim Yates
and
Bob Glidden
also won three
Maple Grove
events while Mr. Greg has won exactly none.
Zero.
Zip.
Zilch.
Nada at Maple Grove.
Hey, at least it gives the other guys some hope this weekend. And with the cool weather that is expected this weekend maybe that Pro Stock national record
will
get lowered from its current mark of 6.633.
Did you know
that the national elapsed time record has been set five times at this event and that it has been done by five different drivers? And do you know how many of those records Greg has recorded?
How about none.
Zero, Zip and all the rest?
But don't bet against it happening this weekend. And for the record, the speed record has been set once at this race and it's not by anyone who you will probably guess. So who was it? I'll tell you at the end of this story.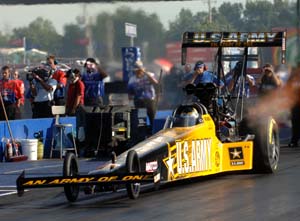 Tony Schumacher
The Top Fuel class is still up for grabs with three drivers having a real shot at winning it all. The leader,
Tony Schumacher
, the second place guy,
Doug Kalitta
, and the third place driver,
Larry Dixon
are all within 79 points, or about four rounds of racing and that means that the chase should go right down to the wire in
Pomona
, unless of course somebody gets really hot. Historically all signs would point toward Tony getting hot since he has done well over the last five races of the season, especially last year.
Did you
know
that the
U.S. Army
Top Fuel team won an amazing sixteen rounds and three races over the last five events in 2004? During that same period of time Doug won one race and seven rounds while Larry won a grand total of one round. One!! Now some might say that's because the chase for the title was pretty much over but I'm just presenting the stats, the cold, hard stats. A year earlier it was pretty much the same thing with Tony running off a couple of wins while Doug and Larry won none.
Zero.
Zip, etc., etc
..
This year should be different, though, and the team who is the most consistent over the next
five
races should be the champion. Tony and Larry have been through the rigors of a championship chase before while it may be a little new to Doug. The driver of the
MAC Tools
car needs to stay away from those bizarre losses like he had in Indy and just concentrate on winning rounds. Doug is an even two rounds behind Tony, and as the "Sarge" said earlier this week, "I'd rather be in my position than Doug's or Larry's." Me too, "Sarge," me too. While the
Maple Grove
track has been pretty good to Tony and Doug it has been anything but for the
Miller Lite
team.
Did you know
that Larry went to the final round in his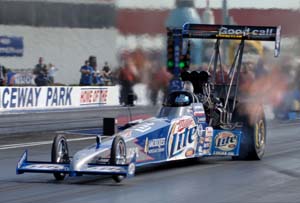 Larry Dixon
rookie year of 1995 in
Pennsylvania
and hasn't been back since? In fact,
did you know
that since 1997 Larry hasn't been past the second round at this event? If the two-time champ wants to stay in contention he has to make a stand this weekend. Larry enjoys coming to this track since he used to travel here as a boy with his dad back when the fuel cars had to run at the divisional events. Just for the record, Larry Sr. never won here either.. The Top Fuel elapsed time mark has been set four times at this race and Tony Schumacher did it one of those times. In fact,
did you know
that his record of 4.441 that he set in 2003 still stands as the national record in Top
Fuel.
By the way, Larry's crew chief,
Dick LaHaie
, also set the mark and he did it in 1987 en route to his national championship. And
did you know
that when Dick came into
Maple Grove
in '87 he wasn't the point's leader, either. So maybe history will repeat itself for Dick and Larry this year...
Rod Fuller
and his
David Powers' Valvoline
team may be on the entry list for this weekend but from what I hear they won't be at the race. Apparently David decided not to make the trip to
Pennsylvania
and to wait until next week in
Dallas
to race again..
Doug Foley
, who won the IHRA race in
Epping, New Hampshire
last
week
will make his NHRA Top Fuel debut this week and it will be interesting to see how he does.
Clay Millican
will also be here with the
Nitro Fish / Werner Enterprises
TF car and what are the odds of those two meeting up in the final round for the second consecutive week? Long, you say?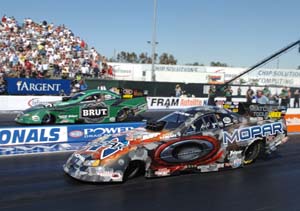 Scelzi vs Capps
The best race of the four professional classes and the best race in years
comes
in the Funny Car class where no less than six drivers have a shot at the championship. If you think that Kurt can catch Greg in the points than you have to think that
Tommy Johnson
, the number six guy in the points can win the FC title. The top five guys, from
Gary Scelzi
the point's leader, to
Eric Medlen
, are separated by a grand total of 55 points, or about three rounds. Every little mistake for the next five races could take a driver right out of the title chase.
Did you know
that when Gary Scelzi took the lead at Indy he became the 34
th
driver to lead the Funny Car points since the current system took effect in
1974.
And
did you know
that there have been exactly 34 drivers who have led the points in the Top Fuel class over that same period of time. Like I often say, what are the odds?...In the previous twenty years of this event there have only been two Funny Car drivers to win more than once.
John Force
(surprise?) has done it six times and
Mark
Oswald
has done it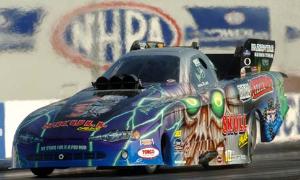 Mike Ashley
twice, but other than that we've had a dozen one-time winners in
Pennsylvania
. Among those one-timers are
Tim Grose, Jim White
and
Jeff Arend
. Jeff won't be there this weekend but
Paul Smith
will. The legendary tuner has signed on with
Jack Wyatt
and the
Race Girl
team for the rest of the year and that's good news for Jack.
Did you know
that Paul was part of the sixteen car FC field at the very first Keystone Nationals in 1985?...The aforementioned Mark Oswald will also be in attendance as he'll be tuning the
Mike Ashley Skull Gear / Torco Race Fuels
car just like he did in Indy. After a very impressive 4.88 showing at the "Big Go" I have to tell you that I really like Mike's chances to make the show this weekend. And mark my words, a guy like Mike doesn't come just to be in the park, he comes to qualify and win and I know you'll think I'm crazy but Mike Ashley will make a final round before the year is over. Remember where you heard it first..Gary Scelzi's
Oakley Dodge
may have an advantage this weekend since he has always done well at this event.
Gary
is the defending champion and, prior to last year, he had also made three final round appearances in the Top Fuel class. In seven races at the "Grove"
Gary
has made it to at least the semi-finals five times. And with the kind of power that
Mike Neff
makes, maybe this will be the breakout weekend for this
Don Schumacher
team..
Robert Hight
and
Ron Capps
are also in title contention and both are coming off disappointing round one losses in Indy..Since I mentioned John Force and his wins at Maple Grove I guess it's only fair that I mention this, too.
Did you know
that over the past six years John has lost in the first round four times at this track? And since he's coming off a round one loss in Indy, the "Champ" can't afford any more. In fact, with nine opening round losses this year I'm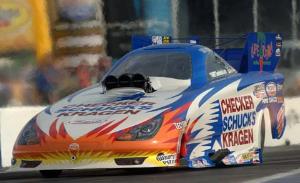 Phil Burkart
surprised that John is still even in the title chase, but he is and that's bad news for the other five contenders...John's loss at Indy came at the hands of
Phil Burkart
who seems to make a habit out of beating John early on Sunday.
Did you know
that out of John's last eleven round one
losses
four of them have been inflicted by Phil? Of course Phil has also beaten Robert Hight and Ron Capps in the first round this year. Good luck to all of the contenders and may the best man win..
Del Worsham
, who accomplished a couple of things last week that he had never done before gets another chance to do that this weekend.
Did you know
that
Maple Grove
is one of the few tracks on tour where
Del
has never won? And
did you know
that last year, over the last five races of the season
Del
won fifteen rounds and he went to the finals three times. When this kid gets hot he gets smoking hot. A word to the other drivers, stay away from
Del.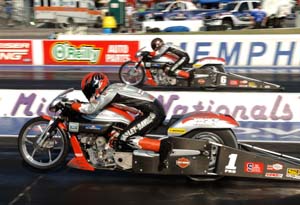 Hines vs Tonglet
The Pro Stock Motorcycle race is down to a two bike affair and they both run out of the
Vance & Hines Screamin' Eagle Harley Davidson
camp. Either
Andrew Hines
or
GT
Tonglet
will win it even though
Antron Brown
has not been mathematically eliminated. "AB" trails second place GT by ninety points and with only three bike races to go that's a bunch..
Steve Johnson
will get his picture taken in front of the MAC Tools U.S. Nationals backdrop this weekend and, while it's not the same as doing it at Indy, twenty years from now he'll be able to show everyone the picture and tell a great story and nobody will know the difference. Steve made a lot of media appearances over the past two weeks and handled himself very well and he is to be applauded for that...
Frank Manzo
There could be a big showdown in the sportsman ranks this weekend between
Bob Newberry
and
Frank Manzo
. It will be the last national event that either of them can claim and since they appear to be the two who have the best chance of winning the
Lucas Oil World Championship
it will be big for both of them. Frank took the point's lead with his win at Indy and Bob regained it with his win at the Division 1 race in Englishtown this past weekend.
Did you know
that between them they have won this race an amazing eleven times? Frank has seven wins, including the last five in a row and Bob has four. In fact,
did you know
that this race was the only national event that Frank won in 2004?
The only one.
With all of the attention on the pro classes it will be very interesting to watch these two great champs slug it out, maybe for all the marbles...The Stock Eliminator title isn't over yet but
Peter Biondo
sure looks like the heavy favorite, doesn't he?
Did you know
that before he lost at Englishtown this past weekend Peter had run off an amazing string of 32 consecutive round wins in his Stock Eliminator car? And his point total is already more than any driver in the Stock class over the past twenty years except for
Al Corda
in 1997. Like I said, it's not over.yet..And did you notice that at the Division 6
Summit Racing E/T Series Championships
this past week
Jody Lang
won in two different classes? That's about fifteen round wins in one weekend and that's pretty impressive..And
Tony Stephenson
went all the way to Fallon, Nevada last week where he made it to the final round in Competition Eliminator before fouling out. He still picked up enough points to take the lead but he's only a few points ahead of
Rodger Brogdon
and Rodger still has one national and one divisional race left to claim. I wonder if Tony will chase Rodger around at the last few races in an effort to try and stop him for gaining more points. I would, would you?.....Finally, it was Mark Osborne who set the mph record at Maple Grove. He did it in a Dodge at the 2001 race and thatís the only time the Pro Stock speed record has been set at this event.




NHRA: 10 Most Recent Entries [ top ]

Mar 22- LAS VEGAS 1 - Defending Funny Car Winner Tommy Johnson Jr. Excited for Four-Wide Racing
Mar 22- NHRA Northwest Nationals Tickets on Sale Now
Mar 21- LAS VEGAS 1 - Fact Sheet
Mar 21- LAS VEGAS 1 - Event Preview
Mar 20- Strong Stable of Contending Pro Stock Racers Vie for Final Starting Position for K&N Horsepower Challenge
Mar 20- GAINESVILLE - Special Awards
Mar 20- GAINESVILLE - Lucas Oil Drag Racing Series Wrap Up
Mar 19- GAINESVILLE - Sunday Video
Mar 18- GAINESVILLE - Pro Mod Sunday Wrap Up
Mar 18- GAINESVILLE - Sunday Wrap Up