Fri, 9 Sep 2005, 08:17 PM



Some Sportsman Notes..



By Bob Frey


Photo copyright 2005 Auto Imagery, Inc.





It's hard to pick out the one best run in the sportsman classes at Indy this year but I will tell you this, for all of the years that I have been going to the race I think the sportsman racing this year was among the best I've ever seen. From the Mopar Hemi Shootout to the two perfect reaction times in the final rounds, this year's MAC Tools U.S. Nationals was a real treat for followers of the sportsman classes. So, in no special order, here are a few notes about the sportsman classes following the 51st running of the U.S. Nationals.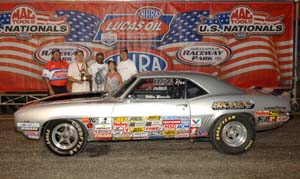 Peter Biondo
..While you will get a lot of arguments and while you could spend a lot of time debating this subject I have to ask you, is there a better, more complete sportsman racer in the country than Peter Biondo? With his win on Monday the "Terminator" won his fifth Indy race and he did it in his third different class. He won Super Comp and Super Stock previously and he now joins a very select group of racers who have won the "Big Go" in three classes. Jeff Taylor, not a bad racer in his own right, and Scotty Richardson, who has to be way up the food chain on the "best of" list, both won in three classes but there is one more. Let's not forget the great "Ohio" George Montgomery who won Indy in Little Eliminator, Middle Eliminator and Super Eliminator. A lot of folks have won in two classes but to win Indy in three separate categories is something special. Peter hasn't closed out all of the other racers but I like his chances to win the Lucas Oil World Championship in Stock Eliminator right about now and I'm not counting him out in Super Stock, either. By the way, Peter had one of those perfect reaction times in the final round and just for the record, Peter's average reaction time for the entire eliminator bracket was .012. Not bad, huh?
.Brad Plourd may not have the reputation that Peter does but if he keeps running the way he has been lately he will soon. In just a little over a year Brad has won four races in three different classes including Stock, Super Stock and Super Comp. Twice over that period of time he has gone back to back with wins at consecutive races and once he went to two finals at the same event. Oh yeah, he also beat Peter Biondo in one of those final rounds. In his rounds of racing en route to the Super Comp title Brad averaged .016 on the tree and he did it on a borrowed car.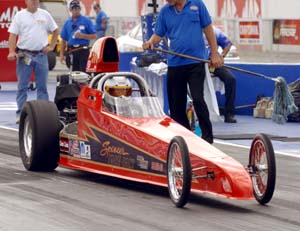 Dale Spencer
.A lot of drivers are now competing in two classes at the same national event but very few are doing it in Super Comp and Competition Eliminator. At Indy, both Frank Aragona and Dale Spencer tried to double in those two diverse classes. Dale made it to round six in the 8.90 class while Frank went out in the third round. In Comp, Frank lost in round one while Dale made it all the way to the fourth round before losing to the eventual winner, Glen Treadwell.
.Was there a better race all weekend long than the semi-final match between Vince Deceglie and John Mihovetz in Competition Eliminator? Two cars, about as far apart as you could get, went at it in a really special race that saw Vince, in his Sonny Leonard powered Corvette, beat John in his twin turbo charged Mercury Cougar. The times were 6.58 to a losing 6.78 and both cars went over 204 miles per hour. Cool!.....Vince didn't exactly take the easy road to the final because before he raced the Cougar he had to race Robert Bailey and his A/ED. A 6.62 beat a 6.67 with the Corvette just missing 210 miles per hour. How can you not love Competition Eliminator?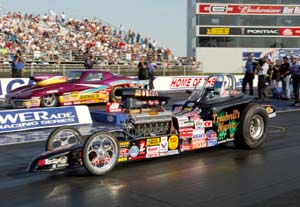 Treadwell vs Deceglie
.With all the attention on the big cars in Comp it was Glen Treadwell who ended up winning it all. With his E/EA car from Florida, Glen beat Vince's Corvette in the final round and he did it with a strong .022 reaction time. Ironically, that time got him off the starting line last since Vince put a .011 reaction time on the board. Glen joins a very select group of drivers to have won Comp more than once at Indy. Only seven drivers, including David Rampy, Larry Pritchett and John Lingenfelter among others, have won this rugged eliminator more than once. Congrats to Glen and let's hear it for the "little cars" in Comp.
.Lee Zane, who had won Indy in each of the past two years, didn't even make it into the Stock eliminator bracket this time around. Lee had some mechanical problems with his car and struggled in class and then didn't run within the required time to make it into the final eliminator bracket. Lee did make it into the Comp field but he drew a tough first round assignment in Tony Stephenson and not a lot of guys have made it out of round one when Tony was in the other lane and Lee didn't, either.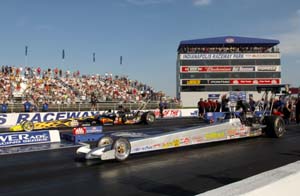 Torrence vs Will
.Steve Torrence continues to amaze and impress and the young kid from Texas added an Indy win to his already impressive resume. Driving the car that is owned by Tom Conway, Steve beat Hillary Will in the final round to give him six wins in seven final round appearances. And other than his round one loss at the D-3 race in Joliet Steve has been almost flawless this year. After the win, which he dedicated to the memory of Shelly Howard, Steve actually admitted to thinking about winning the Lucas Oil World Championship. The way he has been running that has to be a real consideration for the kid. His next start will be next week when he will race at the Division 4 race in Noble, Oklahoma, a race that could include Gene Snow and Randy Meyer...Female racers have made it to the final round in each of the last three years in the Top Alcohol Dragster class, with Shelly Howard in 2003, Ashley Force and Shelly last year and Hillary this time around.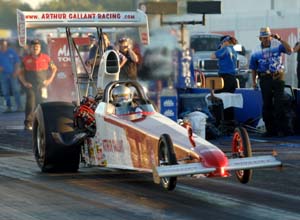 Arthur Gallant
.There were a couple of runs that really got my attention and they were in the Top Alcohol Dragster class. Jeff Wilson, during a qualifying run, shook the ties and the car so badly that I knew he was going to lift and get out of it. Well, in true Jeff Wilson fashion he didn't (at least I don't think that he did) and he ran 5.71 which put him in the show for the time being. The next day, after being bumped out, Jeff did a huge wheelstand and I knew that he was going to lift and get out of it. Well, in true Jeff Wilson fashion, he didn't (at least I don't think that he did). This time he ran a 5.78 and it may have been the most impressive 5.78 that I've ever seen. Unfortunately for Jeff, he didn't make the show.Arthur Gallant also had a wild ride when he picked the front wheels up, held them in the air for about four hundred feet, drifted toward the wall and when he came down (he never did lift, I don't think) he ran an amazing speed of over 268 miles per hour. Gosh I love the Top Alcohol Dragster class.
.Was I the only won cheering for Gene Snow on Monday? Take nothing away from any of the other racers but I think it would have been neat to see Gene make it to the final round at Indy thirty nine years after his first Indy final. Gene almost made it but the "Kid" was too strong for him and Steve beat Gene in their semi-final match 5.32 to a losing 5.45. Gene had a little trouble getting his car back to the starting line after the burnout and he had to be pushed back and some of the hands were provided by Steve Federlin, the guy Gene beat in the second round and the guy who is leading the points right now.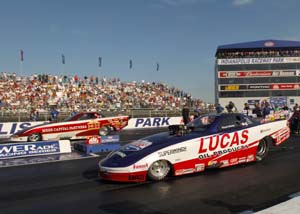 Manzo vs Weaver
.Frank Manzo, all but written off in the championship chase a few weeks ago, is now the points leader. After winning his seventh Indy title, the "Ace" moved to the top of the pack and he will now face a couple of very tough weeks and some equally tough competition. The Division 1 racers will go at it this week in Englishtown before heading to Maple Grove for the national event next week. With Bob Newberry in second place and with both racers having one more national event to claim, the next two weeks could make or break their title hopes. Oh yes, don't count out that Steve Gasparrelli who will be racing this weekend in Fallon, Nevada.
.Bill Jackson's win in Super Gas was one of the great stories of this year's Indy event. Having competed at this race since back in the mid 1960's, Bill finally went the distance much to the delight of his wife, Mary Ann, and his son, "Nitro Joe" Jackson. Joe, who is a sportsman stats junkie, told me that "finally he listened to me and it paid off." Apparently that was a reference to Joe dialing the car in based on his reading of the air, temperature and more. Mary Ann and Joe celebrated on the starting line after the win and with Bill in the winner's circle. Mary Ann, who won the D/SA class at Indy in 1964, is one of the real pioneers for women in drag racing and it was great to see her and Bill get the big win. After her class win in '64 Mary Ann entered the Jr. Stock eliminator bracket where she lost in round one to a Corvair. Really, a Corvair!!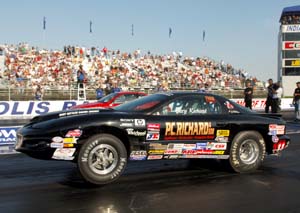 Gary Richard
.Gary Richard, sixty five year old Gary Richard, almost won Indy in Super Stock but he fouled in the final round and lost to young Andy Fogle. This was Gary's second final round and his second red light loss but he still had as much fun as anyone. I spoke with Gary after the race and he was so excited and I have to say that he has the enthusiasm of a guy who is forty years younger. Maybe fifty. The company that he runs, P.C. Richard & Son, does a tremendous business and it's great to see a guy like him enjoying this sport so much. I know one thing, I want to be there when he wins that first national event because it could be free big screen televisions for everyone. OK, so maybe it'll be ten percent off...
With Indy in the rear view mirror the run for the Lucas Oil World Championships will pick up in intensity and we will see that this week with three divisional races. There are events in New Jersey, Iowa and Nevada and some of the points battles, like the TA/FC one, could start to come into focus after these races are completed. And don't forget, the only place to keep up with all of the day to day and round by round action of these races is right here at DragRaceCentral.com.




NHRA: 10 Most Recent Entries [ top ]

Mar 20- Strong Stable of Contending Pro Stock Racers Vie for Final Starting Position for K&N Horsepower Challenge
Mar 20- GAINESVILLE - Special Awards
Mar 20- GAINESVILLE - Lucas Oil Drag Racing Series Wrap Up
Mar 19- GAINESVILLE - Sunday Video
Mar 18- GAINESVILLE - Pro Mod Sunday Wrap Up
Mar 18- GAINESVILLE - Sunday Wrap Up
Mar 18- GAINESVILLE - Pro Mod Championship Points
Mar 18- GAINESVILLE - Bonus Points
Mar 18- GAINESVILLE - Championship Points
Mar 18- GAINESVILLE - Mickey Thompson Top Fuel Harley Series Championship Points