Thu, 8 Sep 2005, 10:51 AM



Funny Car Driver Mike Ashley Extends Schedule



Courtesy of Bobby Bennett


Photo copyright 2005 Auto Imagery, Inc.





Plans to Run Balance of the 2005 Season



MELVILLE, N.Y, --
NHRA POWERade Funny Car driver Mike Ashley has made a commitment to run the balance of the 2005 season behind the wheel of the TORCO/SKULL GEAR Monte Carlo Funny Car. His performance during this weekend's MAC Tools NHRA U.S. Nationals made it an easy decision for Ashley and his sponsor Evan Knoll to run the remaining five events on the tour instead of just two as previously planned. Ashley has a three-year contract to run his Pro Modified '67 Shelby Mustang GT500E under the Torco Race Fuels banner as well.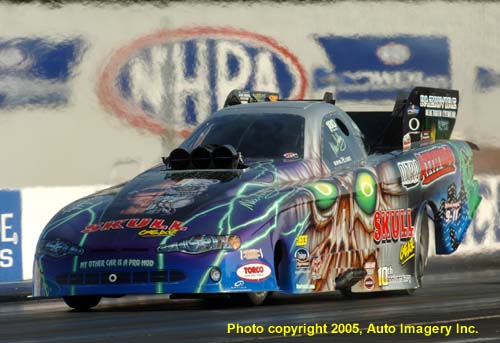 Mike Ashley
Ashley announced on Friday that he plans to run a minimum of twelve races in 2006 with veteran tuner Mark Oswald calling the shots. He will continue to run under the Del Worsham umbrella.
The deciding factor for the extension was the media and fan response to Ashley's debut and performance in the quickest-ever NHRA Funny Car field in drag racing history. Ashley, with only five career full passes under his belt and ran and elapsed time and speed of 4.885, 306.05 during Sunday's final qualifying session. The session proved to be the most difficult atmospheric conditions throughout the event. While Ashley knows that he has a tough challenge ahead of him, he's convinced this weekend's Indy performance is just a sign of things to come.
"This weekend was just magical." Ashley said. "It was a very busy weekend and one that demanded total concentration. However, thanks to two great drag racing teams we ran what I feel were respectable numbers in both classes. I have a long way to go and many more runs to make before I would say I'm ready to win a Funny Car championship but I am starting to get a level of comfort in the car can be leveraged to win rounds. Make no mistake about it, when I pull that Funny Car to the line I expect to win. I owe that to my team and sponsors."
Not only did Ashley lay down a career best run in each day of Funny Car qualifying, he also found time to climb behind the wheel of his Pro Modified entry. Ashley finished as a semi-finalist after qualifying third. He holds a commanding lead in the race for this year's NHRA AMS TLR Pro Modified point standings.
With just two events left to run under the NHRA AMS TLR banner, Ashley holds an 874 point lead over the second place Josh Hernandez. This is the equivalent of more than eight rounds wins in competition per the class point structure. This weekend's event also produced the quickest-ever Pro Modified field in the history of the NHRA.
Ashley ponders the chances for a drag racer to compete in two classes that each produces the quickest fields in their respective history.
"It demands that you must bring your 'A' game to the table each and every time you suit up and strap in," Ashley said. "It really helps a driver to have complete confidence in his crew and I have reached that with (Pro Modified crewchief) Chuck Ford. The more I work with Mark Oswald, the more I learn how I need to drive to compliment the tune-up he puts in the car."




NHRA: 10 Most Recent Entries [ top ]

May 21- TOPEKA - Pro Mod Championship Points
May 21- TOPEKA - Monday Video
May 21- TOPEKA - Monday Pro Mod Wrap Up
May 21- TOPEKA - Monday Wrap Up
May 21- TOPEKA - Championship Points
May 21- TOPEKA - Summary of Eliminations in Top Fuel
May 21- TOPEKA - Summary of Eliminations in Funny Car
May 21- TOPEKA - Summary of Eliminations in Pro Stock
May 21- TOPEKA - Summary of Eliminations in Pro Modified
May 21- TOPEKA - Summary of Eliminations in Top Alcohol Funny Car