Thu, 8 Sep 2005, 09:11 AM



Congratulations to Steve Johnson and NHRA



By Bob Frey


Photo copyright 2005 Auto Imagery, Inc.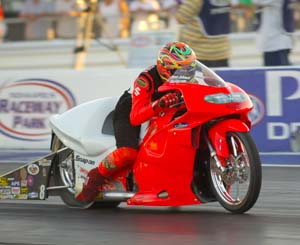 Steve Johnson
With so many great things about this year's 51
st
running of the
MAC Tools U.S.
Nationals
it's obvious that a lot of the attention was and will be focused on the outcome of the Pro Stock Motorcycle final race between
Matt Smith
and
Steve Johnson
. Initially Matt was awarded the win but when the television replays showed that Steve had actually reached the finish line first
a frenzy
broke out both at the track and in the TV booth. When I left the track on Monday it had been announced on the ESPN show that Matt was the winner and that there were, apparently, reasons why Steve's motorcycle hadn't triggered the timers and that resulted in Matt's win light coming on even though it appeared that Steve had reached the finish line first. As expected, in this era of web sites, blogs, instant message boards and all of that high tech stuff, the results of the race and the decision of those who made it were instantly attacked and vilified. The fact that some of the messages and attacks were of a personal nature makes it even worse and I hope that all of those folks are proud of themselves because they have, apparently, never made a mistake in their life. Now that NHRA and the Sr. Vice President of Racing Operations,
Graham Light
, have reversed the decision, I expect all of those who were up in arms before to make the necessary apologies. This was a situation that was unprecedented in NHRA national event competition and I applaud the powers-that-be for changing their minds and making the right decision. It takes a lot of character to admit that you made a mistake and I doubt seriously that all of those message board writers and NHRA bashers will admit that they were wrong. Now I know what some of you will think, that I am an NHRA employee and you would expect me to take the party line. Well, that may be so but in this case the end result is that the right decision was made, the winner of the race will get the trophy and some new guidelines will be instituted in the future in an attempt to avoid a repeat of the situation and that's about all you can ask of anyone, my employers or anyone else. This was a unique situation and, not that they really care, but I applaud Graham and anyone else who was involved in making the tough decision. Now if only the web sites and the individuals who were so vocal originally would give them the same credit we could all move forward, but we know that probably won't happen. Before I move on I should also congratulate Steve for the way that he conducted himself on the television interview after the incident. Under adverse circumstances he showed a lot of class and that's more than I think most people would have done in a situation like that. Steve now adds his name to a pretty impressive list of Indy winners in the motorcycle class, a list that includes
Dave Schultz, John Myers, Terry
Vance
and more. Congratulations to the 2005 MAC Tools U.S. Nationals Motorcycle champion,
Steve Johnson
...Lost in all of the hoopla about the final round is the fact that the chase for the motorcycle championship is now, basically, a two rider affair.
Andrew Hines
is in the lead by 17 points over his fellow
Vance & Hines
Screamin' Eagle
rider,
GT Tonglet
. Even though both guys lost in the first round so did their closest competitor,
Antron Brown,
and with only three races remaining on the bike schedule it will be very tough, if not impossible for "AB" to close the 107 point gap.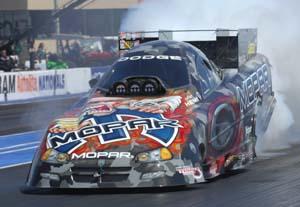 Gary Scelzi
Question..does anyone want to win the Funny Car championship this year? The six top drivers all had golden opportunities this weekend to add points to their total and very few of them took advantage of the situation.
Robert Hight, John Force, Tommy Johnson
and
Ron Capps
all lost in the first round and that enabled
Eric Medlen
to gain twenty points and
Gary Scelzi
to add forty. Still, Eric lost in the second round and
Gary
went out in the semi-finals or the damage to the other teams could have been worse. With five races remaining on the schedule it sure looks like we have the makings of a great stretch drive and the first team that blinks will be out of contention unless, of course, they all blink at the same time..Gary Scelzi did take over the point's lead and he is one point ahead of Robert, thirty six ahead on Ron, forty seven ahead of John, fifty five ahead of Eric and one hundred and forty eight ahead of Tommy.
Did you
know
that
Gary
is only the fourth driver in NHRA history to lead the points in both Top Fuel and Funny Car at some point in the season?
Kenny Bernstein, Don Prudhomme
and
Ed McCulloch
are the others. And while one point may not seem like a very big lead,
did you know
that since 1974 only four drivers who were in the point's lead after Indy in the Funny Car class failed to win the championship? John Force in 1992,
Billy Meyer
in 1982,
Tom Hoover
in 1979 and
Frank Hall
in 1974 are the only ones who were the leaders after the U.S. Nationals and who didn't go on to win the championship. The good news for
Gary
is that other than those few the guy who was ahead after Indy went on to win it all. It should be mentioned that in the late 1970's professional points were earned almost like sportsman points are today, and by that I mean that drivers could earn points at divisional and national races while claiming six of eight national events and the World Finals. Tom Hoover, for example, who led after Indy in 1979 couldn't claim any points at the next race in
Seattle
and fell out of title contention. Plus you could earn points for low elapsed time, top speed and for setting a national record. Believe me, the scoring is a lot easier now and with six drivers running for the title every little point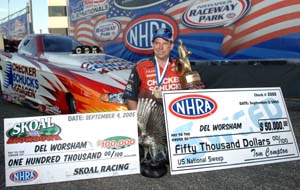 Worsham celebrates double-up.
will be extremely important..
Del Worsham,
who isn't in title contention, had the best weekend of his career when he doubled up by winning the
Skoal Showdown
on Sunday and the race on Monday. With a payout of $225,000 it was quite a couple of days for the
Checker, Schuck's and Kragen
team.
Did you know
that this is the first time that there have been double-up winners in consecutive years at Indy?
Gary Densham
did it last year and Del this time around...By the way, anyone who doubted
Don Schumacher's
statement earlier in the year that all of his teams would run "straight up" just has to look at the first round match between Ron Capps and
Whit Bazemore
. Knowing that three of the drivers who are running for the championship had already lost, Ron had a golden opportunity to make a move until he lost to Whit on a holeshot. Congrats to Don and everyone in that camp for a great race. I have to say that I think I would have done it differently but that's why I'm just an announcer and not a car owner.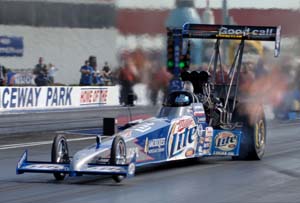 Larry Dixon
Larry Dixon
, who appreciates the history of this sport as much as any driver I know, won his third Indy title this weekend when he beat
Tony Schumacher
who was going for his fourth in a row and fifth overall. With the win Larry cut another twenty points off the lead and is now just seventy nine points out of first place.
Doug Kalitta
, who fouled in the second round against his teammate
David Grubnic
, is now in second place and he's just thirty seven points behind the
U.S. Army
team. Three great teams, three great drivers and the best Top Fuel race we have seen in years..With his win Larry tied his car owner, Don Prudhomme,
Joe Amato
and
Gary Beck
with three Top Fuel wins at the U.S. Nationals. Larry's dad, who is battling some tough health problems, was on hand to see his son win and it's only the second time that that has happened. "We used to come to Indy as a family," Larry told me, "and it was the only race we really traveled to attend, so for him to see me win it is really cool."
And what does a Top Fuel champion do on his weekend off? Well, Larry and his wife, Ali, will take the kids to the Cedar Point amusement point. It seems that their son, Donovan, is big enough to ride some of the roller coasters now and that should be a great time for the family. Larry said that he doesn't want to get hurt on the coaster so he'll wear his HANS device. Good idea, Larry, now if you could only get one to fit your son, too!!...Tony's loss ended a pretty impressive streak and it gave him an overall record at Indy of 27-5. Not bad, huh?
Did you know
that only two drivers,
Warren Johnson
and
Bob Glidden
, have ever won Indy in four consecutive years?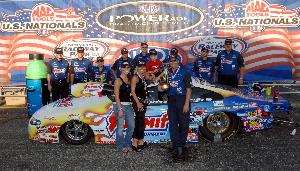 Anderson and team celebrate win.
The race for the Pro Stock championship is all but mathematically over. With his win at Indy
Greg Anderson
has opened up a 135 point lead over
Kurt Johnson
and that's equal to about seven rounds and anyone who thinks that Greg will give up that kind of a lead is fooling themselves. Like I said last week, Greg and his
Summit Racing
team have found the sweet spot in that car and they not only won Indy, they crushed everyone who got in their way. Is it me or did that team really start to run well about the time that owner
Ken Black
announced that he was adding a Top fuel car to the stable? Word leaked out around the Sonoma race and since then all Greg has done is go 14-1..
Mark Pawuk
made a good showing in his return to action and his GTO could be a factor for the rest of the year.
Erica Enders
ran well although she is still looking for that elusive first round win. With the
Slammer's Ultimate Milk
folks announcing that they are on board with the team throughout the entire 2006 season I look for the big yellow machine to win a round or two before the end of the year. Her qualifying run on Sunday was a real eye opener and it let everyone know how much power that team really has.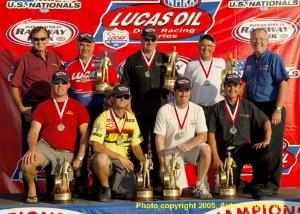 The Sportsman winners.
Steve Torrence
and
Frank Manzo
were the big winners in the alcohol classes while the other sportsman racers gave us some great moments, too.
Peter Biondo
and
Brad
"The
Lady's Man"
Plourd
both were perfect off the line in their final rounds and the win may have locked up the Stock Eliminator World Championship for the "Terminator," Mr. Biondo. And I want to ask you, with all that he has done this year is it time to put that Brad Plourd in the group of the best young sportsman racers in the country? The kid was runner-up in Stock Eliminator at the Winternationals and he has now gone back-to-back it the Super Comp class and he won both the
Memphis
race and the Indy race in a borrowed car.
Did you
know
that the last time a racer won consecutive races in Super Comp was in 1998 when
David Rampy
did it at Brainerd and Indy? That's a lot of races without a back-to-back winner, isn't it? And has Brad won all five of his national events in different cars?....And how about that
Bill Jackson
? The veteran racer won Indy about forty years after attending his first U.S. Nationals event. Bill first raced at Indy in 1964 and he has been a regular figure ever since. His wife,
Mary Ann
, won the D/SA class championship at Indy in 1964 and it's great to see Bill finally get to the winner's circle..And was there a better overall class than Competition Eliminator this weekend? The final round between
Glen Treadwell
and
Vince Deceglie
was great as was most of the action in the class. And big tip of the hat to all of the sportsman racers who helped make the 51
st
Indy one of the best.




NHRA: 10 Most Recent Entries [ top ]

Mar 21- LAS VEGAS 1 - Fact Sheet
Mar 21- LAS VEGAS 1 - Event Preview
Mar 20- Strong Stable of Contending Pro Stock Racers Vie for Final Starting Position for K&N Horsepower Challenge
Mar 20- GAINESVILLE - Special Awards
Mar 20- GAINESVILLE - Lucas Oil Drag Racing Series Wrap Up
Mar 19- GAINESVILLE - Sunday Video
Mar 18- GAINESVILLE - Pro Mod Sunday Wrap Up
Mar 18- GAINESVILLE - Sunday Wrap Up
Mar 18- GAINESVILLE - Pro Mod Championship Points
Mar 18- GAINESVILLE - Bonus Points