Thu, 8 Sep 2005, 08:45 AM



Jim Luikens Reporter's Notebook at the 51st Annual US Nationals



By Jim Luikens



CLERMONT, Ind. --
The significance of the catastrophe in the Gulf Coast area was on everyone's mind as the US Nationals got underway. The NHRA announced on Friday that they would make a donation on behalf of their members and member tracks. They also sold wristbands at this race to raise additional funds and allowed the Red Cross to place donation canisters around the IRP grounds. Simultaneously, the PRO Racers Association announced a $150,000 donation that was the result of a collection that was taken Friday amongst its members.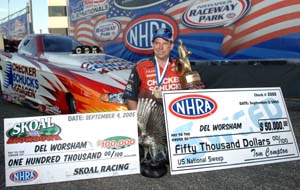 Worsham doubled-up.
Prior to this year Del Worsham had only won three rounds of racing in nine Skoal Showdowns. This year he won three rounds in one day to sweep the shootout and earn his first victory. On Monday he won four more rounds to earn his first US Nationals victory and the $50,0000 double-up bonus that goes to anyone that can win the Showdown and the event title the same weekend.
John Force debuted a new 13X Champ paint scheme on his Mustang during Sunday's final qualifying session and carried the body on race day as well. His race day was short however, as he smoked the tires in the first round. A die-cast model featuring the new paint scheme was actually on sale here before the actual car made its debut.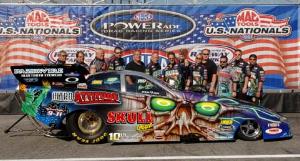 Ashley won "Best Appearing Car" award.
In a rare occurrence, two drivers made their US Nationals Fuel Funny Car debuts at this event. Even more unusual, both drivers were actually competing in another class here as well. Paul Lee was entered in Fuel Funny Car and Alcohol Funny Car while Mike Ashley competed in Fuel Funny Car and Pro Mod. Sadly, neither qualified for Fuel Funny Car but Mike Ashley did earn the Best Appearing Car award for his new entry.
Two team members on the Tony Pedregon team narrowly escaped injury when a malfunctioning throttle linkage caused the Pedregon car to leap forward while preparing for the burnout. Both team members were treated in the infield care center at the track and released. The incident also took out the starting line electronics and precipitated nearly a one-hour delay while they were repaired.
One of drag racing's master promoters, Roy Hill, has bannered "It's Coming" on the quarter panels of his 1966/2005 Mustang. At this race Roy added the dates September 22 thru 25 beneath It's Coming. Knowledgeable race fans will recognize those dates as the dates for this year's O'Reilly Fall Nationals in Dallas, Texas. While Roy has sworn me to secrecy I can whisper to you that when the announcement is made you will understand why Dallas was chosen as the announcement location.
When Erica Enders qualified for Pro Stock here she became the first woman to qualify for a 16-car Pro stock eliminator at the US Nationals. Only Shirley Shahan had qualified for a US Nationals before and that was for the 32 car field in 1971 when she slipped into the 31st spot before losing to Eddie Schartman in the first round. Her qualification here also eclipsed the cumulative total of all women that have ever qualified for any Pro Stock field in any NHRA race ever held.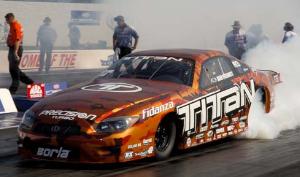 Brad Personnett
For the first time in US Nationals history the competition here included competitors from the NHRA's Sport Compact Racing Series. Drivers in Pro RWD (rear wheel drive) were allowed to race here only if they had competed in all 2005 series events up to this point. As a result the six contestants that met that qualification made their first trip to the Big Go! The diverse field included a Chevy Cavalier for Matt Hartford, A Honda Civic for Steph Papadakis, a Toyota Solara for Ara Arslanian, a pair of Toyota Celicas for Vince Fourcade and Matt Hartford and the debuting Scion tC Coupe of Brad Personnett. The Pro RWD cars are most similar to traditional Pro Mod cars in that they feature forced induction. After three rounds of qualifying Matt Scranton's Celica sat on the Pro RWD pole with a great 6.564-second run at 216.24 miles-per-hour.
Steph Papadakis had a very tough week and weekend with little to show for his efforts despite a massive effort. Steph hurt his engine during midweek testing just prior to Indy and was forced to return to California to prepare a new engine while he sent his car, team and transporter on to Indy. After working day and night for two days he flew back to Indy late Friday and shipped his engine by FedEx for next day (Saturday) delivery. The engine was not delivered until 8 am Saturday morning which meant that he would be forced to miss the morning session while the engine was assembled and installed. Saturday's afternoon session was scrubbed when an hour was lost due to the Tony Pedregon incident. Sunday didn't go any better for Steph when an oil leak sidelined his first qualifying attempt. Down to his last attempt and unable to repair his engine he merely staged his Honda and took the green light before shutting off without ever leaving the starting line. This was very anticlimactic considering what he had gone through to try and participate at this event.
For every action there is an opposite and equal reaction. The beneficiary of Steph's misfortune was Matt Scranton. As the number one qualifier Scranton received a bye when the number six seeded Papadakis was unable to answer the call for the first round. In the second round Matt was already scheduled to receive the competition bye as the quickest qualifier which meant that he entered race day knowing that he was going to be in the final round.
Tom Kristoff of Warminster, Pennsylvania had his 1974 Hurst Olds on display here. Tom, who spent more than two years restoring the car, reports that the restoration was so extensive that only the trunk lid remains from the original car. While Tom was researching the car's history he discovered that Linda Vaughn was among its previous owners. Upon completing the car he took it to a show where Linda was signing autographs and asked her to sign his car. A strong friendship has since developed between Tom, Tom's girlfriend, Desiree Rivenbank and Linda. So strong in fact that Tom and Desiree surprised Linda with paperwork here that says Linda will be the beneficiary of the car if anything ever happens to Tom. Needless to say, Linda was touched and overwhelmed by the generosity.




NHRA: 10 Most Recent Entries [ top ]

Apr 22- HOUSTON - Top Fuel Harley Round 1 Eliminations
Apr 22- HOUSTON - Pro Modified Round 1 Eliminations
Apr 22- HOUSTON - Pro Stock Round 1 Eliminations
Apr 22- HOUSTON - Funny Car Round 1 Eliminations
Apr 22- HOUSTON - Top Fuel Round 1 Eliminations
Apr 21- HOUSTON - Sunday Schedule
Apr 21- HOUSTON - Saturday Video
Apr 21- HOUSTON - Saturday Wrap Up
Apr 21- HOUSTON - Super Stock Class Eliminations Finals
Apr 21- HOUSTON - Funny Car Qualifying, Session #4 Bonus Points