Wed, 7 Sep 2005, 10:29 AM



Payne Holds Off Hernandez for First Indy Win



Courtesy of Duke Ritenhouse



CLERMONT, Ind. --
Jay Payne picked a good time to come up with his best run of the weekend, posting a 6.104 in the Mac Tools U.S. Nationals final to turn away the hottest driver on the AMS Staff Leasing Pro Mod Challenge presented by TLR tour and claim the first Indianapolis title of his long driving career.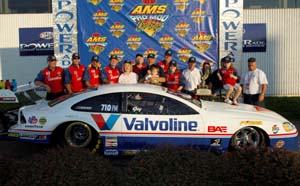 Payne celebrates win.
Payne's 6.104 in his Valvoline-backed '05 Stratus - one-thousandth quicker than his No. 2 qualifying time - was enough to get past a 6.12 by Joshua Hernandez, who was racing in his fourth consecutive AMS/TLR final and looking to win consecutive events for the first time in his career. Hernandez had earlier qualified No. 1 with a 6.08 and posted low e.t. in each of the first three eliminations rounds.
"Let's face it, Josh and [Tommy Lipar Racing crew chief] Howard Moon were quicker than us all day," said Payne, twice a runner-up in the alcohol classes at the U.S. Nationals. "But in the final, everything clicked for us and things seemed to go in our favor. Sometimes it helps just to be in the right place at the right time."
Payne and the Brad Anderson-led Valvoline team were also at the top of their game in the semifinals against AMS/TLR Cup points leader Mike Ashley, who was attempting to make the Pro Mod Challenge final round a Hernandez-Ashley duel for the third straight event. Payne used a massive starting-line advantage to hold off Ashley, 6.19 to 6.14, winning by .004-second.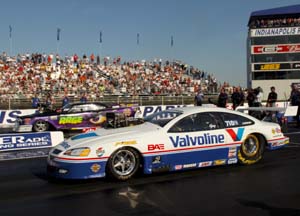 Jay Payne
The weekend wasn't a total loss, though, for Ashley, whose late-round finish helped him edge closer to winning his second straight Pro Mod Challenge season championship. Ashley, with 4,231 points, leads both second-place Hernandez and third-place Payne (the only two drivers with the possibility of catching him) by more than 800 points and is in a good position to clinch the AMS/TLR Cup points title later this month in Dallas. Should Ashley leave the Dallas event (the second-to- last of the 14 Pro Mod Challenge events this season) with a lead of 717 points or greater, he will win his second straight Pro Mod Challenge championship.
The win was the second of the season for Payne, who opened up the 2005 campaign by beating Ashley in the Gainesville final. Payne, Hernandez, and Ashley have combined to win 10 of the 12 Pro Mod Challenge events this season.
"Gainesville was great, but it was unexpected; we hadn't done any full runs with the car yet, and we were probably as surprised as anyone to win," said Payne. "This one today, though, is very special to me. Indy is Indy - there's nothing else like it."

AMS/TLR Cup points standings

1.  Mike Ashley        4,231 (5 wins)
2.  Joshua Hernandez   3,357 (3 wins)
3.  Jay Payne          3,237 (2 wins)
4.  Troy Critchley     2,509
5.  Thomas Patterson   2,408
6.  Troy Coughlin      2,200 (1 win)
7.  Zach Barklage      2,152
8.  Frankie Taylor     1,764
9.  Glen Kerunsky      1,691 (1 win)
10. Kirk Kuhns         1,669





NHRA: 10 Most Recent Entries [ top ]

Apr 19- HOUSTON - Friday Schedule
Apr 19- Tige Boats Named Presenting Sponsor of E3 Spark Plugs NHRA Pro Mod Drag Racing Series Portion of NHRA SpringNationals
Apr 19- HOUSTON - Previous Success, Early Win has Funny Car's Courtney Force Excited
Apr 18- Haney Headed for NHRA Pro Mod with Summit Racing on His Side
Apr 18- HOUSTON - Richie Crampton Enjoying Early-Season Success Heading to 31st Annual NHRA SpringNationals
Apr 18- 2018 Mustang Cobra Jet Celebrates 50th Anniversary of Racing Legend with Quickest
Apr 18- New Ford Mustang Funny Car Scheduled to Debut In 2019 NHRA Mello Yello Season Opener
Apr 16- HOUSTON - Fact Sheet
Apr 16- HOUSTON - After Early-Season Mishap Funny Car's Jonnie Lindberg Looks to Get On Track