Mon, 5 Sep 2005, 09:53 PM



Worsham Doubles-up with Funny Car Victory at Mac Tools U.S. Nationals



Courtesy of NHRA Communications



Dixon, Anderson and Smith also Earn Victories at Indianapolis Raceway Park



CLERMONT, Ind. --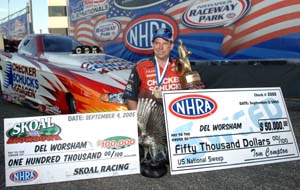 Del Worsham Doubles-up
Del Worsham raced to the Funny Car victory Monday at the Mac Tools U.S. Nationals and in the process pocketed more than $225,000 for the weekend at the world's most prestigious drag race.
Larry Dixon, Greg Anderson and Matt Smith also were winners at the $2.6 million race, the 18th of 23 events in the NHRA POWERade Drag Racing Series.
Worsham became the sixth driver in the history of the event to double-up by winning today's eliminations and Sunday's Skoal Showdown bonus race for Funny Car competitors. It was Worsham's second victory of the season, 21st of his career and first ever at Indianapolis Raceway Park.
Worsham clocked a 4.874 second run at 320.05 mph in his Checker Schuck's Kragen Chevy Monte Carlo to hold off surprise finalist Frank Pedregon, the '99 Indy winner who finished in 4.904 at 313.07 in his Toyo Tires Dodge Stratus.
"People always ask me which of my wins is more special," said Worsham, 35, who started driving 15 years ago. "It used to be my first win at Atlanta in 1991, but I'm thinking now that the win this weekend overtook Atlanta as my favorite. We had a great car all weekend. I've been around the sport since I was six years old and driving since I was 20 and we've never had much success at this race. To come here and do what we did this weekend is a dream come true."
Gary Scelzi lost in the semifinals, but moved into the series lead in Funny Car, one point ahead of rookie Robert Hight, who lost in the first round. Top qualifier John Force also was upset in the first round and now sits 47 points off the lead in fourth. Scelzi, a three-time Top Fuel world champion, joins Don Prudhomme, Kenny Bernstein and Ed McCulloch as the only drivers in NHRA history to lead the series standings in both Top Fuel and Funny Car.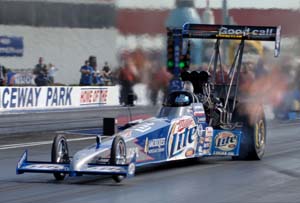 Larry Dixon
Local favorite Dixon claimed his third U.S. Nationals Top Fuel victory by posting a 4.521 at 326.71 in his Miller Lite dragster to defeat world championship rival Tony Schumacher, whose U.S. Army dragster lost traction and recorded an 8.143 at 107.27. Dixon's win ended Schumacher's three year stronghold on the event.
"This race is everything to anyone who drag races," Dixon said. "To me it's as big as winning the championship. To beat a team in the final that has absolutely dominated this racetrack this decade only makes it better."
It was Dixon's second victory of the season and the 38th of his career and it moved him to within 79 points of series leader Schumacher and 39 behind second place Doug Kalitta. Dixon gave the trophy to his young daughter Alanna, but in an emotional moment he dedicated the victory to his father, Larry Sr.
"This win is for my dad," Dixon said. "He's battling cancer right now and he's gonna beat it, but he was here and I'm so happy he got to see me win this race. He'd only been at the races one other time when I won, so this was special."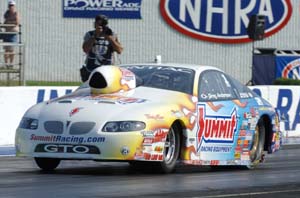 Greg Anderson
Anderson continued his Pro Stock dominance at Indy, earning his third straight and fourth win overall at the historic event. He drove his Summit Racing Pontiac GTO to a 6.718 at 205.26 to hold off Richie Stevens' Team Mopar Dodge Stratus, which clocked a 6.779 at 203.98.
With the victory, his sixth of the season and 37th of his career, Anderson increased his series lead to 135 over Kurt Johnson.
"This race is a career-maker," Anderson said. "I'm so blessed to have won it four times. The guys are just so awesome at making the right calls with the setup. I love coming here. I wish we could race here 20 times a year."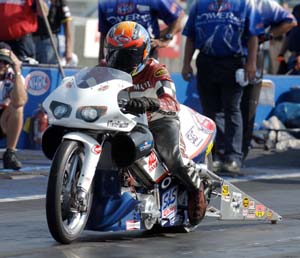 Matt Smith
Smith, son of Pro Stock veteran Rickie Smith, took advantage of early exits by the top three riders and earned his first career victory in Pro Stock Motorcycle by edging Steve Johnson at the finish line. Smith powered his Red Line Oil/G-Squared S&S Buell to a 7.114 at 186.12 to narrowly defeated Johnson, who got the quicker start on his Suzuki, but posted a slower performance of 7.206 at 193.85.
"This is quite a thrill," Smith said. "I don't think I'll lose this smile for a while. Dad gave me a hug and told me he was proud of me."
Although he was upset in the first round, top qualifier Andrew Hines remained in the series lead, 17 ahead of teammate GT Tonglet, and 107 in front of third place Antron Brown.
The NHRA POWERade Drag Racing Series continues with the 21st annual Toyo Tires NHRA Nationals, Sept. 15-18 at Maple Grove Raceway near Reading, Pa.
Monday's final results from the 51st annual Mac Tools U.S. Nationals at Indianapolis Raceway Park. The 2.6 million race is the 18th of 23 in the $50 million NHRA POWERade Drag Racing Series.
Top Fuel -- Larry Dixon, 4.521 seconds, 326.71 mph def. Tony Schumacher, 8.143 seconds, 107.27 mph.
Funny Car -- Del Worsham, Chevy Monte Carlo, 4.874, 320.05 def. Frank Pedregon, Dodge Stratus, 4.904, 313.07.
Pro Stock -- Greg Anderson, Pontiac GTO, 6.718, 205.26 def. Richie Stevens, Dodge Stratus, 6.779, 203.98.
Pro Stock Motorcycle -- Matt Smith, Buell, 7.114, 186.12 def. Steve Johnson, Suzuki, 7.206, 185.08.
Top Alcohol Dragster -- Steve Torrence, 5.299, 268.87 def. Hillary Will, 5.365, 267.75.
Top Alcohol Funny Car -- Frank Manzo, Pontiac Firebird, 5.599, 259.56 def. John Weaver, Chevy Camaro, 13.170, 73.56.
Competition Eliminator -- Glen Treadwell, '23 Ford T, 8.376, 145.11 def. Vinnie Deceglie, Chevy Corvette, 6.604, 205.69.
Super Stock -- Andy Fogle, Chevy Cavalier, 9.263, 141.13 def. Gary Richard, Pontiac Firebird, foul.
Stock Eliminator -- Peter Biondo, Chevy Camaro, 10.909, 111.26 def. Brent Darroch, Chevy Impala, 12.082, 109.83.
Super Comp -- Brad Plourd, Dragster, 8.914, 161.27 def. Richard Bernier, Dragster, 8.898, 162.96.
Super Gas -- Bill Jackson, Chevy Monza, 9.834, 149.83 def. Todd Hickey, Chevy Corvette, 9.879, 157.34.




NHRA: 10 Most Recent Entries [ top ]

Mar 21- LAS VEGAS 1 - Fact Sheet
Mar 21- LAS VEGAS 1 - Event Preview
Mar 20- Strong Stable of Contending Pro Stock Racers Vie for Final Starting Position for K&N Horsepower Challenge
Mar 20- GAINESVILLE - Special Awards
Mar 20- GAINESVILLE - Lucas Oil Drag Racing Series Wrap Up
Mar 19- GAINESVILLE - Sunday Video
Mar 18- GAINESVILLE - Pro Mod Sunday Wrap Up
Mar 18- GAINESVILLE - Sunday Wrap Up
Mar 18- GAINESVILLE - Pro Mod Championship Points
Mar 18- GAINESVILLE - Bonus Points