Sun, 4 Sep 2005, 10:09 PM



Worsham Wins $100,000 Skoal Showdown



Courtesy of NHRA Communications



Schumacher, Force, Anderson and Hines earn No. 1 Qualifying Positions



CLERMONT, Ind. --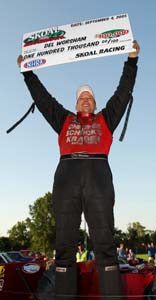 Del Worsham
Del Worsham raced to the $100,000 Skoal Showdown victory Sunday at the 51st annual Mac Tools U.S. Nationals, the world's most prestigious drag race.
In other racing, defending NHRA POWERade Series world champions Tony Schumacher, John Force, Greg Anderson and Andrew Hines earned No. 1 qualifying positions and will lead their categories into Monday's eliminations at historic Indianapolis Raceway Park.
Worsham, who had never won in his nine previous starts in the lucrative bonus event for the season's quickest Funny Cars, outran Eric Medlen in the final after beating Tony Pedregon and Robert Hight in earlier rounds.
Worsham powered his Checker Schuck's Kragen Chevy Monte Carlo to a 4.866 at 319.22 to get past Medlen's Castrol Syntec Ford Mustang, which lost traction and posted a 7.960 at 103.36. If Worsham can win tomorrow's 11 a.m. eliminations he will earn more than $225,000 for the weekend.
"I've grown up my entire life watching this race," Worsham said. "To win here in Indy is special. I remember watching Kenny Bernstein double-up here in 1983. That was huge. I never thought I'd become a Funny Car driver, let alone win this race. My dad (Chuck, crew chief) and I had been talking about winning one of these big-money specialty races one day and now we got it done. It's awesome."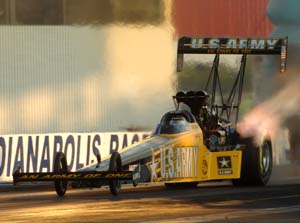 Tony Schumacher
In Top Fuel, Schumacher claimed his eighth No. 1 qualifying position of the season and 19th of his career with his track record performance of 4.459 at 329.18 in his U.S. Army dragster. Schumacher has four U.S. Nationals victories, including the last three in a row.
"Qualifying No. 1 is very important because we gained four points on Doug (Kalitta) and now we're tied for the points lead," said Schumacher of his intense season-long battle with the driver of the Mac Tools dragster. "If that doesn't show how important every point is, I don't know what does."
Force earned his first No. 1 position of the season and the 125th of his career, leading the quickest 16-car Funny Car lineup in NHRA history with a track record time of 4.726 at 326.24 in his Castrol GTX Start Up Ford Mustang.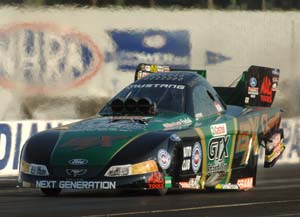 John Force
"We're still trying to figure out what went wrong (in the Showdown), but I'm happy for Worsham; I'm glad to see them win it," Force said. "We had a fast hot rod but just couldn't pull it out. I always try to look at the positives, so we are going to learn from today and get ready for the race tomorrow. Winning today would've been good, but we want to win the championship. I've said it many years before, and I've raced against (Don) Prudhomme and (Kenny) Bernstein, but this is the toughest season I've ever seen. It's going to be a tough day tomorrow but we've got three good cars and we'll give 'em a fight."
Anderson took top qualifying honors for the fourth time this season and the 37th in his career, with a track record performance of 6.689 at 205.51 in his Summit Racing Pontiac GTO. Anderson is a three-time Indy winner, including the last two years.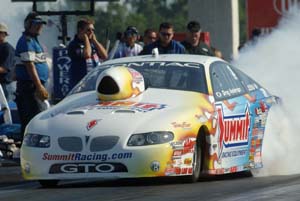 Greg Anderson
"I wanted to come up with something for Indy because this is the biggest race of the year and we've just been working, working, working and now we're peaking at the right time," Anderson said. "We've got a heck of a points battle going and you've got Indy and I'm not sure which one is more important."
Hines raced to his eighth top qualifying effort of the season and the 16th of his career with a track record performance of 7.081 at 193.85 on his Screamin' Eagle Vance & Hines Harley-Davidson.
"We stayed consistent today and that's important," Hines said. "I've got a really fast bike and I think the Screamin' Eagle Vance & Hines team is making a statement here."




NHRA: 10 Most Recent Entries [ top ]

Apr 21- HOUSTON - Sunday Schedule
Apr 21- HOUSTON - Saturday Video
Apr 21- HOUSTON - Saturday Wrap Up
Apr 21- HOUSTON - Super Stock Class Eliminations Finals
Apr 21- HOUSTON - Funny Car Qualifying, Session #4 Bonus Points
Apr 21- HOUSTON - Total Qualifying Bonus Points
Apr 21- HOUSTON - Funny Car Eliminations Ladder
Apr 21- HOUSTON - Funny Car Final Qualifying, Session #4 Order
Apr 21- HOUSTON - Top Fuel Qualifying, Session #4 Bonus Points
Apr 21- HOUSTON - Pro Stock Qualifying, Session #4 Bonus Points