Sun, 4 Sep 2005, 12:47 AM



TONGLET RACES TO VICTORY IN RINGERS GLOVES PRO BIKE BATTLE



Courtesy of NHRA Communications


Photo copyright 2005Auto Imagery, Inc.





Schumacher, Force, Anderson and Hines lead qualifying at Mac Tools U.S. Nationals



CLERMONT, Ind. --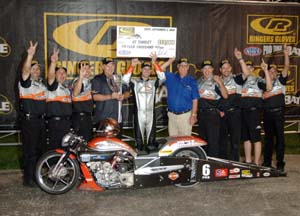 Pro Bike Battle Winner's Circle
GT Tonglet raced to victory in the Ringers Gloves Pro Bike Battle Saturday at the 51st annual Mac Tools U.S. Nationals, the world's most prestigious drag race.
Tony Schumacher, John Force, Greg Anderson and Andrew Hines - all defending NHRA POWERade world champions -- were qualifying leaders in their categories at the $2.6 million race, the 18th of 23 events in the $50 million NHRA POWERade Drag Racing Series.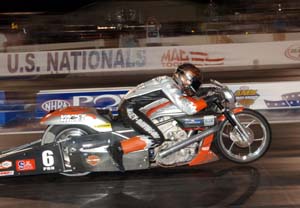 GT Tonglet
Tonglet covered Indianapolis Raceway Park's quarter-mile in 7.288 seconds at 176.60 mph on his Screamin' Eagle Vance & Hines Harley-Davidson and pocketed the $15,000 winner's share in the Ringers Gloves Pro Bike Battle by defeating Chip Ellis for his first victory in the bonus event. Ellis clocked a 7.345 at 177.04 on his G-Squared S&S Buell for the runner-up finish in the race that showcases the season's eight best Pro Stock Motorcycle riders.
"The Battle has been great for me," said Tonglet, currently second in the qualifying order with a 7.096 at 187.81. "I've run the race twice, been in the final both times and this time I got the trophy. The team is doing a great job right now. We have a great combination and our performance is showing that. I've got to thank Ringers Gloves for putting up the money. It was an awesome field and a fun race."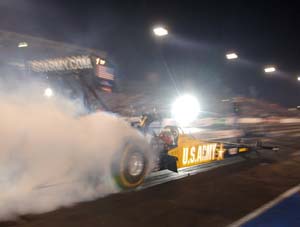 Tony Schumacher
Schumacher solidified his position as the Top Fuel qualifying leader by recording an identical performance to his leading 4.459 second effort in his U.S. Army dragster. Schumacher said his team was geared up for a quicker number after watching Doug Herbert clock a 4.463 in his Snap-on Tools dragster and Cory McClenathan post a 4.497 in his FRAM Airhog dragster.
"We wanted the 20 (bonus) points for the world record," said Schumacher, who currently holds the national performance mark at 4.441 seconds (Oct. 2003, Reading, Pa.). "We wanted to run a 4.43 but in the last 800 feet of the run the car laid over a little bit. We are in a serious race for the championship and those 20 bonus points would've been huge and even better to do it here at Indy. When I saw those other cars post some good runs, like Herbert who made an outstanding run, I was salivating. I know Alan (Johnson, crew chief) is disappointed too, because for some reason down track it lost some of its umph. You don't get a lot of chances at setting a world record, so we are disappointed. I am happy with the run, but it could've been better. It was so close, but that's what world records are. Everybody can get close, but it takes a little more to get a world record."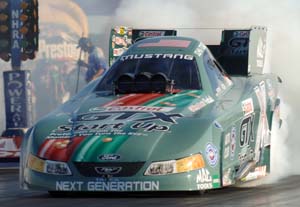 John Force
Force, the top seed for Sunday's $100,000 Skoal Showdown, moved into position to claim his first No. 1 qualifying effort of the season in Funny Car with a track record run of 4.726 at 326.24 in his Castrol GTX Start Up Ford Mustang. He moved past his rookie teammate Robert Hight (4.731, 326.00 in the Auto Club Mustang) for the top spot in the quickest 16-car field in NHRA history.
"Leading the quickest field ever is cool," said Force, who has earned 124 No. 1 qualifying positions in his career. "I haven't said this in a long time but it was really good for our guys to do this, especially here at Indy, because they've been getting sick and tired of getting their butts kicked every weekend."
Force will race Hight in the first round of tomorrow's Skoal Showdown, a race that the 13-time world champion has won a record five times, his last coming in 2000.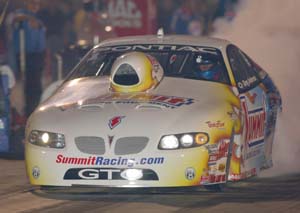 Greg Anderson
Anderson was quicker and faster in Pro Stock, posting a track record performance of 6.689 at 205.51 in his Summit Racing Pontiac GTO to remain in the No. 1 position. Anderson was the only driver to break into the 6.6-second zone.
"For some reason a lot of guys are struggling," Anderson said. "The track is absolutely awesome and the best it has been and it gets better every run. We were a lot closer today because we backed the car down a lot and it ran great. We left it alone tonight and bulls-eye, we hit it right on the money. It really made a nice looking run there. I am not going to stand here and say we could run any better than that because that run really got it all. It felt really good in the car. I am shocked that the rest of the cars aren't doing any better. It seems like they are struggling with the first 100 foot of the racetrack and throwing too much at it."
Kurt Johnson was second in the ACDelco Chevy Cobalt with a 6.728 at 205.35 and Larry Morgan put his Dodge Stratus into third with a 6.736 at 204.20.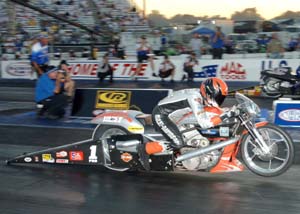 Andrew Hines
Tonglet's teammate Hines stayed at the top of the Pro Stock Motorcycle qualifying order with his track record time of 7.081 at 189.04 on his Screamin' Eagle Vance & Hines Harley-Davidson.
"That's a pretty good statement considering all three runs (this weekend) were below the track record from last year," said Hines, who has earned seven No. 1 qualifying efforts this season. "We're just going to focus on keeping the No. 1 qualifying position for the U.S. Nationals. Like I've been saying all year long, if I can qualify No. 1 here that's one more that I can check off my list. We'd like to keep these V-Rods running well and stay in the top two positions."
Just behind second place Tonglet was two-time Mac Tools U.S. Nationals winner Angelle Sampey, whose run Friday was disqualified after failing a post-run fuel inspection. Sampey rode her U.S. Army Suzuki to a performance of 7.102 at a track record speed of 192.25 mph.
Qualifying continues Sunday with sessions at 11 a.m. and 3 p.m. Skoal Showdown eliminations start at 12:30 p.m. Final eliminations are Monday at 11 a.m.




NHRA: 10 Most Recent Entries [ top ]

Mar 18- GAINESVILLE - Pro Mod Sunday Wrap Up
Mar 18- GAINESVILLE - Sunday Wrap Up
Mar 18- GAINESVILLE - Pro Mod Championship Points
Mar 18- GAINESVILLE - Bonus Points
Mar 18- GAINESVILLE - Championship Points
Mar 18- GAINESVILLE - Mickey Thompson Top Fuel Harley Series Championship Points
Mar 18- GAINESVILLE - Bonus Points
Mar 18- GAINESVILLE - Summary of Eliminations in Top Fuel
Mar 18- GAINESVILLE - Summary of Eliminations in Funny Car
Mar 18- GAINESVILLE - Summary of Eliminations in Pro Stock