Fri, 2 Sep 2005, 01:33 PM



Indiana Resident in Hunt for Championship Title after First Professional NHRA Win



Courtesy of NHRA Communications



Fourth in Tight Points Race



CLERMONT, Ind. --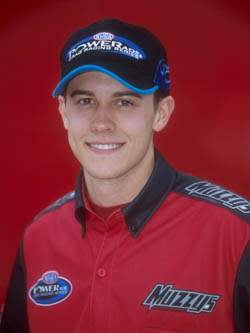 Ryan Schnitz
Ryan Schnitz, 23, describes his hometown of Decatur, Ind. as a typical American Midwestern town where locked doors and seeing strangers are rare. Everyone knows everyone, he said. Everyone in the small town of 12,000 must know Ryan Schnitz.
The former AMA/Pro Star 600 champion won his first NHRA Pro Stock Motorcycle event this year in Columbus, Ohio, atop his Muzzys.com Buell. It was the first time his 18-year-old wife Katie had been able to attend one of the full race weekends Ryan spends on the road. She's now his lucky charm, he said. He added a second win in Denver.
He'll be happy to race near his home, his wife and his son Trevor when the NHRA POWERade Drag Racing Series rolls into Indianapolis Raceway Park on Aug. 31-Sept. 5 for the 51st annual Mac Tools U.S. Nationals - the most prestigious and sought-after win on the schedule.
In this Q & A, Schnitz describes what life is like for a young professional driver - from traveling to tracks across the country while managing his own business, to handling the pressure of competing in the series' marquee event with vital point positions in the balance. He also describes his entry into the world of drag racing: from his father's garage to the hunt for a championship.
QUICK FACT: Schnitz' father Dave Schnitz owns Decatur, Ind.-based Schnitz Racing, a business that began as a favor for friends in the family garage. In 20 years it outgrew its humble beginnings and now ships products to 25 different countries. Sales are expected to top $1.8 million this year. Ryan heads his own motorcycle dyno business, Ryan Schnitz Dyno Service, while traveling to 15 NHRA POWERade events across the country. The family still lives in Decatur and his father's business is now located two miles from the original garage site. Ryan remembers the smell of the gasoline, oil and clank of the motors his father worked on.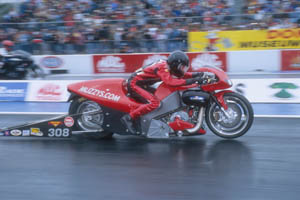 Header Goes Here
Q: Describe the Mac Tools U.S. Nationals for someone who has never seen it.
SCHNITZ: "You're going to an event that's over 50 years old now. You have tens of thousands of people going to this one square mile of a town. Everybody has their racing shirts on, their favorite drivers' hats, and they're super excited about seeing cars and dragsters going down the track, vibrating your eyes out of your head. You've got traffic on Sunday mornings backed down to the highway and they love it - writing down their favorite driver's names and numbers on their vehicles, everybody's in a good mood, everybody's ready to race. You've got great competition and tough breaks as well."
Q: How did you become involved in drag racing?
SCHNITZ: "My father (Dave) was involved since the early 1980s. He had a small little motorcycle shop in his garage and would work on friends' bikes at night. As a kid I watched him race motorcycles and kind of fell into his footsteps."
Q: What do you do when you're not at the track?
SCHNITZ: "When I'm not at the track, I'm at the shop working at Schnitz Racing as a technical advisor. I also own and operate my own Dyno shop (Ryan Schnitz Dyno Service). I'm constantly working with motorcycles in the drag racing industry, with products and doing hands-on stuff."
Q: What is the best thing about being a professional competitor?
SCHNITZ: "The best thing is just traveling the country - being able to see the things that most people won't see in their lifetime. The mountains of Oregon, the beaches in California."
Q: What has been the best moment of your career?
SCHNITZ: "My first NHRA event win (in Columbus, Ohio this year). We ran in the final against Andrew Hines, the reigning champion of the class. To win against him, to race against him in a final was pretty nerve-wracking and exciting. We were a relatively new team and it was just exciting to be in the final with all of the media attention and everything that goes with it."
Q: What is it like to be in such a tight point race?
SCHNITZ: "It's been exciting because it's been so tight, knowing every round is counting and you can't really make a mistake. We're getting everything straightened out. We're getting a fresh motor built as we speak to be competitive for Indy. It's exciting to be in the field and in the top 10 and know we still have the chance of winning that championship."
Q: What are your personal goals?
SCHNITZ: "To win a championship. It's been a long-time goal of mine ever since I watched (former Pro Stock Motorcycle competitor) Dave Schultz in the mid-1980s. He was kind of like Warren Johnson is today. I always wanted to be like that - to-the-point and very laid-back. To be a champion. Not to be a superstar. I'm a racer. My goal is to get out there and win races and show that I'm one of the best in the world."




NHRA: 10 Most Recent Entries [ top ]

Apr 24- CHARLOTTE 1 - Steve Torrence Enjoying Four-Wide Success Heading to NGK Spark Plugs NHRA Four-Wide Nationals
Apr 24- CHARLOTTE 1 - Fact Sheet
Apr 24- Kalitta Motorsports Welcomes NASCAR Stars to the SealMaster Track Walk in Charlotte
Apr 24- zMAX Dragway Celebrates 10th Anniversary
Apr 24- CHARLOTTE 1 - NGK Spark Plugs NHRA Four-Wide Nationals Brings 40,000 Horsepower Thrill Show to zMAX Dragway
Apr 23- HOUSTON - Lucas Oil Drag Racing Series Wrap Up The NHRA Lucas Oil Drag Racing Series Wrap Up
Apr 23- CHARLOTTE 1 - J.R. Todd Aiming for Two Four-Wide Racing Wins in 2018
Apr 23- Mid America Dragway Joins NHRA Member Track Network
Apr 23- HOUSTON - Special Awards
Apr 23- HOUSTON - Sunday Video