Thu, 1 Sep 2005, 12:09 PM



I'm Not Going To Indy. My Car Might, But Not Me!



By Bob Frey


Photo copyright 2005 Auto Imagery, Inc.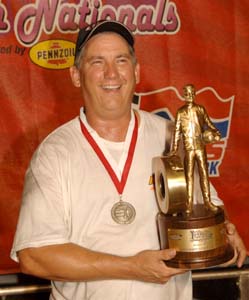 Rodger Brogdon
It's no secret that every racer in the country would like to participate at the upcoming Mac Tools U.S. Nationals. After all, this is the biggest race of them all, the most prestigious race in the country, the one that every racer wants to win. Every racer, that is, except Rodger Brogdon. "I've got one national event left to claim and I don't think going to Indy would be a wise decision at this point," Rodger told me. And you know what, I have to agree with him. With the lead in the national points standings in Competition Eliminator, Rodger is in a great position to add a national championship to his current Division 4 title. But, and it's a big but, with only one national event remaining to claim, he has to be very selective and very smart about where he chooses to go and Indy, with its sixty four car field, is not a place that a guy wants to go if it's his last race to claim. "I'd love to be there and win Indy but it doesn't make a lot of sense to do that if you only have one national event left to claim for the points. Now my car may be there with 'Lump' (Brian Self) driving, but I won't be racing," Rodger said. He also said that if that happens it will be the first time that he has ever watched someone else drive his car. "In all the years that I've raced I have never gone to the track and had someone else drive my car. I'm not sure how I would feel about that."
While Rodger Brogdon has had a lot of success lately it's not like he is a new racer. In fact, if you check the records you'll see that he won divisional races in Tulsa and Las Vegas back in 1988 and '89 in Super Stock. At the Vegas race he drove a classic 1966 Chevrolet Nova while in '89 he upgraded to a Pontiac Trans Am that ran in SS/L. At the Tulsa race he beat Crawford Benham in the finals and today, Crawford's son, Scott, works for Rodger. "I ran some pretty good cars back then and did well at a couple of divisional races, but then I told my wife that I'd build her a new house and stop racing until that was done and until my business was really going well." That business, Roof-Tec, is now going very well and Rodger does roofing on a lot of the new homes that are built in and around the Houston area. "It's a great place to be in the building business right now and we're doing a lot of work for the major builders around here," Rodger said. One of those builders is also involved in drag racing. "We do all of the work for David Powers. We're his exclusive roofing company." Mr Powers, who happens to own the top fuel car that won in Memphis while Rodger was winning in Competition Eliminator, told me why he uses Rodger's company exclusively. "We were getting ready to come to Memphis and I had a customer call me with a question about their roof so I called Rodger and thirty minutes after I placed the call his men were on the roof checking out the situation. That's the kind of service that he provides and that's why we use him," David said. It's also the kind of attention to detail that makes Rodger so successful in his racing venture. "We approach our racing like we do the business," he said. "We don't like to make any mistakes and if we do then we try to learn from them and not repeat them." Rodger hasn't made many racing mistakes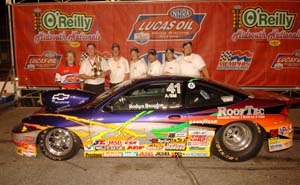 Brogdon celebrates win.
this year although there have been a couple. "We went to the Phoenix points race and then to the one in Tucson and they didn't work out real well. I fouled out in the second round at Phoenix and we broke a motor in Tucson and didn't even make it to eliminations and that cost us a race." Other than those few miscues the 2005 season has been pretty good for Rodger and it includes the first national event win of his career in Phoenix. "That was awesome. I had that trophy on my mantle and it was all alone until this weekend. Now I've got a matching set." Throw in the divisional "Wally's" that he has earned this year and the forty four year old driver is starting to amass a pretty good collection of trophies. But he still has his sights set on the big one, the Lucas Oil National Championship. "We moved around Tony Stephenson this weekend and we'd like to stay there for the rest of the year, but you have to be careful about where you race and that's why I'm not going to Indy," he said.
The car that Rodger is driving this year is a 2004 Cavalier and it is one of the beautiful creations of Vic Custer at East Texas Race Cars. "I only had it for a couple of weeks and guys were already calling me and asking if I'd sell it. It's a nice piece and we take a lot of pride in it." Rightfully so, because the car is a real show piece and that's a credit to Rodger and his team. "Pete Smallwood and Scott Benham get all the credit because they do all of the work on the car. At the end of last year we took all the decals off of it, re-painted it and updated everything on it. That's the way I like to keep my cars." Rodger is quick to credit his crew for giving him a very competitive car. "I just keep track of how much money we're spending and then I get in and drive it." And Rodger admits to spending a lot of money on the car. "We have several motors of different sizes, lots of transmissions and gears and we could actually put the car into about ten or twelve different classes. In Comp, with the indexes constantly getting adjusted, you have to be able to diversify and that's what we're prepared to do." Case in point, at the start of the season when he won the national event, Rodger ran in the A/SMA class and in Memphis the car was an A/SM entry. "You've got to do whatever it takes to win," he said. "We changed over right after the Shreveport points race and then we went out and won two divisional races back to back."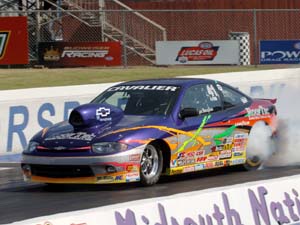 With one national and one divisional race still to claim, Rodger says that he will be replacing a "41 and a 52" (second and third round loss) and that's the same thing that Tony Stephenson, the number two guy in the points has to replace, and because of that it's very important to pick races where you have the best chance to win, hence the boycott of the Indy race. "I'll keep an eye on the other guys and then determine where I'm going. I saw that Tony was entered at Cecil County this week and we thought about going up there. That would have been fun." Where ever he finally decides to go one thing is certain, Rodger Brogdon will be among the favorites to win it all. "The worst thing that happened to me this year was winning two of the first three races that I entered because that made me chase the points," he said tongue in cheek. "But I have a good team and a great car and this is as close as I've been to the championship so I want to take my best shot." He is also quick to point out how tough it is running in Division 4. "I know a lot of folks talk about how tough certain places are but if you look at it realistically Division 4 probably has the best Comp racers in the country." In addition to his crew Rodger is also quick to thank his wife of twenty two years, Cherie, for her support, and if he happens to win it all this year, Rodger admits that he has looked at a future in the Pro Stock class. "For now, though, I'm just thinking about what we have to do and I'll think about next year after this is all over." It may not be all over until after his acceptance speech at the Lucas Oil awards ceremony later this year and if that's the way it ends it will be the climax to a very good, very long career for a very dedicated racer.




NHRA: 10 Most Recent Entries [ top ]

Apr 24- CHARLOTTE 1 - Steve Torrence Enjoying Four-Wide Success Heading to NGK Spark Plugs NHRA Four-Wide Nationals
Apr 24- CHARLOTTE 1 - Fact Sheet
Apr 24- Kalitta Motorsports Welcomes NASCAR Stars to the SealMaster Track Walk in Charlotte
Apr 24- zMAX Dragway Celebrates 10th Anniversary
Apr 24- CHARLOTTE 1 - NGK Spark Plugs NHRA Four-Wide Nationals Brings 40,000 Horsepower Thrill Show to zMAX Dragway
Apr 23- HOUSTON - Lucas Oil Drag Racing Series Wrap Up The NHRA Lucas Oil Drag Racing Series Wrap Up
Apr 23- CHARLOTTE 1 - J.R. Todd Aiming for Two Four-Wide Racing Wins in 2018
Apr 23- Mid America Dragway Joins NHRA Member Track Network
Apr 23- HOUSTON - Special Awards
Apr 23- HOUSTON - Sunday Video