Tue, 19 Jun 2012, 08:30 AM



Whiteley Wins 5th in a Row and Williams Back On Top



Courtesy of NHRA Field Marketing



MORRISON, Colo. -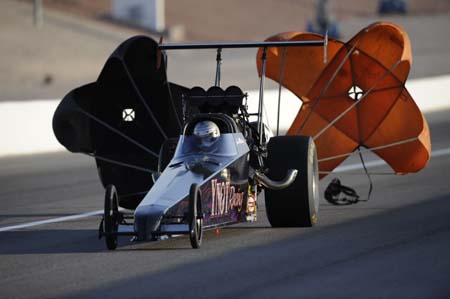 Jim Whiteley
Jim Whiteley won Top Alcohol Dragster for the fifth year in a row at the Western Regional Grease Monkey Thunder on the Mountain event at Bandimere Speedway, and former Division 5 champion Kirk Williams overcame quicker cars with unerring consistency to score in Top Alcohol Funny Car.
With his fourth win in his last five outings, Whiteley has tied early season points leader Chris Demke atop the national Top Alcohol Dragster standings - and he's done it in two fewer starts. The Grand Junction, Colo., driver dominated this one from start to finish, qualifying No. 1 with a 5.47 and running more than a tenth quicker on his slowest run all weekend than any other driver did on his best.
"I tried to make sure I saw a little more of the bulb than usual before I left," said Whiteley, whose only loss in the last five races came on a -.001 red-light in the Topeka semi's. "It's actually kind of hard to slow yourself down just a little bit on the Tree without slowing down a lot. We've had a decent advantage on the field a time or two over the years, especially here, but never this much."
Whiteley qualified No. 1 with a 5.47 - two-tenths ahead of eventual runner-up Edwin Schmeeckle's 5.67. He cruised through eliminations with a 5.52 on his first-round single, a 5.54 against Greg Hunter, who went off the end of the track in the semifinals, and a 5.56 in the final against Edwin Schmeeckle, who did his job with a .051 reaction time but fell back with a 5.77.
"I just tried to not let anything get to me and not do anything wrong," said Whiteley, who also beat Schmeeckle in the final round of this event in 2008 and 2009, the years he finished second in the national standings. "You're not going to have a tenth on the field like this very often, so when you do, you can't afford to let it get away from you."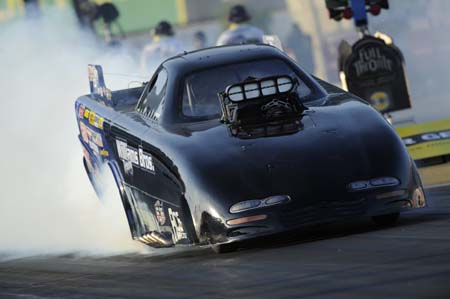 Kirk Williams
Williams, who dominated Division 5 in 2010, winning five events for a perfect season, qualified No. 3 this time with a 5.89 - well behind Las Vegas regional winner Annie Whiteley's 5.74 and national points leader Tony Bartone's 5.76. "It really knocks the wind out of your sails when you see people running that much better than you are," Williams said, "but this just goes to show that consistency outweighs everything. You won't always win with consistency, but you can win a lot. The track just couldn't take those 5.70 runs, and eventually, it came to us."
Williams struggled with the conditions just like everyone else at the mile-high facility, where the corrected altitude was just short of 10,000 feet, but his team, led by brother Chris Williams and Justin Jacobsen, made three runs within a hundredth of a second of one another in eliminations, a 5.90, 5.91, and 5.91 - all at 242 mph. Williams took out veteran Lance Van Hauen in the opening round with a 5.90 and ran a 5.91 in the semifinals against Mike Bell, who was making his first start in 15-time Division 5 champion Vern Moats' car.
"It smoked the tires on that one, and I don't mean 'hazed' the tires; I mean smoke was pouring off them at about 60 feet," Williams said. "I don't know why, but it cleared up, and the car took off. I still can't believe it made it."
The final against Gainesville regional winner Kris Hool, who also was running steady 5.90s, ended early when Hool red-lighted with a -.042 reaction time. "I saw his car when the yellows came down and thought, 'Man, I just got Tree'd,' but then I saw my win-light on at the top end and knew he red-lighted," Williams said. "There was a pretty good crowd on hand, and I wanted to give them a good show, so I stayed in it."
Multi-event winner Clint Neff added another win to his resume taking out Will Hatcheer in the final of Comp Eliminator. Neff, Westminster, Colo., ran 8.386 at 155.85 mph in his '27 roadster.
Defending event champion Shawn Kennedy made it two in a row on the Mountain taking the win in the Jerry Haas Race Cars Top Sportsman series out of Highlands Ranch, Colo., in his '49 Plymouth. Kennedy clocked in at 8.170 seconds, 151.97 mph to oust Daniel McKune of Lakewood, Colo., and his '63 Corvette.
Super Stock winner Marlin Bogner used a stellar reaction time of .005 seconds for the win as did Monte Pennetta in Super Comp. Bogner, Kearney, Neb., went 10.049 in his '68 Barracuda to beat Justin Jenkins. Pennetta, Centennial, Colo., was .002 off the tree with a 9.525 run to win over local favorite Lindsey Cramsey, Morrison, Colo., at 9.519.
Carson Pedigo recorded a .009 second package in his '70 Chevelle to knock out another local racer in Scott Burton, Golden, Colo., and his '70 Formula while Gene Baldwin, took the trophy in Super Gas over Trevor Larson.
Rounding out this weekend's winners at Bandimere Speedway were Johnny Bates in the Fineline Madcap Top Dragster class over John Lobner; Darryl Bostwick, Littleton, Colo., defeating Greg Strausheim, also of Littleton, in Super Street; and Kyle Olson beating Mike Voss in the Sportsman Motorcycle class presented by Harley Davidson.
West Central Division racers return here to Bandimere Speedway, July 20-22 for the Mopar Mile-High NHRA Nationals.
The following are the final results from the NHRA Lucas Oil Drag Racing Series Grease Monkey Thunder on the Mountain event at Bandimere Speedway:

TOP ALCOHOL DRAGSTER: 
Round 1
4) Greg Hunter, Sheridan, Wyo., 5.780, 248.98 def. 3) Dean Dubbin, Royalton, Minn., 6.032, 231.44
2) Edwin Schmeeckle, Gothenburg, Neb., 5.694, 252.28 def. 5) Christine Chambless, Scott City, Kan.,
7.345, 179.61
1) Jim Whiteley, Grand Junction, Colo., 5.526, 258.91 was unopposed

Semifinals
Whiteley, 5.540, 261.17 def. Hunter, foul
Schmeeckle, broke was unopposed

Final
Whiteley, 5.566, 261.12 def. Schmeeckle, 5.776, 249.49

TOP ALCOHOL FUNNY CAR: 
Round 1
3) Kirk Williams, Glenwood, Iowa, '04 Camaro, 5.905, 242.23 def. 6) Lance Van Hauen, Reinbeck,
Iowa, '12 Camaro, broke
7) Mike Bell, Fulton, Mo., '10 Mustang, 5.954, 242.10 def. 2) Tony Bartone, Long Island City, N.Y.,
'09 Mustang, 5.995, 244.03
1) Annie Whiteley, Grand Junction, Colo., '10 Mustang, 5.769, 247.57 def. 8) Steve Griboski,
Aurora, Colo., '04 Firebird, 6.165, 224.47
4) Kris Hool, Casper, Wyo., '06 Monte Carlo, 5.916, 241.32 def. 5) Scott McVey, Winnipeg, Manit.,
'06 Monte Carlo, 6.007, 238.76

SEMI-FINALS
Williams, 5.915, 242.89 def. Bell, 6.087, 234.66
Hool, 5.957, 242.02 def. Whiteley, 6.115, 237.25

Final
Williams, 5.915, 242.19 def. Hool, foul

COMP ELIMINATOR
Clint Neff, Westminster, Colo., '27  roadster, K/A, 8.386, 155.85  def. Will Hatcher, Satanta,
Kan., dragster, B/DA, 7.286, 186.61.

SUPER STOCK
Marlin Bogner, Kearney, Neb., '68 Barracuda, SS/AS, 10.049, 127.96  def. Justin Jenkins, Beatrice,
Neb., '10 Cobalt, GT/CA, 10.574,
124.45.

STOCK ELIMINATOR
Carson Pedigo, Andover, Kan., '70 Chevelle, C/SA, 11.411, 113.91  def. Scott Burton, Golden, Colo.,
'70 Formula, B/SA, 11.321,
110.72.

SUPER COMP
Monte Pennetta, Centennial, Colo., dragster, 9.525, 157.39  def. Lindsey Cramsey, Morrison, Colo.,
dragster, 9.519, 142.48.

SUPER GAS
Gene Baldwin, Ft. Lupton, Colo., '75 Monza, 10.517, 133.88  def. Trevor Larson, Starbuck, Minn.,
'08 Corvette, 10.537, 146.62.

SUPER STREET
Darryl Bostwick, Littleton, Colo., '80 Mustang, 11.815, 135.14  def. Greg Strausheim, Littleton,
Colo., '86 Thunderbird, foul.

TOP DRAGSTER
Johnny Bates, Ft. Lupton, Colo., dragster, 7.464, 179.78  def. John Lobner, Desoto, Kan., dragster,
7.419, 178.19.

TOP SPORTSMAN
Shawn Kennedy, Highlands Ranch, Colo., '49 Plymouth, 8.170, 151.97  def. Daniel McKune, Lakewood,
Colo., '63 Corvette, 7.766,
178.59.

SPORTSMAN MOTORCYCLE
Kyle Olson, Moorland, Iowa, '12 Hayabusa, 9.673, 131.81  def. Mike Voss, Maplewood, Minn., '10
Kawasaki, 9.953, 126.15.

SUPER COMP SHOOTOUT
Jeremy Demers, Carroll, Iowa, dragster, 9.503, 172.96  def. Michael Miller, Santa Fe, N.M.,
dragster, 9.526, 167.43.

SUPER GAS SHOOTOUT
Tyler Banks, Sugar Creek, Mo., '57 Chevy, 10.554, 152.69  def. Brett Schneider, Littleton, Colo.,
'63 Corvette, foul.

SUPER STREET SHOOTOUT
John Dexter, Centennial, Colo., '68 Camaro, 11.492, 135.76  def. Rick Freeman, Lakewood, Colo., '67
Camaro, 11.449, 101.75.



Copyright ©2013 AUTOSALES INC, dba Summit Racing Equipment
Ready to take your order at 1-800-230-3030 | Customer Service 1-800-517-1035