Thu, 2 Dec 2004, 12:09 PM



An Awesome Weekend Filled with Power and Excitement



Courtesy of Moroso Motorsports Park


Photo copyright 2004 BME Photography.com





WEST PALM BEACH, Fla. --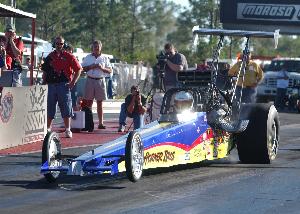 Bruce Horner
Screaming into full gear, the Murrayís Mountain Dew Citrus Nationals, presented by Millerís Ale House Restaurants, Roger Dean Chevrolet and the Gater 98.7fm, entertained a record-breaking crowd on November 27-28th. Top Alcohol Dragsters and 6-second Pro Mods highlighted the event with 200+mph runs. Jet Funny Cars, Jet Dragsters, the Original Jet Truck and Kenny Nelsonís ďCool Busí Wheelstander thrilled the audience. NHRA and ET racing classes included Super Gas, Super Street, Super Comp, Super Pro, Pro, Pro Bike, Street Bike, Quick 16 and Jr. Dragsters. It was a tremendous end to a South Florida Thanksgiving weekend.
On Saturday night Mike Gunderson of Middleburg, FL, turned in runs that set a new Top Alcohol Dragster record at Morosoís drag strip. Gunderson went out in first round after he smoked the tires with the Low ET and Top Speed of the event. As the #1 qualifier and new-record holder, Gunderson ran an ET of 5.219 and had a top speed of 274.22mph. Top Alcohol Dragsters turned an impressive performance with the win going to Bruce Horner of Bergenfield, NJ, with a 5.774 @ 248 mph. Last yearís Winner of the TAD class returned to take Runner-Up. Bill Evans, Jr., from Miramar, had a great pass but was taken at the tree with a .054 light to Hornerís .034.
Pro Mods were a returning class this year with a $5,000 winnerís check going to Dale Brinsfield from Sophia, NC. Brinsfield is a driver for former Pro Stock Champion, Roy Hill, of Roy Hillís Drag Racing School. Dale was able to defeat former World Champion Pat Musi, of Carteret, NJ, with a run of 6.277 at 229.82mph compared to Musiís 7.292 @ 134.87mph.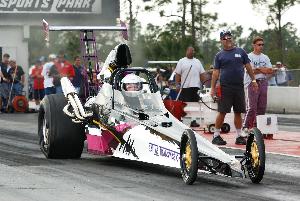 Bill Empke
The winner of Quick 16 2004 Series, with an overall total of 246 points, is returning Champion Bill Empke of West Palm Beach, FL. Empke is the owner of Atlas Transmissions, located in Lake Worth for 26 years, and has been racing at Moroso since 1981. After running everything from Super Pro to Pro Mod, Bill finds that the Quick 16 class is the one that best suits him and finds support from his wife Marie and three children. Although Empke won the Championship, Frank Altilio, of Ocoee, took the win with a winning pass of 7.340 at 179.21 mph. Altilio defeated local racer, Bruce Liberman after he failed to hit his target dial-in by 0.166 against Frank Atilioís .010 difference. The Quick 16 class is made up of the fastest 16 qualified vehicles, including Doorcars, Dragsters and Bikes. The Auto Craft Collision Quick 16 Series returns for 2005
The Best Appearing Crew award went to Super Comp driver, Johnny Hollis of Miami, while the Best Appearing Car award was given to Frank Taglieri, of Coral Springs for his 1971 Corvette named Wild Cherry. Year after year, the Murrayís Mountain Dew Citrus Nationals is one of the biggest events of the year and we canít wait to do it again in 2005.

The race results are as follows:

Top Alcohol Dragster            ET      MPH             DI      RT
Wn:  Bruce Horner/Bergenfield, NJ      5.774   248.00                  .030
RU:  Bill Evans, Jr/Miramar            5.760   246.57                  .054

Pro Mod
Wn:  Dale Brinsfield/Sophia, NC        6.277   229.82                  .085
RU:  Pat Musi/Carteret, NJ             7.292   134.87                  .008

Super Comp 
Wn:  Gary Byrd/Pembroke Pines          8.896   176.19          8.90    .021
RU:  Tim LaBarr/Bradenton              8.892   163.57          8.90    .010

Super Gas
Wn:  Ryan Little/Ft/ Lauderdale        9.911   148.09          9.90    .018
RU:  Steve Hunt/Englewood              9.827   143.28          9.90    .024

Super Street 
Wn:  Michael Ruff/Orlando             10.921  127.10          10.90   .017
RU:  Jeff Blardinelli/Vero Beach      10.883  138.14          10.90   .013

Super Pro 
Wn:  Edwin Oliver/Miami                8.892   150.35          8.92    .015
RU:  Kenny Anderson/Lake Worth         8.577   153.97          8.62    .011

Pro 
Wn:  Bill Vanderwerf/Jupiter          11.536  115.28          11.58   .032
RU:  Dwight Mullings/Lake Worth       13.094  70.62           11.00   -.017

Pro Bike
Wn:  Ralph Medrano, Jr/Miami           8.278   158.84          8.23    .014
RU:  Claude DeBonis/Ft. Lauderdale     9.291   137.34          9.23    .032

Street Bike 
Wn:  Randy Stager/Davie               10.647  132.48          10.61   -.070
RU:  Randy Mackail/Jupiter            17.657  52.17           10.93   -.095

Quick 16
Wn:  Frank Altilio/Ocoee               7.340   179.21          7.33    .178
RU:  Bruce Liberman/West Palm Beach    7.666   172.14          7.50    .025

Jr. Dragsters  
Wn:  Dale Schwier/Stuart               8.081   82.59           7.95    .111
RU:  Brandon Cullotto/Palm City        9.100   69.90           9.14    .008





Drag News: 10 Most Recent Entries [ top ]

Feb 22- ANDRA Top Alcohol Champ John Cannuli Looking at Back-To-Back Championships
Feb 22- Frank Mamone is Back
Feb 22- Drag Illustrated to Hold $100,000-to-Win World Series of Pro Mod
Feb 17- Speedgroup Announces Title Sponsorship- EDRS European Drag Racing Series Becomes Summit Racing EDRS Series
Feb 08- 2016 TNT Super Series Champion- Jim Thomson
Feb 08- Dave Gunn- 2016 TNT Super Series Second Place
Feb 08- Harry Phelps- 2016 TNT Super Series Third Place
Feb 08- David Surmatchewski- 2016 TNT Super Series Fourth Place
Feb 08- JJ Jablonski- Jason Vitez- 2016 TNT Super Series Fifth Place
Feb 08- Carl's 4-Wheel Drive & Performance Center Named Presenting Sponsor of 2017 Gateway E.T.