Fri, 13 Sep 2013, 12:35 PM



Shawn Bowen Wins DRO AA/FC Challenge at U.S. 131



Courtesy of Jeff Burk



Leads Points Going into Final this Weekend at Tulsa



MARTIN, Mich. --
Michigander Shawn Bowen, driving his family's "Violator" Firebird AA/FC, won the Mickey Thompson Tires DragRacingOnline.com AA/FC Challenge during the 9th Annual Funny Car Nationals held Sept. 6-7 at U.S. 131 Motorsports Park in Martin, Mich.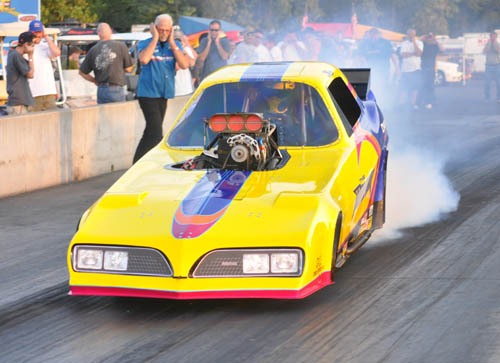 Shawn Bown in the "Violator" Firebird AA Funny Car.
It was Bowen's second win of the 2013 season and third final round appearance since he won the 2012 DRO AA/FC Challenge finale at Tulsa Raceway Park. At U.S. 131 Bowen defeated Chicago racer Marc White driving Jeff Wilson's "Flashback" Pontiac Trans Am in the final round.
Defending champion John Hale drove his Guy Tipton-tuned '69 Camaro bodied AA/FC to a new National speed record at Martin. He ran back to back laps of 5.73/261.14 and 5.61/259.03 during Friday night qualifying. The fastest speed ever for these cars belongs to Jason Rupert, who ran over 262 mph at Phoenix's Firebird Raceway but didn't back up the speed within the required 1% at the same meet.
The win increased Bowen's championship points total to 425.5 and he leads his closest rival, Texan Ronny Young in Raymond Beadle's "Blue Max" Plymouth Arrow by a mere 40.5 points going into the last race of the season Sept. 13-14 at Osage Casino Tulsa Raceway Park in Tulsa, Okla.
In addition to Bowen, Hale, White and Young, there is one other team who has a mathematical chance to win the 2013 DRO AA/FC Challenge National Championship: Brian Stewart in the "Bear Town Shaker."




Drag News: 10 Most Recent Entries [ top ]

Feb 22- ANDRA Top Alcohol Champ John Cannuli Looking at Back-To-Back Championships
Feb 22- Frank Mamone is Back
Feb 22- Drag Illustrated to Hold $100,000-to-Win World Series of Pro Mod
Feb 17- Speedgroup Announces Title Sponsorship- EDRS European Drag Racing Series Becomes Summit Racing EDRS Series
Feb 08- 2016 TNT Super Series Champion- Jim Thomson
Feb 08- Dave Gunn- 2016 TNT Super Series Second Place
Feb 08- Harry Phelps- 2016 TNT Super Series Third Place
Feb 08- David Surmatchewski- 2016 TNT Super Series Fourth Place
Feb 08- JJ Jablonski- Jason Vitez- 2016 TNT Super Series Fifth Place
Feb 08- Carl's 4-Wheel Drive & Performance Center Named Presenting Sponsor of 2017 Gateway E.T.