Fri, 16 Aug 2013, 21:06 PM



David Lowe is Victorious in Day 1 at The Mini-Million



Courtesy of John DiBartolomeo



GREENSBORO, N.C. --
For the past 17 years, the C.A.R.S. Protection Plus Million Dollar Drag Race has remained as the highest paying drag race in the world regardless of the class of cars. Held in October in Montgomery, Alabama, it has changed the life of the 17 past winners and will remain to do so long into the future.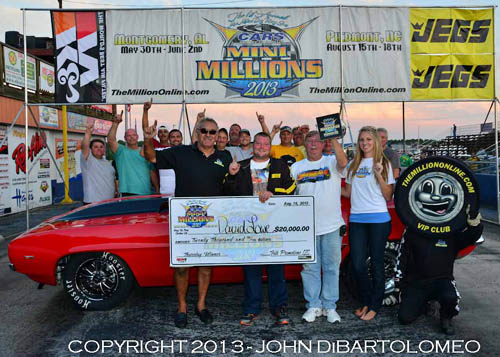 David Lowe celebrates Day 1 win.
For 2013, Folk Promotions, the promoter of the race, announced the addition of two Mini-Million events. Jennifer Folk of Folk Promotions, said, "With its high entry fee, The C.A.R.S. Protection Plus Million isn't for everyone, even though last year we had over 450 cars at the event. But the Mini-Millions will give more people an opportunity to race for some big money."
The first event held in May was at Montgomery Motorsports Park and drew a good crowd of racers. The second Mini-Million was contested at Piedmont Dragway in North Carolina and played to another packed house.
The concept of the weekend starts with two $20,000 to win races followed by a third on Sunday. The Mini-Million race itself is contested on Saturday. As has been the norm for most high dollar bracket races these days, door cars run door cars and dragsters run dragsters until later rounds.
Thursday's Day 1race began under sunny and Chamber of Commerce weather. Down to eight cars for round six of racing, found Anthony Bertozzi getting the best of Jason Rich. Stephen McCrory beat Phil Pennington, while David Lowe got he bet of Travis Harvey. The remaining pair pittedBill Lewis and Terry Fulk with Lewis moving on to the semifinals.
In the round of four, McCrory outlasted Bertozzi, while the lone door car of David Lowe outlasted Lewis.
Appearing in his first high dollar final round, Lowe, who recorded a perfect run in the second round, was not to be denied using a .010 reaction time coupled with a 6.342 on a 6.34 dial-in. McCrory meanwhile was no slouch either as he recorded a .007 reaction time but took just a wee bit too much finish line stripe and ran under his dial by .005.
Lowe said, "We just put this motor in the car and I guess it's working pretty good."
Worried that he was the fighting the fight against dragsters, he said, "Door cars or dragsters, it's just about running the number.




Drag News: 10 Most Recent Entries [ top ]

Feb 22- ANDRA Top Alcohol Champ John Cannuli Looking at Back-To-Back Championships
Feb 22- Frank Mamone is Back
Feb 22- Drag Illustrated to Hold $100,000-to-Win World Series of Pro Mod
Feb 17- Speedgroup Announces Title Sponsorship- EDRS European Drag Racing Series Becomes Summit Racing EDRS Series
Feb 08- 2016 TNT Super Series Champion- Jim Thomson
Feb 08- Dave Gunn- 2016 TNT Super Series Second Place
Feb 08- Harry Phelps- 2016 TNT Super Series Third Place
Feb 08- David Surmatchewski- 2016 TNT Super Series Fourth Place
Feb 08- JJ Jablonski- Jason Vitez- 2016 TNT Super Series Fifth Place
Feb 08- Carl's 4-Wheel Drive & Performance Center Named Presenting Sponsor of 2017 Gateway E.T.