Tue, 23 Jul 2013, 21:14 PM

Happy 800th!

By Bob Frey


Photo copyright 2013 Auto Imagery, Inc.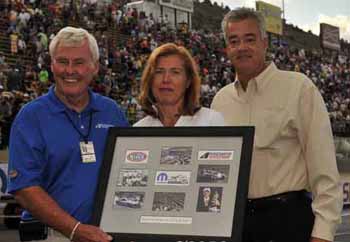 John Bandimere Jr. and Tom Compton made a special presentation
to Mopar's Tricia Hecker to thank
Mopar for 25 years of sponsorship of the Mile High Nationals
Did you know that the Sonoma race this weekend will be the 800th national event in NHRA history? Well it will, and I'll have more on that in a minute, but first let's wrap up another exciting event on the mountain..One thing that has to be mentioned is the great support from everyone at Mopar. This was the 25th consecutive year for the Mopar sponsorship of this great race (and maybe that's why it's a great event) and it says a lot about the Bandimere family that owns and operates the race track. Everyone who attends the race will tell you that it is one of the best on tour regardless of the fact that you don't see record-breaking times or speeds (at least not sea level numbers). What you do see is great competition and a track that is run like a Disney operation, and that's high praise. From the way they prepare the facility, to the way they keep it clean during the event, to the great Mopar displays on the manufacturer's midway and the celebrities that attend the event, the Mopar Mile High Nationals is a "must see" event for any drag racing fan. And I didn't even mention the Mopar Big Block Event, a one-day Mopar extravaganza that converts the town of Golden into a giant display for all things Mopar. Yes, this is a wonderful event and here's a big tip of the hat to everyone involved. And you know who really enjoyed the weekend more than the fans, of course it was Spencer Massey, Cruz Pedregon, Allen Johnson and Shawn Gann who took home the trophies and the cash at the end of the weekend.
Allen Johnson celebrates fifth win on the Moutain.
I hate to say I told you so, but I believe I told you to pick a Dodge, or more specifically Allen Johnson's Dodge in the Pro Stock class, after all he owns the mountain, figuratively speaking. His latest win was his fifth win in the last seven races at Bandimere Speedway, and for the second consecutive year his final round opponent was Colorado's own V. Gaines. Talk about your home court advantage!...Allen had about as good a weekend as one could hope for when he qualified number one, earned the bye run in round one (due to the short field) and then beat Mike Edwards and Shane Gray before stopping V. in the money round. Did you know that this was the first time since Lee Shepherd beat Bob Glidden in back-to-back finals in 1981 and 1982 that the same Pro Stock driver beat the same opponent in consecutive years at Bandimere? And did you know that this was the twelfth time in Bandimere history that the top two qualifiers faced off in the final round of Pro Stock?....Matt Hartford had a tough weekend when he banged his Total Seal Dodge off the wall in his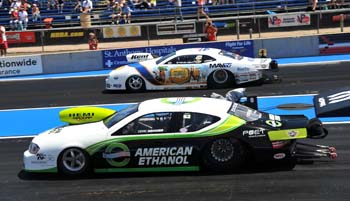 Deric Kramer lost to Steve Kent
in round one.
first round match with
Rickie Jones
making this the second straight year that a Pro Stock car has crashed at the Mile High event. Last year it was
Paul Pittman
and it just goes to show how tough these cars are to drive, especially in the thin air at Bandimere Speedway.With his win, including that second round win over Mike Edwards, AJ is now seventy-nine points behind Mike for the top spot in the "Countdown."..One thing that did surprise me in Pro Stock was the fact that
Deric Kramer
lost in round one. Now I'm not taking anything away from
Steve Kent
who beat him, but Deric, like Mr. Gaines, is a
Colorado
native and he had that home court advantage that I mentioned, or at least he should have. He qualified an impressive fifth in the field with a 6.982 and then slowed (like everyone) on Sunday to a 7.047 in the loss to Steve. I wrote a story a while back about Deric and his dad and how much progress they have made and I hope they stick with it because we need more new, young teams in the Pro Stock class.
Did you know
that Deric's father,
Dave
, won the Mile High Nationals in Competition Eliminator in 2002 in an A/ED?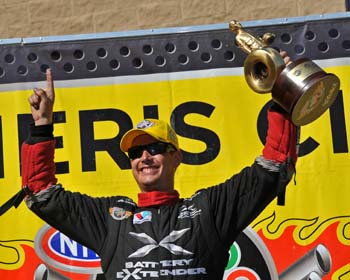 Spencer Massey celebrates his second win on the Mountain
Spencer Massey grabbed the Top Fuel title when he stopped Bob Vandergriff in the final round. Spencer, who has come so close to winning the championship before, has to be considered one of the favorites to win it all this year. Based on what we have seen so far this year the Battery Extender car from Team Schumacher is as good as any car in the class and better than most. With the win Don Schumacher's dragster drivers have now won eight of the first fourteen races this year and they have been runner-up on three other occasions. As I have said before, that is one tough, or make it three tough Top Fuel cars that Don has. Spencer had a tough job on Sunday since he started from the number nine spot, which meant that if he won his first round race he would, normally, meet the top qualifier in round two, but his chore became a little easier when Mike Strasburg stunned the top qualifier, Steve Torrence in the opening round. Did you know that this was the seventh time in thirty-four years at Bandimere that the top qualifier in Top Fuel has been upset in round one? It might not make him feel any better about the loss but Steve is in some pretty good company since other top qualifiers to lose include Gary Beck, Gary Ormsby and Gary Scelzi. But even with that as a background the number nine qualifier in Top Fuel had never won a race on the mountain until this year.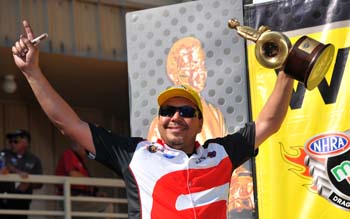 Cruz Pedregon celebrates his second win on Mountian.
Even with all of the crew and car changes in the Team Force camp it was Cruz Pedregon who went the distance and won the race in the Funny Car class. Like Allen in Pro Stock, Cruz went wire-to-wire to win and he did everything except set top speed. In short, it was a pretty convincing win for Cruz and his Snap-On Tools Toyota. Cruz became the eleventh Funny Car driver to win from the top spot at the Mile High Nationals as he picked up the thirty-third win of his career and his third in 2013. Make no mistake about it, with all the firepower in the Team Force and Team Schumacher camps, Cruz is as good as any of them and he will be in title contention right until the end...Cruz runs as an independent and that would appear to put him at a disadvantage, although it looks like Cruz doesn't know that. Did you know that when Cruz faced Bob Tasca in the final round it was just the fourth time in the last eighty-four national events that there wasn't a driver from Team Force or Team Schumacher in the Funny Car final round? And did you know that each of the other three races in that group included either Cruz or Bob?...I mentioned that the fans won't see any national records at Bandimere but they did see the track records get obliterated, especially in Funny Car. Did you know that nine of the ten fastest runs in track history were recorded this past weekend?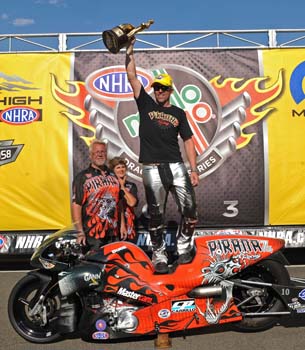 Shawn Gann celebrates his first win since
he won the Mile-High Nationals in 2004.
One of the biggest, no, make that THE biggest surprise of the weekend in Denver was the win by Shawn Gann in the Pro Stock Motorcycle class. This was Shawn's first win since he won this same event way back in 2004. Did you know that Shawn had been to 131 races since that last win and that is, by far, the biggest gap between wins for any rider in the bike class? The previous mark was held by Michael Phillips who went eighty-one races between wins. As long as that drought was for Shawn it is still only the third longest in professional class history. Did you know that Larry Morgan (Pro Stock) went 175 races between wins and Del Worsham (Funny Car) went 136? The record in the dragster class belongs to David Grubnic who went 124 races between trips to the winner's circle.. To show you how much the class has changed did you know including Shawn there were only four riders in the field at the 2004 race that he won who were also racing this weekend at Bandimere?...Shawn started from the number five spot and that was his best starting position since the last race of the 2011 season, in fact, it was only his third time in the top half of the field since then. Congratulations to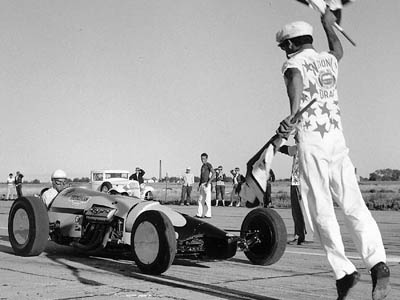 Calvin Rice at the 1955 Nationals.
Photo copyright 2013 NHRA
Shawn and his dad for their determination in staying with their program and finally putting win number five on the board...The Arana family had an interesting weekend. The newest member of the family,
Adam Arana
, grabbed the top spot along with low elapsed time and top speed and his brother,
Hector Jr
., made it to the final round. If they could solve their woes on the starting line the Arana's could run away with the bike class honors.
Hector Arana
lost on a holeshot in round one, Adam fouled out in round two and Jr. had a .197 reaction time in the final round. Still, to have three bikes running as well as they are is impressive and they will all be factors in the "Countdown." With his performance in Denver Hector Jr, became the first bike rider to secure a spot in the "Countdown."..The Arana family became the second family to have three members who have all been a number one qualifier in the bike class. In case you were wondering, the
Hines
family,
Byron
,
Matt
and
Andrew
would be the other.
Since I mentioned the 800th NHRA event I should mention that includes every race that has been counted as a national event, which means that the many Sportsnationals that have been held over the years are included in that number. It begins, obviously, with the 1955 Nationals at Great Bend, Kansas, a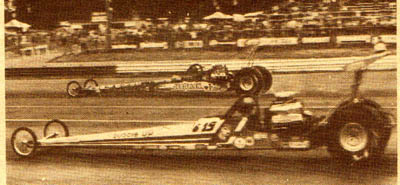 Graham Light defeated Jeb Allen
in round one at the '77 Fallnationals.
Photo copyright 2013 NHRA
race that was actually rained out and finished in
Arizona
. That event was won by
Calvin Rice
who beat
Fritz Voight
in the final round. By the way, if you ever have the opportunity to talk to Fritz about that event make sure you do so because I promise it's a conversation you will never forget. It goes on to include the 100
th
national event, the 1977 Fallnationals that was held in
Seattle
and won by
Stan Shiroma
,
Billy Meyer
and
Bob Glidden
. Stan's win, by the way, would be the only one of these landmark events (race numbers 100, 200 etc.) that I would call a surprise or an upset in the Top Fuel class. In fact both of the finalists were a bit of a surprise. Stan beat
Rance McDaniel
in the final round, a round that featured two Chevrolet-powered dragsters. Really! Even stranger than the fact that there were two Chevy-powered cars in the final was the fact the one of them, Rance's
"Valley Fever"
car, didn't even start and Stan got a solo pass for the win, one of the few times in NHRA history that the Top Fuel final was a solo run. And to show you just how wacky that race was the top speed in the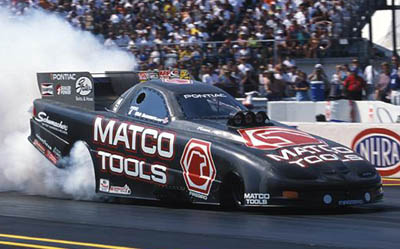 Whit Bazemore won Indy in 2001.
Photo copyright 2013 NHRA
dragster class was set by a Canadian driver by the name of
Graham Light
..The only thing close to an upset winner at the marquee events in the Funny Car class would have to be
Jim Epler's
win at the 300
th
national event, the Winternationals in Pomona in 1992. Jim wasn't the number one qualifier at that race,
Dale Pulde
(5.190) was. He didn't have the quickest car at that race,
John Force
(5.184) did, and he didn't have the fastest car at that race,
Cruz Pedregon
(287.08) did, but he did win four rounds and picked up the Funny Car title at NHRA race number 300..As for Pro Stock, as it usually does, the victories at the landmark events generally went to the favorites, but there was one exception and that would be in 1986 when
Don Campanello
won the Gatornationals, NHRA's 200
th
national event. Don had two drivers foul out against him in eliminations, including
Butch Leal
in the final round, to pick up the one and only national event win of his career, but when you figure that there have only been fifty-six drivers to win an NHRA Pro Stock race, I guess Don should feel pretty good about himself..Among some other notable races,
Tony Schumacher
won races number 600 and 700 when he took the 2005 Las Vegas race and the 2009 Indy title, and
Whit Bazemore
scored at a pair of races, numbers 400 and 500, when he won the 1997 Topeka race and the 2001 Indy event..
"Big Daddy" Don Garlits
(#200),
Bob Glidden (
#100),
Larry Dixon
(#500) and
Ed "The Ace" McCulloch
(#200) are among other legends that have won milestone events on the NHRA tour, so the big question now is who will win race number 800?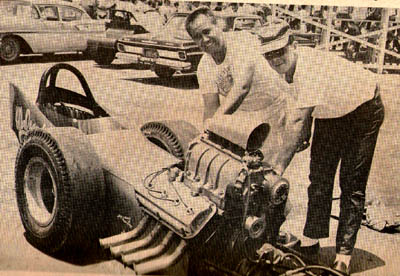 "Q-Ball" Wales and Paul Candies
Photo copyright 2013 NHRA
As exciting as the Mopar Mile High Nationals was the drag racing world was saddened to hear of the passing of Paul Candies. Besides being part of one of the most famous teams in the sport, the legendary Candies & Hughes team with partner Leonard Hughes, Paul was a businessman, a husband, a father and a true icon in our sport. A friend to all and a supporter of many racers, in front of and behind the scenes, Paul epitomized everything that is good about drag racing. He was kind, fun to be around and generous to a fault and we were all better for having known him and our sport was better because of him...While everyone knows of the great two-car team that Paul was part of, the one that went to the final round at the 1970 Gatornationals, fewer people know that he was involved in the sport for many years before that. In his early days at the drags he teamed up with Louisiana legend "Q-Ball" Wales in a dragster that was as good as anything in the sport. Together they ran roughshod over the Division 4 region for several years, winning races at their home track in Louisiana and taking on all of the traveling pros who ventured into the Division 4 area. Paul eventually teamed up with Leonard Hughes who had been racing Chevrolets at the time, and together they changed the face of the professional classes forever. Their big win at the Gatornationals was the first all-team final in drag racing and was just a hint at the greatness that was to follow. In the later years, after Leonard stepped out from behind the wheel, the team had some of the greatest drivers of all time wheel their machines including, but not limited to, Leroy Goldstein, Dave Settles, Richard Tharp and Mark Oswald. These days Paul's sons have been seen driving some of the new Dodge Challengers in NHRA Super Stock competition. There have been many people who have made their mark in our sport but few who did it with such class and style as Paul Candies. He was a great man, a tremendous sportsman and his passing will leave a huge void in the sport of drag racing.




NHRA: 10 Most Recent Entries [ top ]

Sep 16- DALLAS - Top Fuel'S Spencer Massey Knows Big Weekend at AAA Texas NHRA FallNationals
Sep 16- DALLAS - NHRA Mello Yello Countdown to the Championship Playoff Doubleheader
Sep 16- DALLAS - Fact Sheet
Sep 16- CHARLOTTE 2 - Special Awards
Sep 16- CHARLOTTE 2 - Through the Lens of Gary Nastase
Sep 16- Indy - Through the Lens of Ron Lewis
Sep 16- CHARLOTTE 2 - Pro Stock Racer Gaines Walks Away from Crash at zMAX Dragway
Sep 16- CHARLOTTE 2 - Lucas Oil Sportsman Eliminations Postponed
Sep 14- CHARLOTTE 2 - Continuation of Pep Boys NHRA Carolina Nationals Eliminations Moved to Texas Motorplex
Sep 14- CHARLOTTE 2 - Race Completion Moved Elsewhere.