Sat, 22 Dec 2012, 10:51 AM



Painless Performance Outlaw Fuel Altered Association Announces 2013 Schedule



By Chris Graves


Photo copyright 2012 Chris Graves, Max Cackle Photography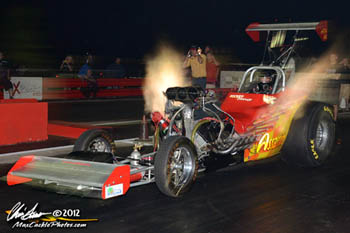 Chris Trussell
The Outlaw Fuel Altered Association has announced its 2013 event schedule with nine events planned and two new markets on the tour for next year. Painless Performance Products will be returning as the major series sponsor and entering it's seventeenth consecutive season, the OFAA will kick off its 2013 campaign on April 6th at North Star Dragway in Denton, Texas where some of the quickest and fastest times in series history have been recorded.
>From there the OFAA will make its long anticipated return to Thunder Valley Raceway in Noble, Oklahoma after an eleven year hiatus at the facility, on April 20th. A few weeks later, the OFAA tour invades Ardmore Dragway in Ardmore, Oklahoma for the first time in series history. The series is looking forward to these back to back Oklahoma dates in April and are excited to showcase their talents at some new facilities.
As the summer nears, the series returns to Texas and will rock the house at Texas Raceway in Kennedale, Texas on May 24th. After a break in June, the tour returns to North Star Dragway for a special two day feature event at North Star Dragway where the OFAA series will run heads-up against the Texas Outlaw Pro Mod Association on July 5th and 6th. This event will be the ultimate showdown of the two top attractions in the Southwest. You will not want to miss this one folks, more details coming soon.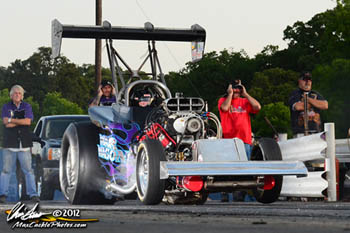 Howard Farris
The tour takes a break through the sweltering summer months of Texas and picks back up on August 31st as the OFAA again headlines the Mo-Kan Dragway Labor Day Classic in Asbury, Missouri, a staple in the OFAA schedule for over a decade now. From Missouri, the tour heads to the national event track, Royal Purple Raceway, in Baytown, Texas to headline the exhibition portion of the Super Chevy Show on September 28th. The teams look forward to this stop on the tour each year as they can really lay down some power.
October brings the final two events of the season as the tour returns to North Texas, first on October 6th at North Star Dragway for the 2nd Annual Fall Nostalgia Nationals. The series will crown a Champion at Texas Raceway in Kennedale, Texas on October 25th to close the nine race 2013 racing season.

2013 Painless Performance Outlaw Fuel Altered Schedule
April 6 - North Star Dragway - Denton, TX
April 20 - Thunder Valley Raceway - Noble, OK
May 11 - Ardmore Dragway - Ardmore, OK
May 24 - Texas Raceway - Kennedale, TX
July 5/6 - North Star Dragway - Denton, TX
August 31 - Mo-Kan Dragway - Asbury, MO
September 28 - Royal Purple Raceway - Baytown, TX
October 6 - North Star Dragway - Denton, TX
October 25th - Texas Raceway - Kennedale, TX

"We are really looking forward to 2013 and having Painless Performance Products as our title sponsor and all of the bonus program sponsors involved is just icing on the cake. It seems that every season the points battle comes down to the final race of the year and that makes this association a lot of fun both as a racer and a spectator. Our racers take pride in representing the O.F.A.A. and are true professionals. It's almost hard to believe we are headed into our seventeenth season and with the growth and success we continue to see, we plan on entertaining the crowds for a long time to come," said O.F.A.A. President Bobby Marriott.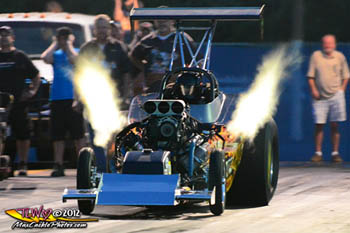 Bobby Marriott
Back to back Painless Performance OFAA Series Champion Jimmy Jones and his "Texas Tremor" team are geared up and ready to go for the three-peat but it won't be an easy task as the competition in the Outlaw Fuel Altered Association is tighter than ever. The 2012 Championship battle was decided in the final round of the final event of the season between Jimmy Jones and 2012 World Fuel Altered Nationals winner Terry Brian. You can expect yet another stellar points battle that will bring out the best of the best as over twenty OFAA teams contend for the precious Painless Performance points in 2013. For more on the series visit
www.ofaa.net
.




Drag News: 10 Most Recent Entries [ top ]

Feb 22- ANDRA Top Alcohol Champ John Cannuli Looking at Back-To-Back Championships
Feb 22- Frank Mamone is Back
Feb 22- Drag Illustrated to Hold $100,000-to-Win World Series of Pro Mod
Feb 17- Speedgroup Announces Title Sponsorship- EDRS European Drag Racing Series Becomes Summit Racing EDRS Series
Feb 08- 2016 TNT Super Series Champion- Jim Thomson
Feb 08- Dave Gunn- 2016 TNT Super Series Second Place
Feb 08- Harry Phelps- 2016 TNT Super Series Third Place
Feb 08- David Surmatchewski- 2016 TNT Super Series Fourth Place
Feb 08- JJ Jablonski- Jason Vitez- 2016 TNT Super Series Fifth Place
Feb 08- Carl's 4-Wheel Drive & Performance Center Named Presenting Sponsor of 2017 Gateway E.T.