Thu, 01 Dec 2011, 08:39 AM



Foster Wins Second Division 3 Championship



Courtesy of Will Hanna


Photo copyright 2011 Robert Grice, Extreme Photography





Finishes 9th in National Points Standings



DAVENPORT, Iowa -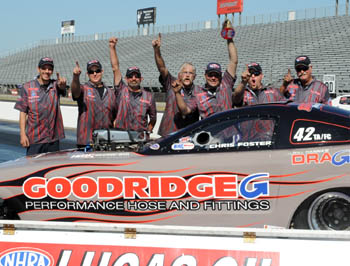 Foster and crew celebrate win.
While there were definitely some up's and down's along the way, Chris Foster and the Foster Racing Top Alcohol Funny Car team were able to score their second NHRA Division 3 Championship in three years in 2011. A strong scorecard of three wins and two runner-ups were able to place the team 9th in national points standings, their second top-ten finish in NHRA competition.
In contrast to their 2009 Championship where they won by winning their last race of the year in late October to clinch the championship, Foster and his Will Hanna led team wrapped up the title in August this season.
The team debuted a new 2011 Mustang body on their Brad Hadman chassis and started the year with a win at the Division 4 event in Houston. After their strong debut, the team struggled to find traction at the Division 3 opener in Indianapolis, smoking the tires on each run in qualifying and failing to make the show. The team bounced back by reaching the final of their next three Division 3 events. They posted a runner-up finish at the Joliet event, won the Norwalk event, and another runner-up at the Columbus event. The team clinched the championship with a semifinal finish in Bowling Green, but traveled to the final Division 4 event in Houston due to sponsor commitments, and book-ended the year with another win.
"This year really was a team effort," said Foster, the Davenport, Iowa, native. "There were a couple of races where Will had to be in Europe and was tuning the car over the phone. I normally focus on servicing the car between rounds and Will concentrates on the tune-up. We had to shuffle some responsibilities around so I could be his eyes and ears, going over computer data, reading plugs, bearings and things. We all stepped up and got the job done again.
"Needless to say this was a great year for the team," Foster continued. "We finished second in Division 4 last year. While that's not a terrible year, once you win the Championship; you're not satisfied with anything else. We bounced back big time this year. We figured out our problems last year towards the end of the year and started going in the right direction. We started the year out with a win in Houston. Just like in a football game, we scored first and put the pressure on the rest of the field."
As good as the year was Hanna feels changes made at the final race of the season will give Foster a more consistent race car in 2012.
"We had the car going in the right direction towards the end of last season," stated Hanna. "As we developed the combination, it was just more and more of an animal early in the run. If we hit it right and got it hooked up or got on a good starting line, it would fly down low. As the tracks got warmer, we struggled at times to find the right set up to get it off the line without smoking the tires.
"Once we had the championship clinched, we tried a few new things at the last race of the year," explained Hanna. "Without going into great detail, we are very excited about hitting the track again next year."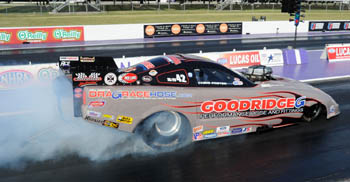 Chris Foster
Foster and team will be displaying the car in the Goodridge Hoses & Fittings booth at the upcoming International Motorsports Industry Show in Indianapolis, Dec. 8-10. The NHRA Division 3 Awards Banquet will cap off the weekend that Saturday night.
"We're honored that Goodridge invited us to display our car at such a big event," said Foster. "It's a nice way to end a great season. I'm really proud of what we achieved as a team this year; I had a great crew behind me all year. My dad John, my step-dad Dwight Baxter, Will, David McDermott, JB Hudson, Kevin Newburgh, Chad Baker, Rick Hanna and Bruce Meyer all performed flawlessly, no matter what the situation was. I also had a great group of sponsors behind us this season in Goodridge Hose & Fittings, DragRaceHose.com, Motorsports Unlimited, Noonan Race Engineering X-1 Cylinder Heads, RBS Superchargers, Morel Lifters, Manton Rockerarms, Red Line Oil, Victory Valves, Ace Clutch Discs, Flatout Gaskets, InsideTopAlcohol.com, GRP Connecting Rods, Hoosier Racing Tires and Track Tamer Engines. Racing at this level wouldn't be possible without their support."
While it's been over a month since their last race and there is still a couple of months left before their first outing, Foster is quick to point out the word 'offseason' is a misnomer.
"We have been very busy since the last race," cited Foster. "Between getting parts on the car recertified and getting the car shined up for the show, it's been a busy few weeks. Once we're done with the show and we can tear the car down to a bare chassis, there will be plenty more work to do. There's never much of a break over the winter. Usually you work until late on the night before you're heading out for the first race."




Drag News: 10 Most Recent Entries [ top ]

Feb 22- ANDRA Top Alcohol Champ John Cannuli Looking at Back-To-Back Championships
Feb 22- Frank Mamone is Back
Feb 22- Drag Illustrated to Hold $100,000-to-Win World Series of Pro Mod
Feb 17- Speedgroup Announces Title Sponsorship- EDRS European Drag Racing Series Becomes Summit Racing EDRS Series
Feb 08- 2016 TNT Super Series Champion- Jim Thomson
Feb 08- Dave Gunn- 2016 TNT Super Series Second Place
Feb 08- Harry Phelps- 2016 TNT Super Series Third Place
Feb 08- David Surmatchewski- 2016 TNT Super Series Fourth Place
Feb 08- JJ Jablonski- Jason Vitez- 2016 TNT Super Series Fifth Place
Feb 08- Carl's 4-Wheel Drive & Performance Center Named Presenting Sponsor of 2017 Gateway E.T.